Free personalized radio that
plays the music you love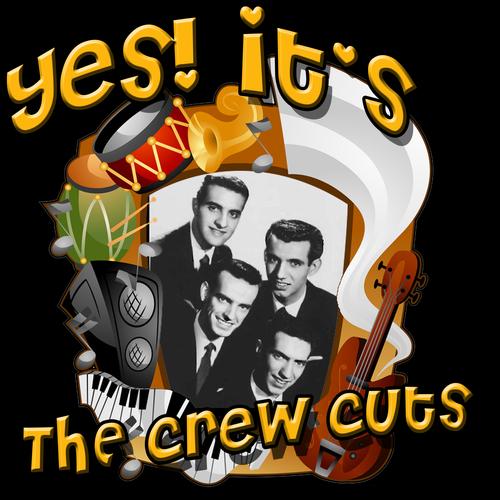 People who also like this
On most informed lists of rock & roll villains, the Crew Cuts would have to rank near the top. They weren't rock & rollers in the first place: their clean-cut white harmony glee club approach was really in the style of early- and mid-'50s groups such as
the Four Aces
,
the Four Lads
, and the Four Freshmen. The Canadian quartet differed from those acts, however, in their concentration upon covers of songs originally recorded by R&B/doo wop vocal groups. Their cover of the Chords' "Sh-Boom" set the pattern, going to number one in 1954 and setting the stage for their other commercially successful pop treatments of R&B hits by
the Penguins
, Gene & Eunice, Otis Williams & the Charms,
the Robins
,
the Spaniels
,
the Nutmegs
, and others.
The Toronto foursome already had a Top Ten hit under their belts with their first major label single, "Crazy 'Bout Ya Baby," before tackling "Sh-Boom"; what's more, their first hit had been a group original, not an R&B cover. When the Crew Cuts got a hold of "Sh-Boom," they gave the song a far more standard, whiter pop treatment than the Chords had, complete with big-band type orchestration. Although the original Chords version still became one of the first Top Ten rock & roll hits, the Crew Cuts' cover outsold it by a wide margin, finding a far easier entrance into established radio formats and mainstream white audiences.
The Crew Cuts were regular visitors to the Top 20 over the next couple of years, repeating the "Sh-Boom" syndrome with songs like "Earth Angel," their second-biggest hit at number three (though nobody remembers the Crew Cuts' version today, the Penguins' original having long established supremacy with audiences and on oldies stations). Their strategy of foraging for sources among black R&B vocal singles was widely imitated throughout the industry, by
Pat Boone
,
the McGuire Sisters
,
Georgia Gibbs
, and numerous others. Many rock historians point out -- with a great deal of justification -- that this amounted to an attempt by the music establishment to buck the oncoming threatening storm of the rock era by watering it down into a much more palatable and conventional form that in reality had little to do with rock at all. For a while, it worked -- the white covers frequently outsold the black R&B originals throughout 1954-1956. But after
Elvis
,
Chuck Berry
, and others had staked their own claim on superstardom, it became increasingly obvious that teenagers preferred the real article, and that the entrenchment of authentic rock & roll was inevitable.
Some revisionists have claimed, dubiously, that the Crew Cuts actually helped pave the way for the acceptance of rock in the mainstream by giving all those doo wop songs a far greater audience than they could have found if they were ghettoized in the R&B community. After a while, however, the Crew Cuts themselves were being widely outsold by their sources; "Young Love" (a cover, of course, although this time of the country classic by
Sonny James
) was their last Top 20 hit in early 1957. Their Mercury hits are far more properly classified as pop vocal outings than rock & roll, owing much more to pre-rock harmony and band arrangements. By 1958, they'd left Mercury for stints with RCA and other labels; they broke up in 1964. ~ Richie Unterberger
full bio
Selected Discography
Similar Artists
Don't have a Pandora account? Sign up
Already have a Pandora account? Log In