Free personalized radio that
plays the music you love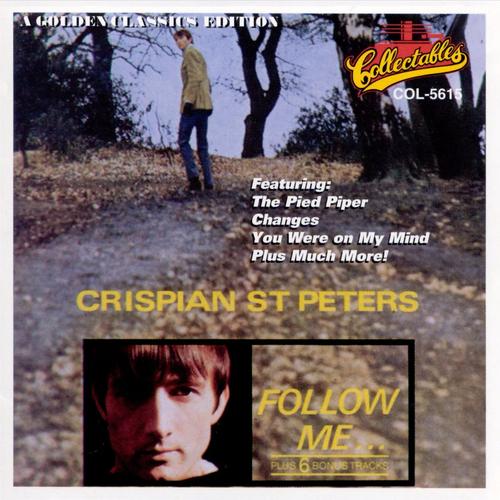 People who also like this
Crispian St. Peters was one mid-'60s act, like
We Five
(from whom he appropriated a song), who seemed to capture a moment with his best songs, but never moved past that moment. In his particular case, a mix of psychological problems, bad timing, and an inconsistent style seemed to make it impossible to get past his two big hits.
Born Robin Peter Smith on April 5, 1939 in Swanley, Kent, England, he'd been a member of a trio called the Beat Formula Three in the early '60s when manager Dave Nicolson pegged him for stardom, with a new name, Crispian St. Peters, and a new folk-rock sound. His first two singles, an uptempo, harmonium-driven ballad called "At This Moment," and the loud, retro-sounding love song "No No No," failed to attract any attention from the public or the press. Then he covered the Sylvia Fricker-authored "You Were on My Mind," which the quintet
We Five
had picked up from Ian & Sylvia and turned into a hit in America -- his version, slightly more subdued and brooding (his phrasing of the song's opening line was almost
Elvis
-like), was issued very hurriedly late in 1965 and languished for a time. Gradually, however, it took hold in England and eventually made the British Top Ten in mid-1966.
By then, as with most pop phenomena, Crispian St. Peters became the object of massive press attention, and that was where the first of his outlandish self-promoting statements achieved notice -- he claimed that he'd written 80 songs that were better than anything
John Lennon
or
Paul McCartney
had ever authored, and subsequently described himself as a singer better than
Elvis Presley
, sexier than
Dave Berry
("The Crying Game"), and more exciting than
Tom Jones
.
Later in 1966, St. Peters' "The Pied Piper" soared into the Top Ten on both sides of the Atlantic, and, with its infectious chorus and beat and flute ornamentation, seemed to captured the glow of the pre-psychedelic era. It proved to be the last of his successes, however, a fact that can only be explained, in part, by the controversy surrounding his statements. There was something bizarre and off-putting seeing his name attributed to statements announcing that
the Beatles
"are past it." His sound was also strangely inconsistent, crossing between upbeat folk-rock and brooding ballads -- he could sound like an aspiring rival to
Tom Jones
, but on a number like "Your Love Has Come," reached for a high register that made him seem more like an aspiring
Tiny Tim
. His folk-rock inclinations were also undone by numbers like the pre-
Beatles
British beat-style "Jilly Honey," complete with ornamentation that sounds like a honking sax (or is it a fuzz bass?). In fairness, he did have the wisdom to record a rocked-up version of Phil Ochs' "Changes," but it was still difficult to tell whether St. Peters was trying to be
Tom Jones
, half of Peter & Gordon, a pop version of
Donovan
, or a mid-'60s version of
Marty Wilde
.
By 1968, he'd moved on to country music, but found little success with that repertory. A 1970 release, Simply...Crispian St. Peters, compiled many of his early sides, and he periodically reappeared on the '60s revival circuit in England. In 1995 he suffered a major stroke, but continued to write songs thereafter and performed live up to 1999, announcing his final retirement two years later. Crispian St. Peters died at 71 years of age at his home in Swanley on June 8, 2010. ~ Bruce Eder
full bio
Selected Discography
Similar Artists
Don't have a Pandora account? Sign up
Already have a Pandora account? Log In