Free personalized radio that
plays the music you love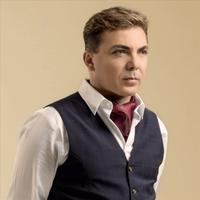 People who also like this
A perennial chart presence since the early '90s, Latin pop hitmaker Cristian Castro, who often goes by simply Cristian and occasionally Christian Castro, is a Mexican sex symbol, as well-known for his charming good looks as his romantic love ballads. Interest in his personal life has unfortunately often overshadowed his musical achievements. As someone who has spent most of his life in the media, he enjoys little privacy, for he is a tabloid favorite and is hounded by the paparazzi at every turn. This no doubt helps promote his music, but it has also wrought much pain to him personally. In particular, he has undergone some extremely publicized unsettlement in his love life. In 2003, he married Paraguayan model Gabriela Bo; they divorced a year later. Very shortly after the divorce was finalized, he married Argentine lawyer Valeria Liberman -- the ceremony required him to convert to Judaism. they divorced in 2007. Additionally, he has undergone some publicized problems in his family life: both of his parents are themselves celebrities, are separated, and at times, have been at odds with their son. His personal life aside, Castro proved himself to be one of the most consistently successful Latin pop artists of his time, returning to the upper reaches of the singles chart year in and year out and demonstrating a tireless work ethic as a recording artist.
Born Cristian Sáenz Castro on December 8, 1974, in Mexico City, he is the son of two very popular Mexican entertainers, actress/singer Verónica Castro and comedian/actor Manuel Valdés (aka El Loco); he often refers to his mother as his top role model while for most of his life he has been estranged from his father. Castro made his performance debut at a young age, appearing alongside his mother in the telenovela El Derecho de Nacer in 1981. He continued to make television appearances throughout the remainder of the decade, acting in the series Jugemos a Cantar (1982), Herencia Maldita (1986), and Mi Segunda Madre (1989). Castro's singing career began in 1992 with "Agua Nueva." The first of four albums released by Fonovisa, "Agua Nueva" proved impressively successful, spawning the smash hit "No Podras," which went all the way to number three on the Hot Latin Tracks singles chart. A pair of follow-up singles, "Agua Nueva" and "Diez Mil Lagrimas," also charted but were only minor hits. His successive releases on Fonovisa -- Un Segundo en el Tiempo (1993), El Camino del Alma (1994), and El Deseo de Oir Tu Voz (1996) -- each spawned its share of hits, including the chart-toppers "Nunca Voy a Olvidarte," "Amarte a Ti," and "Amor," as well as the Top Ten hits "Con Tu Amor," "Mañana," "Azul Gris," "Esperándote," and "No Puedo Arrancarte de Mi."
Castro then switched from Fonovisa to BMG in 1997 for Lo Mejor de Mi without any hitmaking interruption, for the title track marked his fourth time topping the Hot Latin Tracks singles chart while "Si Tu Me Amaras" went Top Five. His successive albums on BMG -- Mi Vida sin Tu Amor (1999), Remixes (2000), "Azul" (2001), Amar Es (2003), and Hoy Quiero Soñar (2004) -- were similarly successful, adding additional hits to his catalog: "Azul" (number one); "Alguna Vez," "Mi Vida sin Tu Amor," "Por Amarte Asi," "Te Llamé," "Te Buscaria" (Top Three); "Volver a Amar" (Top Five); "Lloran las Rosas," "Yo Quería," "Con Ella," "No Hace Falta" (Top Ten), and "Lloviendo Estrellas" (Top 20). Plus, he wrote a 1998 Top Five duet for Olga Tañón, "Escondidos," on which he performed. During this eight-year tenure with BMG, Castro worked closely with producer Kike Santander and songwriter Rudy Pérez, a partnership that resulted in some of the best music of his career.
In 2005, Castro switched labels again, moving this time to Universal for Dias Felices, on which he collaborated with another super-producer, Cachorro López, who had recently helmed
Julieta Venegas
' commercial breakthrough, Sí (2004). The album spawned the biggest hit of his career to date, "Amor Eterno," a Hot Latin Tracks chart-topper that became his first single to crack the Billboard Hot 100, climbing all the way to number 78 despite its Spanish-language vocals. In 2007, Castro did something different and released a mariachi album, El Indomable, produced by the King of Rancheras Vicente Fernández. Understandably less successful than his usual Latin pop albums, El Indomable was nonetheless a respectable effort that spawned a pair of singles, "Tu Retirada" and "Te Sigo Queriendo," which performed best on the Regional Mexican Airplay chart. 2009's
A.B. Quintanilla
-produced El Culpable Soy Yo was another success, and included an appearance by his grandmother Socorro Castro on the song "Mi Bien Amada y Yo (Mi Bien Amada)," while 2010's chart-topping Viva el Príncipe saw Castro paying homage to Mexico's "Prince of Song" José José. Mi Amigo el Príncipe, another José José tribute album, arrived the following year. Castro left Universal Latin in 2013, returned to Sony, and released a live album titled Primera Fila. Dicen, Castro's first set of all-new material since 2009, followed in 2016. ~ Jason Birchmeier
full bio
Selected Discography
Similar Artists
Don't have a Pandora account? Sign up
Already have a Pandora account? Log In