Free personalized radio that
plays the music you love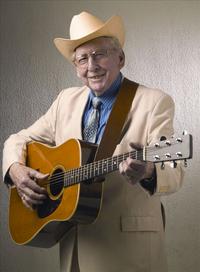 People who also like this
Curly Seckler (born John Ray Sechler) was best known as the mandolinist and tenor for Flatt & Scruggs' Foggy Mountain Boys, a group that went down in bluegrass history for their Grammy-winning tune "Foggy Mountain Breakdown". He spent much of his career touring and recording with bluegrass legends like Jim & Jesse McReynolds,
Mac Wiseman
, the Sauceman Brothers,
the Stanley Brothers
,
Charlie Monroe
, and Flatt & Scruggs. When the gigs didn't pay enough, Seckler patched together a living as a postal worker and truck driver in order to support his family. Though he never quite reached the level of fame enjoyed by Flatt & Scruggs or
Monroe
, Seckler proved to be an important figure in his own right. His signature mandolin technique, characterized by a percussive "chop," went on to influence successive generations of mandolinists.
John Ray, the fourth child of Carrie and Calvin Sechler, was born in China Grove, NC, on Christmas Day 1919. He was dubbed "Curly" once his hair came in. The Sechlers were a musically inclined family; Seckler's father played Autoharp, fiddle, and mouth harp, and his mother played the guitar and organ. She taught Seckler and his brothers a few basic guitar chords when they were young, and Seckler learned how to sing in public school. Mr. Sechler passed away when Seckler was nine, leaving behind his wife, six boys, and five girls (three from a previous marriage). The family was strapped for cash, so Seckler and his brothers went to work in a local cotton mill as soon as they were old enough. It was during this time that Seckler picked up a secondhand five-string banjo from a local musician named Happy Trexler. Seckler and his brother Marvin started playing gigs with Trexler, picking tunes for the swimmers who frequented the musician's pond.
It wasn't long before the Sechler brothers starting playing music on their own. Seckler ditched the five-string banjo for a tenor, his brother George took up the fiddle, and his little brother Duard learned some chords on the guitar. In 1935, the four brothers got together as the Yodeling Rangers, playing at various local get-togethers and schools. Their big break came when they snagged a daily radio show on a Salisbury, NC, station, a spot that went on to be simulcast on several radio stations in the surrounding area. They changed their name to the Trail Riders a few years later, and they ranged as far and wide as West Virginia, appearing at small venues throughout the South. It was at this point that
Charlie Monroe
started showing up in the studio during the Trail Riders' radio broadcasts.
The Monroe Brothers
had just split up, and
Charlie
was looking for a tenor for his new project.
Monroe
took a liking to the 19-year-old Seckler and asked him to go on the road. Seckler was reluctant to leave his brothers, but he gave in when
Monroe
offered him a salary of $20 a week.
Seckler played with
Monroe
until 1940, at which point he went back home and joined back up with his brothers. He teamed up with
Tommy Scott
soon after, holding down a radio spot sponsored by Vim Herb Products. Seckler borrowed $42 from the sponsor and bought his first mandolin. He and
Scott
toured around the South until WWII broke out, at which point Seckler started working with Leonard Stokes. Seckler and Stokes moved to Knoxville and billed themselves as
the Melody Boys
. They were drafted by the U.S. Army a few months later but were released from serving due to lung problems. They moved to Columbus, OH, with their families, and Seckler got a job at the post office there.
The following decade found Seckler bouncing from group to group, moving throughout the South in order to work with acts like the Happy Valley Boys, the Smokey Mountaineers, the Sauceman Brothers, the McReynold's Brothers, and Flatt & Scruggs. Seckler met Flatt & Scruggs in the late '40s during his time in Bristol, VA, where he was working on a radio show with
Mac Wiseman
. Seckler worked with Flatt & Scruggs on and off over the next few years, and he finally settled down with the group once Flatt & Scruggs snagged a sponsorship from Martha White Mills. Seckler moved to Nashville with Flatt & Scruggs in 1953 and continued working with the band over the course of the next nine years. Flatt & Scruggs became members of the Grand Ole Opry in 1956, and they toured all over the South on the strength of their newfound stardom. The group recorded the majority of what would become their most well known material while Seckler was in the band, including 1949's "Foggy Mountain Breakdown" (a track that went on to be included on the soundtrack of 1967's Bonnie & Clyde) and 1957's Foggy Mountain Jamboree (an album that would later be considered canonical by a large number of music critics). When all was said and done, Seckler ended up recording 138 songs with the group, including "Roll In My Sweet Baby's Arms" and "Salty Dog Blues."
Seckler left the group in 1962 and took up trucking. Though he spent the majority of his time driving trucks and supporting his family, he managed to play at various bluegrass festivals over the next few years. County Records offered Seckler a record deal in 1971, and Seckler's first solo album, Curly Seckler Sings Again, was released later that year; he adopted the "Seckler" spelling of his last name beginning with this recording in a bid to prevent mispronunciation. He joined back up with
Lester Flatt
in 1973 as the tenor for
the Nashville Grass
.
Flatt
's health declined over the next six years, and Seckler took over
the Nashville Grass
when
Flatt
passed away in the spring of 1979. No Doubt About It, the first album released by Curly Seckler & the Nashville Grass, was released a few months later. Willis Spears joined the group in 1981, and
the Nashville Grass
, led by Seckler and Spears, continued recording albums and playing shows for the next 13 years. Seckler & the Nashville Grass finally retired in 1994.
Seckler continued to make appearances and recordings here and there over the course of the next decade. He released a solo album, 60 Years of Bluegrass With My Friends, the year after he left
the Nashville Grass
, and he went on to receive a Distinguished Achievement Award from the IBMA two years later. He was inducted into the IBMA Hall of Honor in 2004. Seckler released his first new album in a decade, Down in Caroline, a year later; it was accompanied by an expanded reissue of his first album, That Old Book of Mine. Another full-length, Bluegrass, Don't You Know, followed in 2006. ~ Margaret Reges
full bio
Selected Discography
Similar Artists
Don't have a Pandora account? Sign up
Already have a Pandora account? Log In