Free personalized radio that
plays the music you love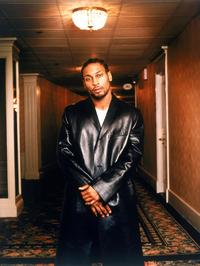 People who also like this
D'Angelo was one of the founders and leading lights of the neo-soul movement of the mid- to late '90s, which aimed to bring the organic flavor of classic R&B back to the hip-hop age. Modeling himself on the likes of
Marvin Gaye
,
Stevie Wonder
,
Prince
,
Curtis Mayfield
, and
Al Green
, D'Angelo's influences didn't just come across in his vocal style -- like most of those artists, he wrote his own material, and frequently produced it as well, helping to revive the concept of the R&B auteur. His debut album, Brown Sugar, gradually earned him an audience so devoted that the follow-up, Voodoo, debuted at number one despite a five-year wait in between. The wait for his third album -- at one point tentatively titled James River -- was much longer.
Michael D'Angelo Archer was born February 11, 1974, in Richmond, Virginia, the son of a Pentecostal minister. He began teaching himself piano as a very young child, and at age 18 he won the amateur talent competition at Harlem's Apollo Theater three weeks in a row. He was briefly a member of a hip-hop group called I.D.U. and signed a publishing deal with EMI in 1991. His first major success came in 1994 as the co-writer and co-producer of the Top Five R&B single "U Will Know" on the Jason's Lyric soundtrack; it featured a one-time all-star R&B aggregate dubbed Black Men United. That helped lead to his debut solo album, Brown Sugar, released in July 1995. Helped by the title track, also a Top Five R&B single, a cover of
Smokey Robinson
and Marv Tarplin's "Cruisin'" (number ten R&B), and "Lady" (number two R&B), Brown Sugar caught on with R&B fans looking for an alternative to the hip-hop soul dominating the urban contemporary landscape. Along with artists like
Erykah Badu
,
Lauryn Hill
,
Maxwell
, and collaborator
Angie Stone
, D'Angelo became part of a retro-leaning, neo-soul revivalist movement. Brown Sugar received enormously complimentary reviews and sold over two million copies, and D'Angelo supported it with extensive touring over the next two years.
And then -- not much of anything happened. D'Angelo took some time off to rest and split acrimoniously with his management; meanwhile, EMI went under, leaving his 1998 stopgap release Live at the Jazz Cafe, London out of print. On occasion, D'Angelo contributed a cover tune to a movie soundtrack, including
Eddie Kendricks
' "Girl You Need a Change of Mind" (Get on the Bus),
the Ohio Players
' "Heaven Must Be Like This" (Down in the Delta), and
Prince
's "She's Always in My Hair" (Scream 2). He also duetted with
Lauryn Hill
on "Nothing Even Matters," a cut from her Grammy-winning blockbuster The Miseducation of Lauryn Hill. Still, fans awaiting a proper follow-up to Brown Sugar remained frustrated -- at first by no news at all, and then by frequent delays in the recording process and the scheduled release date. Finally, Voodoo with was released in January 2000 and debuted at number one, an indication of the size and devotion of D'Angelo's fan base. An extremely collaborative album, it was recorded at the same time as
Erykah Badu
's Mama's Gun and
Common
's Like Water for Chocolate and involved much of the same personnel, some of whom -- including D'Angelo,
Badu
,
Common
, ?uestlove,
J Dilla
,
Q-Tip
, and James Poyser --were dubbed the Soulquarians. The extremely
Prince
-like lead single, "Untitled (How Does It Feel)," was a smash on the R&B charts and won a Grammy for Best Male R&B Vocal; likewise, Voodoo won for Best R&B Album. Reviews of Voodoo were once again highly positive, although a few critics objected to the looser, more atmospheric, more jam-oriented feel of the record, preferring the tighter songcraft of Brown Sugar.
Throughout the remainder of the 2000s, D'Angelo made only a handful of recorded guest appearances. Most notably, he took part in a version of
Fela Kuti
's "Water No Get Enemy," recorded for the Red Hot + Riot compilation.
Raphael Saadiq
's "Be Here" and
Snoop Dogg
's "Imagine" were events by virtue of the artist's mere presence, while two versions of the
Dilla
production "So Far to Go" -- first heard on
Dilla
's posthumous The Shining, then reworked for
Common
's Finding Forever -- also reunited him with past Soulquarian partners. D'Angelo's sporadic creative activity, combined with publicized personal troubles, bordered on tragic. His third album, said to be titled James River, was originally due in 2009 but did not materialize. In January 2013, Billboard asked collaborator ?uestlove about the status of D'Angelo's long-awaited third studio album. He told the publication that "99% of it is done." Around this time, D'Angelo was performing more often, including European club dates and scattered festival appearances. In March 2014, Live at the Jazz Cafe, London, expanded and reissued through Virgin, served as stopgap product once more. During the second week of that December, cryptic posts on various social media platforms announced "Black Messiah is coming." One of the earliest warnings came from Nelson George, who had recently featured D'Angelo for his Finding the Funk documentary and conversed with the musician for a public conversation facilitated by Red Bull Music Academy. On the evening of the 14th, George hosted an exclusive listening party for Black Messiah, an album credited to D'Angelo and his backing band, dubbed the Vanguard. The sprawling set, more adventurous and outward looking than Voodoo, was released the following day on the RCA label. ~ Steve Huey & Andy Kellman
full bio
Selected Discography
Similar Artists
Don't have a Pandora account? Sign up
Already have a Pandora account? Log In