Free personalized radio that
plays the music you love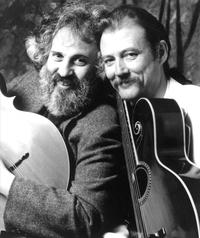 People who also like this
David Grisman is normally associated with the bluegrass wing of country music, but his music owes almost as much to jazz as it does to traditional American folk influences. Because he couldn't think of what to call his unique, highly intricate, harmonically advanced hybrid of acoustic bluegrass, folk, and jazz without leaning toward one idiom or another, he offhandedly decided to call it "dawg music" -- a name which, curiously enough, has stuck. A brilliant mandolinist, with roots deep in the Quintet of the Hot Club of France, Grisman's jazz sensibilities were strong enough to attract the admiration of the HCQ's
Stephane Grappelli
, who has toured and recorded with Grisman on occasion.
Grisman was already playing the piano, saxophone, and mandolin by the time he was a teenager, taking up the latter at age 16. While attending New York University in 1963, he began playing with
the Even Dozen Jug Band
, which at one time included
Maria Muldaur
and
John Sebastian
. In 1966, bluegrass bandleader
Red Allen
invited Grisman to join his Kentuckians, and the following year Grisman joined
Peter Rowan
in the progressive-minded
Earth Opera
, which blended folk, country, rock, pop, and jazz. After two albums, he moved to San Francisco and hooked up with
Jerry Garcia
, playing on
the Grateful Dead
's classic American Beauty. He went on to play in
Garcia
's bluegrass side project, Old & in the Way, along with
Peter Rowan
, who also reteamed with him in the loose all-star group Muleskinner. In 1974, Grisman co-founded the Great American String Band with Muleskinner fiddler
Richard Greene
, which first allowed him to explore the lengthy instrumental improvisations that would become his trademark.
Greene
didn't stick around for too long, and in 1976 Grisman assembled a new group dubbed
the David Grisman Quintet
, which featured guitarist
Tony Rice
, fiddler
Darol Anger
, bassist Joe Carroll, and mandolinist/bassist
Todd Phillips
. The Quintet's self-titled debut was released in 1977 on Kaleidoscope and proved a seminal influence on the so-called "newgrass" or "new acoustic" movements, thanks to its progressive, jazz-fueled harmonies and improvisations. The follow-up, 1979's Hot Dawg, was Grisman's breakthrough album; it was released on A&M's jazz imprint, Horizon, and featured guest work by jazz violin legend
Stephane Grappelli
. By this time, there was already personnel turnover in the Quintet; mandolinist
Mike Marshall
joined up, and by the time Grisman moved to Warner and recorded Mondo Mando in 1981, bassist
Rob Wasserman
and violinist Mark O'Connor joined
Rice
,
Anger
, and
Marshall
. In all, Grisman recorded four albums for Warner over 1980-1983; 1982's Dawg Jazz/Dawg Grass was another notable outing with
Grappelli
that, true to its title, split its repertoire between swing and bluegrass.
By 1984, the original "dawg music" lineup had largely broken up, with most of the members moving on to productive solo and/or collaborative projects (
Anger
notably joined
the Turtle Island String Quartet
). Grisman played on a number of sessions in the meantime, including with jazz-minded banjo virtuoso Béla Fleck, who claimed Grisman as a major influence. In 1985, Grisman organized a new group with seasoned jazz musicians: bassist Jim Kerwin, guitarist Dimitri Vandellos, and drummer George Marsh, who backed him on a 1987 duet album with jazz violinist
Svend Asmussen
, Svingin' with Svend. The more traditional bluegrass outing Home Is Where the Heart Is followed in 1988, before Grisman formed his own Acoustic Disc label in 1990 and got much more prolific.
A steady stream of releases appeared on Acoustic Disc during the first half of the '90s, starting with Dawg '90, which debuted a new core group that included Kerwin, fiddler/drummer
Joe Craven
, and flutist Matt Eakle, as well as returning alum Mark O'Connor, guitarist John Carlini, and fiddler Matt Glaser. Other notable releases included a 1991 reteaming with
Jerry Garcia
and two albums of Tone Poems (i.e., duets with
Tony Rice
and
Martin Taylor
, respectively). Argentine guitarist Enrique Coria joined the lineup of Grisman, Kerwin,
Craven
, and Eakle for 1995's Latin-flavored Dawganova. Grisman entered another productive period in 1999, issuing several widely varied projects, and reconvened that quintet for 2002's Dawgnation. A collection of collaborations with other bluegrass musicians recorded over three decades, Life of Sorrow, was released in 2003 by Acoustic Disc, followed by New Shabbos Waltz, a collaboration with
Andy Statman
, in 2006, also on Acoustic Disc. ~ Richard S. Ginell & Steve Huey
full bio
Selected Discography
Similar Artists
Don't have a Pandora account? Sign up
Already have a Pandora account? Log In