Free personalized radio that
plays the music you love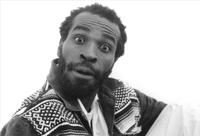 People who also like this
Ludicrous, bizarre, and uniquely original, few DJs have made such a splash in the dancehall scene than Eek-A-Mouse. An artist who in any other country would have been a one-hit wonder, in Jamaica became a household name having invented a whole new vocal style, sing-jay, flooding the airwaves with his catch phrases and going on to become a respected toaster. Eek-A-Mouse didn't start out as a novelty act. He was born Ripton Hilton in 1957 in Kingston, Jamaica, and his first foray into the music world was as a cultural roots singer.
While barely out of his teens and still in college, Hilton released two singles in the mid-'70s, "My Father's Land" and "Creation," to an apathetic public. Not discouraged, the young man continued plugging away, DJing for a variety of sound systems while also releasing occasional singles, all under his real name. To his friends, however, he was known as Eek-A-Mouse. A rather cruel jab, for that was the name of the losing racehorse Hilton kept throwing his money away on; of course as so often happens, the one time he declined to bet was the sole time the obstreperous equine won. The name stuck and by 1979, the singer decided a change was in order, and placed his musical fortune on this new moniker. That year, Eek-A-Mouse went into the studio with producer
Joe Gibbs
and walked out with the sizeable hit "Once a Virgin." His follow-ups in 1980, "Wa-Do-Dem" and "Modelling Queen," were equally successful, while the Bubble Up Yu Hip album, produced by
Linval Thompson
, proved that a growing share of Jamaicans were taken by the Mouse experience.
Before the year was out, the artist had joined forces with producer Junjo Lawes and remixer
Scientist
. Backed by the Roots Radics, Eek cut "Virgin Girl" and "Noah's Ark," before having another go at "Wa-Do-Dem." The latter did the trick and Eek-A-Mouse had arrived with a sound so unlike any other, equal parts singing, DJing, and disconcerting Oriental-esque weirdness, that soon all of the island was raving about the rodent. He was the toast of Reggae Sunsplash in 1981, his bubbling lunacy providing a cathartic release to a festival otherwise in mourning for
Bob Marley
. "Biddy biddy beng" roiled out across the crowd, and the audience shouted it back as one, instantly cementing the syllables as the catchprase of the new decade. Eek saw out the year with the holiday hit, "Christmas A-Come."
1982 was the year of the Mouse, with a litter of smash singles including "Wild Like a Tiger," "For Hire and Removal," "Do You Remember," and "Ganja Smuggling," and the seminal album Wa Do Dem, rounding up most of the hits and more. With "Operation Eradication," Eek proved there was a thinking man inside the mouse costume on a single inspired by the tragic vigilante killing of close friend and fellow DJ
Errol Scorcher
. A rabid appearance at Reggae Sunsplash was also captured on tape and released in 1984. Skidit appeared before the year closed and although it was less hit-driven than its predecessor, was just as strong nonetheless. More smash singles followed in 1983, while Mouse and the Man proved to be another classic set. Again produced by
Linval Thompson
and backed by the Roots Radics, this remains one of the artist's masterpieces. The following year's Mouseketeer, produced by Junjo Lawes, included several hits, while also taking on contemporary issues and finally answering fans' number one question on "How I Got My Name."
In 1985, Eek began working with producers Anthony and Ronald Welch, for whom he recorded the Assassinator album, which was his U.S. debut. It was a rather depressing and violent affair thematically, although even the most serious subjects have a comic irony under the artist's oddball delivery. Surprisingly, or not, Eek's international audience was found amongst the rock crowd. Which explains why The King and I, also released that year, was recorded in the U.K. with producer Cliff Carnegie. But it was on 1988's wittily titled Eek-A-Nomics that the DJ began seriously courting this new audience. Bolstered by the hit single "Freak," a version of the Addams Family theme song, Eek signed to the Island label the following year and even grabbed a role in the film New Jack City. The U-Neek album was the pinnacle of cross-pollination between reggae and rock, highlighted by a cover of
Led Zeppelin
's own Hindenberg attempt at reggae, "D'Yer Maker." The album also spawned the hit single "You're the One I Need." Unfortunately, this was to be Eek's first and last album for Island. It wasn't until 1996 that a new full-length, Black Cowboy, appeared. ~ Jo-Ann Greene
full bio
Selected Discography
Similar Artists
Don't have a Pandora account? Sign up
Already have a Pandora account? Log In