Free personalized radio that
plays the music you love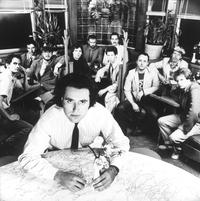 People who also like this
On-and-off for over 15 years, Boston's ten-piece Either/Orchestra has performed engagingly idiosyncratic large-ensemble jazz while serving as a formative workshop for musicians who have received significant popular and critical recognition in their post-E/O careers. Since the band's inception in 1985, the guiding force behind Either/Orchestra has always been composer and tenor/soprano saxophonist Russ Gershon. Under Gershon's leadership, the ensemble has successfully balanced serious musicianship and respect for the jazz tradition with a quirky and sometimes off-the-wall sense of humor. Gershon and various other bandmembers have composed much original E/O material, but the group is also known for its sometimes reverent, sometimes irreverent covers of both jazz and non-jazz repertoire. Almost any material is fair game for reinterpretation according to Either/Orchestra's all-encompassing view of the musical world: compositions by Ellington,
Mingus
, and Monk should come as no surprise, but tunes by
Bacharach
,
Dylan
, and even
Robert Fripp
and
Bobbie Gentry
also find their way into E/O recordings and live performances. Either/Orchestra revels in delivering the unexpected and is forever throwing curves at the listener. While deftly mixing idioms, E/O consistently meets the expectations of the best large-ensemble jazz; the band's members solo with both passion and skill, navigate complex charts, and swing with abandon.
Between 1987 and 1996, Either/Orchestra released six CDs on Gershon's Accurate Records label: Dial "E" (1987), Radium (1988), The Half Life of Desire (1990), The Calculus of Pleasure (1992), The Brunt (1994), and Across the Omniverse (1996), a ten-year retrospective of previously unreleased material. Gershon trumpeter Tom Halter and trombonist Russell Jewell are present throughout all of these recordings; alto/baritone saxophonist Charlie Kohlhase is also an important ongoing E/O member who made his first appearance on Radium. As the band underwent various personnel changes during its first decade, several noted musicians came and went, including keyboardist
John Medeski
, drummer
Matt Wilson
, trombonists
Josh Roseman
and
Curtis Hasselbring
, and saxophonist Andrew D'Angelo. After leaving Either/Orchestra, these artists became in-demand session players and members of various innovative working bands on the New York creative music scene during the 1990s (or, in the case of
Medeski
, a bona fide star to the neo-hippie jam band crowd as a member of Medeski, Martin & Wood).
In 1997, Either/Orchestra went on hiatus but was back the following year with renewed purpose and the high energies and spirits of seven youthful new members joining veterans Gershon, Halter, and Kohlhase. The new lineup included drummer Harvey Wirht from Surinam and percussionist Vicente Lebron from the Dominican Republic who, along with bassist Rick McLaughlin, provided perhaps the deepest groove that the band had yet achieved. In 1999, the new ensemble went into the studio to record More Beautiful Than Death, which was released in 2000 as the first Either/Orchestra CD in four years. More Beautiful Than Death offered powerful new creative jazz compositions by Gershon, as well as a new direction for the band: E/O arrangements of 1970s Ethiopian pop songs "Amiak Abet Abet" by Teshome Sissay, "Musicawi Silt" by Girma Beyene, and "Feker Aydelmwey" by Ayalew Mesfin. Exuberant and infectiously rhythmic, the Ethiopian tunes were perfect vehicles for Gershon and Halter to apply their imaginative arranging skills and for the latest version of E/O to cut loose. More Beautiful Than Death proved that after a several-year absence from the recording studio, Either/Orchestra could re-emerge as strong or stronger than ever, maintaining continuity with its past, introducing fresh new talent and still finding inspiration in the unexpected. Two years would pass before they released another album, but Afro-Cubism was announced as the first of two discs to be released between the fall of 2002 and the spring of 2003. This album was a result of having too much recorded material that they wanted to release, so they split it between their Latin-influenced songs and their traditional jazz compositions. ~ Dave Lynch
full bio
Selected Discography
Similar Artists
Don't have a Pandora account? Sign up
Already have a Pandora account? Log In