Free personalized radio that
plays the music you love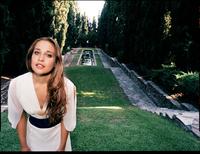 People who also like this
Fiona Apple defied categorization or any easy career path, almost running the pattern in reverse, opening her career as a highly touted and popular alternative singer/songwriter, then transitioning into a cult artist. Apple certainly benefited from the open-door policy of modern rock in the mid-'90s, following the path of crossover alt-rock piano-based songwriters like
Tori Amos
, but Apple was hardly an
Amos
copycat: she had a strong jazz undertow in her vocal phrasing and melodies, she had richer arrangements, she had a poppier bent to her songs. All these things helped her 1996 debut, Tidal, find a wide audience, one that increased considerably in the wake of the controversial video for the single "Criminal," but Apple made it abundantly clear that she wasn't an amateur provocateur with her sophomore album, When the Pawn Meets the King, an album that increased her critical reputation and cult, which would be pillars of support during her intense battles while making her third album, Extraordinary Machine.
Born to singer Diana McAfee and actor Brandon Maggart in 1977, Fiona Apple started playing and writing songs at the age of 12, in an effort to work out a traumatic childhood that included a rape at the age of 11. Apple continued to write, leaving high school for Los Angeles at the age of 16. She cut a demo tape that eventually earned her a contract with Sony Music in 1995. Teamed with producer Andrew Slater, she cut her debut, Tidal, releasing the album in the summer of 1996.
Tidal was a slow build, earning critical acclaim and a cult that exploded when the controversial video for "Criminal" turned the single and album into a hit. Mark Romanek's seedy, suggestive clip was overtly sexual -- a path Apple notably avoided afterward -- but it did the trick, helping the album reach the Top Ten and earning Apple a Grammy. Despite this titillation, Tidal appealed to the middle of the road, a path Apple definitively rejected with her next album, 1999's When the Pawn Meets the King. The entire title was a 90-word poem, a fair indication of the artistic ambition that lay within. Produced by
Jon Brion
, the album was dense, literate, and melodic, not matching the commercial success of the debut but deepening her cult. Despite a romance with director Paul Thomas Anderson -- she contributed to the soundtrack of his 1999 magnum opus Magnolia -- Apple retreated from the spotlight, fostering an element of mystery that only grew when her next album experienced a series of delays.
By 2003, the lack of a sequel became a sensation among some music message boards, where rumors swirled that Sony rejected her newest music for being uncommercial. Within the next year, unfinished mixes leaked onto the Internet and the saga of the album spilled over into the mainstream, earning ink in The New York Times. All this helped usher the album to completion in the fall of 2005, when the original
Brion
productions were tweaked and expanded with producer Mike Elizondo, who helped Extraordinary Machine reach its final shape. The album was greeted by generally positive reviews -- some compared it not entirely favorably to the leaked album -- and the record received healthy sales. In its wake, Apple maintained a moderate presence, touring with
Nickel Creek
in 2007 and appearing with the Watkins Family at times during their residency at the Largo in Los Angeles. In 2012, Apple previewed three songs from her fourth studio album (which boasted a typically enigmatic title in The Idler Wheel Is Wiser Than the Driver of the Screw and Whipping Cords Will Serve You More Than Ropes Will Ever Do) to a wildly enthusiastic audience at the South by Southwest music festival in Austin, Texas. Produced by Apple with her touring drummer, Charley Drayton, the album earned excellent reviews upon release in June 2012. ~ Stephen Thomas Erlewine
full bio
Selected Discography
Similar Artists
Don't have a Pandora account? Sign up
Already have a Pandora account? Log In