Free personalized radio that
plays the music you love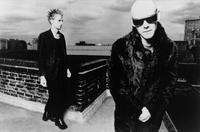 People who also like this
The Future Sound Of London
First recognized as the dance duo behind the club hits "Stakker" (as Humanoid) and "Papua New Guinea," Future Sound of London later became one of the most acclaimed and respected experimental ambient groups. Their work incorporates elements of techno, classical, jazz, hip-hop, electro, industrial, psychedelic rock, and dub into expansive, sample-heavy tracks, which are exquisitely produced and usually without easy precursor.
Notoriously enigmatic and often disdainful of the press, the group's Garry Cobain and Brian Dougans worked their future-is-now aesthetic into a variety of different fields, including film and video, 2- and 3-D computer graphics and animation, the Internet, radio broadcast, and, of course, recorded music. Although they usually deride their earlier work as play-for-pay club fare not representative of their later musical vision, many of the thematic concerns of their earlier 12"s and their heavily dance-oriented debut LP, Accelerator, followed them into their later work. Usually filed under ambient, their body of work is often much more than that, drawing from the history of experimental electronic music with a relentlessness that has helped to push the calmer elements of that genre's reputation into decidedly more difficult directions.
The pair also grew in repute as remixers, obliterating tracks by
Curve
,
Jon Anderson
,
David Sylvian
and
Robert Fripp
, and
Apollo 440
, and rebuilding pieces of almost majestic complexity with the remnants. The duo initiated their
Amorphous Androgynous
project with the elegant Tales of Ephedrina album in 1993. As FSOL, they released the six-part Cascade single that year, which set the stage for the instant-classic double album Lifeforms in 1994. The release was a critical and commercial smash, charting in the Top Ten of the U.K. album charts. The album's title track spun off into a subsequent EP, which featured
Cocteau Twins
vocalist
Elizabeth Fraser
. ISDN, containing material previously broadcast live to radio stations via ISDN, was released as a limited edition (with a black cover) in late 1994, followed by a more widespread edition (this time with a white cover, and an altered track list) in 1995. The more dystopian Dead Cities followed in 1996; the album contained the duo's highest-charting single, "We Have Explosive," which peaked at number 12 in the U.K. All three of these full-lengths were important stopping points on the road of rabid hybridization characteristic of post-rave European experimental electronica (ambient, jungle, trip-hop, ambient dub, etc.), and the pair's somewhat punk rock attitude (despite their success) did much to underscore the scene's underground roots.
After a lengthy hiatus marked by rumors of mental illness and a cottage lifestyle, Cobain and Dougans returned in 2001 with Papua New Guinea Translations, an album of newer interpretations of their 1992 signature hit. This was followed in 2002 by The Isness, a record heavily influenced by '60s and '70s psychedelia, which was released under the
Amorphous Androgynous
banner worldwide but as FSOL in the United States. Related releases The Mello Hippo Disco Show and The Otherness followed. Another
Amorphous Androgynous
album, Alice in Ultraland, appeared in 2005. Teachings from the Electronic Brain, a compilation of FSOL's most well-known material, appeared in 2006. Also that year, FSOL composed a 5.1 Surround Sound piece titled A Gigantic Globular Burst of Anti-Static for Life Forms, an exhibition at the Kinetica museum. The music was self-released as a digital album in 2007.
In 2007, the group began releasing several albums of unreleased material as part of a series called From the Archives. Four volumes (as well as a double-LP compilation) appeared by the end of the year. They also revisited their early rave days with By Any Other Name, a compilation of older tracks recorded under pseudonyms such as Mental Cube and Yage. In addition, they also released the first installment in a series of ambient/soundscape releases with the long-shelved album Environments. Both series continued in 2008, while studio album The Peppermint Tree and the Seeds of Superconsciousness appeared under the
Amorphous Androgynous
banner.
By 2010, they were up to Environments 3 and From the Archives, Vol. 6. They also issued numerous Live ISDN Transmission releases recorded during the mid-'90s, as well as newer podcasts called Electronic Brain Storms. Environments 4 followed in 2012, the same year the group began working on a collaborative album with
Oasis
frontman
Noel Gallagher
, but the album was scrapped. By the release of Environment Five in 2014, only a few tracks from the sessions had appeared, all released on
Gallagher
's B-sides. In late 2015, FSOL released a scrapbook titled The Most Important Moments in a Life, which was packaged with a full-length CD called Life in Moments. Archived 8 also appeared, and Environment Six and Environment 6.5 were simultaneously released in October 2016. ~ Sean Cooper & Paul Simpson
full bio
Selected Discography
Similar Artists
Don't have a Pandora account? Sign up
Already have a Pandora account? Log In