Free personalized radio that
plays the music you love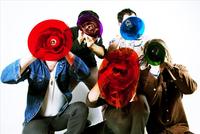 People who also like this
Since their formation in New York City's Brooklyn borough in 2001, Gang Gang Dance have earned an enthusiastic underground cult following by providing experimental, left-of-center music that uses a lot of electronics but is also very percussion-minded; percussion, in fact, is a prime ingredient of their sound. The group's eccentric work (which favors free-form structures and has never adhered to a standard verse/chorus/verse/chorus format) has been described as avant-garde rock, experimental rock, and art rock, all of which are applicable. Gang Gang Dance draw on a variety of direct or indirect influences, ranging from
Brian Eno
to ambient electronica to psychedelic rock to world music (elements of Indian, Middle Eastern, Arabic, Asian, and African music have found their way to GGD's live performances and recordings). Electronic music is a strong influence, and yet GGD's music is not dance-oriented or club-oriented per se and is not aimed at the rave subculture; their audience is more of an avant rock audience, and they are as well known for their live shows as for their studio recordings.
Although 2001 has often been cited as the year in which GGD officially got started, some of their members had been working together on various projects long before that. Keyboardist Brian DeGraw (who oversees GGD's electronics and freelances as a visual artist in New York City) and GGD drummer Tim DeWitt first met in Washington, D.C. in 1993 and played together in a band called the Cranium; during a Cranium tour, DeGraw and DeWitt first met vocalist Liz Bougatsos (who went on to become part of GGD) at a show in the Big Apple (where she had been performing in a group called Russia). The Cranium did some recording; their album, A New Music for a New Kitchen, was released on the Slowdime label in 1998, but the group broke up not long after that -- and DeGraw and DeWitt moved on to other projects in N.Y.C. (where they had relocated). In the late '90s and early 2000s, DeGraw and guitarist Josh Diamond (who became a GGD member) performed in film director Harmony Korine's experimental project SSAB Songs.
It was also around that time that DeGraw, DeWitt, and Diamond had a short-lived group called Death and Dying, which evolved into GGD with the addition of Bougatsos (who DeGraw and DeWitt had stayed in touch with since their Cranium days) and singer Nathan Maddox (who, sadly, was killed in August 2002 at the age of 25 after being struck by lightning during a violent thunderstorm he was watching from the rooftop of the building where his girlfriend lived in Manhattan's Chinatown). After Maddox's death, GGD's remaining members carried on as a foursome consisting of DeGraw, DeWitt, Bougatsos, and Diamond -- and in 2004, the group was signed to The Social Registry. Their albums for that independent Brooklyn-based label have included Revival of the Shittiest in 2004 and God's Money in 2005. In 2007, The Social Registry put out GGD's DVD/CD release Retina Riddim. Released in 2008, Saint Dymphna (also on The Social Registry) saw a shift in GGD's sound toward employing dubstep and grime as compositional elements, while relying on more structured electronic workouts in general.
That said, GGD's restless and exploratory nature prohibited them from staying in this vein for very long. Taking what they'd learned from Saint Dymphna, they issued a pair of singles in 2009 ("First Communion") and 2010 ("Kamakura"), reflecting their continued love of the dancefloor yet embracing world music elements as well. The band signed to 4AD for 2011's Eye Contact, which found them fully exploring -- albeit it in their usual tripped-out manner -- pop traditions from Asia, India, and the Middle East without sacrificing their edgy, rough-and-ready electronic signature. ~ Alex Henderson
full bio
Selected Discography
Similar Artists
Don't have a Pandora account? Sign up
Already have a Pandora account? Log In