Free personalized radio that
plays the music you love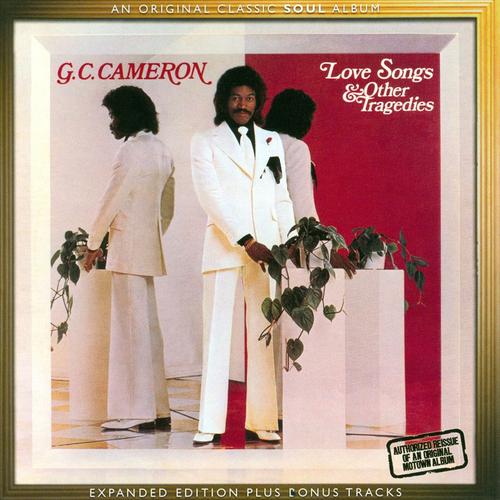 People who also like this
Soul singer G.C. Cameron is a veteran of more than 30 years in the music business and is still ticking. In 2000, he returned to the group he left in 1971 for a solo career,
the Spinners
, to fill in for an ill
John Edwards
. Cameron is famous for his high-energy lead on
the Spinners
' "It's a Shame."
He was born in a small township in Franklin Country, MS, but his family moved to Detroit in 1955 when he was young. The Camerons were a large brood; Cameron had nine siblings, but there was always room for more, as Philippe Wynne (Cameron' s cousin) grew up in the household (he being a little older than Cameron). The two ran Detroit's mean streets together but never formed a singing group. After a Marine stint, which included servitude in Vietnam, Cameron was chosen by
the Spinners
to replace Edgar "Chico" Edwards, adding a new lead voice to the group. (Chico was strictly a background singer.) With Cameron in the fold, Motown's producers found
the Spinners
more interesting and heavyweights like
Stevie Wonder
started writing and producing for them. A remake of the standard "In My Diary" (1969), made popular to R&B fans by
the Moonglows
, was their first with Cameron. The flip side was "(She's Gonna Love Me) At Sundown," which features Bobby Smith. What should have been a two-sided smash wasn't due to Motown's lackadaisical attitude toward
the Spinners
. When
Harvey Fuqua
and Gwen Gordy sold their Tri-Phi setup to Motown,
the Spinners
became basement dwellers.
Stevie Wonder
cut "It's a Shame," only to have it put on ice by Motown for a whole year after it was recorded. A remake of
the Temptations
' popular album cut "Message to the Blackman" (1970) was their second single featuring Cameron. The Spinners' version was good, albeit shorter, but it stiffed from lack of support.
Motown finally released "It's a Shame" on June 6, 1970, and watched it scale the charts to number 14 pop and become
the Spinners
' biggest hit to date. But the group was fed up with Motown's treatment; the frustrations came to a head when the follow-up, "We Got It Made," didn't come close to duplicating its predecessor. It was apparent Motown wasn't ever going to take them seriously and they made plans to leave. Cameron, however, had become romantically involved with Gwen Gordy (Berry Gordy's sister) and stayed with Motown; but he didn't leave
the Spinners
in a lurch. His cousin, Philippe Wynne, who had been rehearsing with the group, was brought in to take his place. The master improviser had previously worked with the Pacesetters, a band that included
Bootsy
and Catfish Collins, in the Cincinnati area. Philippe "Soul" Wynne stayed five years and was as responsible as producer/arranger/writer Thom Bell for the group's chart-busting success on Atlantic Records, which was second only to the mighty O'Jays '70s explosion.
But Cameron wasn't concerned; Motown was going to make him a star, or so he thought. The company placed him on its Mowest label for a series of singles that went nowhere: "Act Like a Shotgun" (1971); a tentative follow-up, "I'm Gonna Get You Parts 1 & 2," was scheduled for release but pulled in the 12th hour -- instead, Mowest dropped "What It Is, What It Is" (1972) with scarcely any promotion. Going for broke, they tried a duet with
Willie Hutch
, entitled "Come Get This Thing," but shelved it in favor of Cameron's interesting "Don't Wanna Play Pajama Games," written and produced by
Smokey Robinson
, in which Cameron mimics
Robinson
to a T.
Uneasiness reared: The Spinners with Wynne were making an unprecedented run with Top Ten hits and good-selling albums, yet Cameron couldn't make the charts. He was switched to the Motown label for his other recordings, including "No Matter Where" (1973) and "Let Me Down Easy" (1973), neither of which sold well. His first solo LP, Love Songs and Other Tragedies (1974), followed; a second LP, the self-titled G.C. Cameron (1976), was preceded by "If You're Ever Gonna Love Me" (1975). The next single, "It's So Hard to Say Goodbye to Yesterday," (1975) was perfect, but for
Boyz II Men
, not Cameron. "Dream Lady" (1976) and "You're What's Missing In My Life" (1977), which was also the title of his third album, issued in 1977 and which followed the same dismal road as previous efforts.
Motown issued Rich Love, Poor Love by G.C. & Syreeta in 1977 and put out one single from the album, "Let's Make a Deal." Two years later,
Syreeta
scored with
Billy Preston
on "With You I'm Born Again." Cameron left the company after the pair with
Syreeta
failed and his romance with Gwen Gordy soured. When "I've Got My Second Wind," a duet with
Tata Vega
off her Givin' All My Love album (1981), came out, Cameron was long gone.
The talented, multi-voice singer (every producer who worked with him found a different sound) recorded off and on for a bunch of little labels from 1977 on; his most significant recording was Give Me Your Love (1983) for Malaco Records in Jackson, MS (sort of a homecoming for Cameron). It's a great album with many riveting tracks, including the heart-wrenching "A Night Like This in Georgia."
A year later, Ian Levine included Cameron in his Motorcity project as a singer, writer, and producer. The association with Levine may have been creatively lucrative, but not financially, as Cameron claims he has yet to receive a loyalty check from any recording company he was ever involved with. And that includes the single he cut with the Tams, entitled "Walking Dr. Bill," in the late '90s. The "shag" hit did secure him some dates on the Carolinas' beach music set with the Tams and his own group, the G.C. Cameron Band.
The Motorcity recordings, which included a duet with Martha Reeves, were compiled on Right or Wrong (Motorcity 1991) and later The Very Best of G.C. Cameron (1996) on Hot Productions. He now has a production/recording company, Daggerjacc, and is writing a tell-all book detailing his tumultuous experiences. He cut ties with most of his music biz cronies and relocated to Meadville, MS (near his birthplace), remarried, and is raising a second family; a son by a previous union is well past 30. ~ Andrew Hamilton
full bio
Selected Discography
Similar Artists
Don't have a Pandora account? Sign up
Already have a Pandora account? Log In