Free personalized radio that
plays the music you love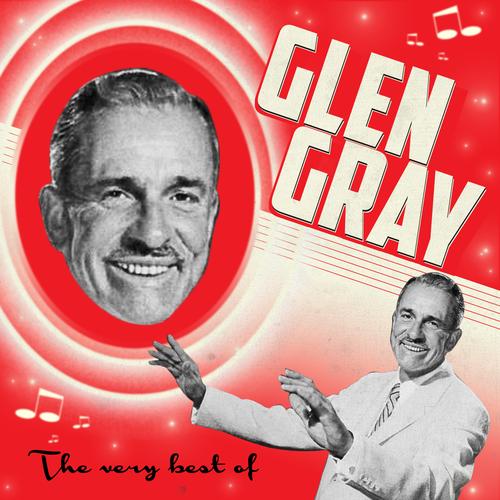 People who also like this
Looked at today, Glen Gray seems a strange, almost otherworldly musical figure -- the photographs of a slim, elegant-looking gentleman with a mustache, in white tie and black dinner jacket, baton held awkwardly in his right hand, evoke another time and place, not only from our own age but also from any setting and image that we normally associate with jazz. He wasn't much of a bandleader, barely able to look like he was keeping time; and as a musician -- specifically a reedman -- he was adequate, but no threat to
Benny Goodman
,
Artie Shaw
, or
Jimmy Dorsey
.
And yet, Gray and the band he led, called
the Casa Loma Orchestra
, ran with the best of them. In the years before
Benny Goodman
came to define swing music, Gray and his orchestra were among the top swing outfits in the country, and even after the ascent of
Goodman
,
Tommy Dorsey
,
Jimmy Dorsey
,
Glenn Miller
,
Harry James
, and others, Gray still had the allegiance of a major part of the listening public, and the members of his group could hold their heads up in any of that company. And Gray's reputation lasted well past the big-band era, so that in the late '50s he was still fulfilling a lingering demand for
the Casa Loma Orchestra
's work.
This improbable figure on the bandstand -- a leader who needed training to look like he was even following the band his name fronted, forget about actually keeping the beat -- was born Glen Gray Knoblauch on June 7, 1906, in Roanoka, IL. The whole Knoblauch family was musical, but never aspired to anything beyond amateur status until Glen came along. He took up the piccolo as a boy, and subsequently turned to the clarinet and the saxophone, and while still in his teens organized his first band, a quintet called Spike's Jazz Orchestra. Gray attended Wesleyan College for a short time, but he was too intrigued by music to be distracted by academia for long, and by age 20 had left college. He headed for Detroit, where, with his ability on the alto sax, he became part of Jean Goldkette's stable of artists.
In the late '20s, Goldkette was the big noise in the city's band music community, running a bunch of orchestras using his name, the ranks of which included
Bix Beiderbecke
,
Joe Venuti
,
Eddie Lang
,
Frankie Trumbauer
,
Jimmy Dorsey
,
Tommy Dorsey
, and
Pee Wee Russell
. Knoblauch wasn't in the same league with any of these as a player, but he absorbed a lot of the music around him and saw what went into making a good, memorable band. Fate took a hand when he and his good friend, trombonist
Pee Wee Hunt
, were hired as part of a septet called Goldkette's Orange Blossoms, under trumpet man Hank Biagini, that was booked to play a new Toronto hotel called the Casa Loma. They played an eight-month gig there but the place was so huge (it's been described as a castle) that even the band's popularity couldn't pull in enough people to keep it from closing. They returned to Detroit in time to find Goldkette rapidly approaching a state of insolvency. Luckily, the band had a few prospects, mostly thanks to Cork O'Keefe, the agent who'd booked them into the Casa Loma. He got them enough work to keep going, including an extended engagement at the Roseland Ballroom in New York City. And, as the Goldkette Orange Blossoms were history, they became
the Casa Loma Orchestra
-- the name not only sounded good, and slightly exotic, but it was also memorable. And they did well enough at that Roseland gig to get heard and signed up by a scout for OKeh Records. All of this took place in the summer and early fall of 1929, just as the American economy was about to dive into the Great Depression. (Indeed, among the songs that Gray and company recorded at their first session -- which took place on the day of the stock market crash in October of 1929 -- was, rather ironically, "Happy Days Are Here Again.")
Gray and
the Casa Loma Orchestra
might've died in those first six months after the market crash, but they had two important advantages over a lot of the competition. For starters, they were talented, and they knew where their strength lay, in the precision of their playing -- any number of bands had a better beat and could handle blues more deftly, but as a dance band they found that their exacting ensemble work had an audience that would pay to hear them, even in the coming hard times, as it turned out. The second edge they had came in their organization -- starting in early 1930,
the Casa Loma Orchestra
became a corporation, with each member owning an equal share and with Gray acting as president. But as most bands needed a name in front of them -- or, at least, one person's name with whom the public could identify -- Gray's was the logical one, even though he preferred sitting in the sax section, didn't sing, and scarcely knew how to keep time. In fact, Gray was an amazingly anonymous musical presence within the band -- even their charts were the work of someone else, guitarist Gene Gifford, who pioneered the field of detailed full-band arrangements in jazz. But his name -- shortened to Glen Gray -- was resonant, and he lent it to that role in the enterprise.
The band's unique organization kept it together across the 1930s, each member payed a weekly salary and all sharing equally in the profits -- when times were hard it meant that they had something they could rely on, and when they got good everyone was well taken care of. And when corners had to be cut in everyone's interest, especially in the early months, they were all in the same boat -- at the start, the members resided at a hotel where rooms were a dollar a day. Other bands frequently had a problem holding onto their best people as money and recognition became issues along with success, but all of
the Casa Lomans
were well taken care of by the standards of the time, and appreciated the gig that they had. New members were added as needed, and these included Grady Watts on trumpet and Clarence Hutchenrider on clarinet. They also scored a coup when O'Keefe took control of the Glen Island Casino, just outside of New York City in New Rochelle, and installed the band there for a season -- they were a huge hit, and their success transcended word-of-mouth when CBS, through O'Keefe's efforts, began a weekly radio broadcast from the casino featuring
the Casa Lomans
, who were suddenly famous across the country. Radio was king in those days -- even bigger than records -- and that translated into even bigger exposure when
the Casa Loma Orchestra
was selected as the first resident band for the Camel Caravan show. In an era when the Dorseys and
Benny Goodman
were all competing for audiences,
the Casa Loma Orchestra
was ranked as one of the top big bands in the United States, occupying a narrow middle ground between "sweet" bands such as those led by Hal Kemp and the more jazz-focused bands of
Goodman
. Gifford's arrangements gave them credibility with jazz listeners, while their pop sides, sung by Kenny Sargent and extremely syrupy by the standards of the time, generated the big record sales and heavy airplay. And that balance worked for almost six full years.
The orchestra's peak came in 1936, after which their reputation -- and that of Gray -- declined in jazz circles, mostly owing to Gene Gifford's departure. Evidently the guitarist/arranger had wearied of his hot arrangements being shunted aside in favor of the ballads that their record company preferred. Ironically, not only were they deprived of his services, but other arrangers were soon building on the foundation Gifford had provided, and other bands were passing
the Casa Loma Orchestra
in popularity, at least among jazz aficionados. Pop audiences still appreciated their work, however, as did those looking for good dance music, and Gray went along with it, mostly for the financial security, and he also moved out from the sax section to take up the baton, albeit extremely awkwardly, when promoters insisted that the man whose name fronted the band be more visible. Gray wasn't a great bandleader, by any means, though he was a fine businessman, and he held the group together across the next six years. And, ironically -- considering his awkwardness at the podium -- he became a star in the role of leader.
It was the onset of World War II that finally did in
the Casa Loma Orchestra
. Their corporate structure saw to it that everyone was taken care of financially through the Great Depression, which accounted for their amazing stability in lineup for over a decade, but by 1942 the members were all older and tiring of the travel involved. The original corporation was dissolved, although Gray -- who was now a major name before the public -- kept a version of
the Casa Loma Orchestra
alive until 1947 using hired players. By that time, his 20 years in the business wearied him, and the onset of diabetes weakened him further, and he dissolved the band. He tried for a comeback in 1950, but by then the big-band era was long past -- some studio recordings followed for Decca and later for Capitol, well into the 1950s, various alumni and a group of handpicked new members working with Gray, but these were nostalgia-oriented productions, breaking no new ground; they were intended to take advantage of various new technologies, including hi-fi and stereo, without advancing the group's work. The Casa Loma Orchestra's history ended in 1963 with Gray's death at age 57.
Today, he's mostly remembered as a presence at the podium, and a name. But some of the names who passed through his band, including
Bobby Hackett
, Sonny Dunham,
Herb Ellis
, and
Red Nichols
, are highly notable. And it's a measure of just how well remembered he was as late as the end of the 1980s, a quarter century after his death and more than four decades after his heyday, that a volume on Gray was included in Columbia Records' big-band best-of CD reissue series, alongside the likes of
Count Basie
and
Benny Goodman
; and Time-Life also saw fit in the 1990s to issue a 21-track CD of his work. ~ Bruce Eder
full bio
Selected Discography
Similar Artists
Don't have a Pandora account? Sign up
Already have a Pandora account? Log In