Free personalized radio that
plays the music you love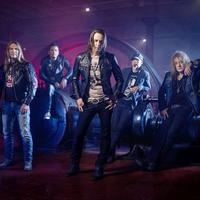 People who also like this
Gotthard, a Swiss hard rock band who sing in English, are one of the most successful musical acts ever to arise from Switzerland. Gotthard sold over two million albums worldwide, one million of them sold in Switzerland alone (a country of less than eight million inhabitants, keep in mind), as practically all of the band's albums were Swiss chart-toppers. Gotthard were also popular in Germany, where the band's albums regularly charted. Formed in Lugano, a town in the Italian-speaking canton of Ticino in the far south of Switzerland, the band was initially named Krak and was comprised of vocalist Steve Lee, guitarist Leo Leoni, bassist Marc Lynn, and drummer Hena Habegger. Under the guidance of
Krokus
bassist/songwriter/founder Chris von Rohr, the band changed its name to Gotthard (a name derived from Saint Gotthard, a Roman Catholic saint after which the well-known St. Gotthard Pass in Switzerland was named) and signed a recording contract with BMG.
With von Rohr at the helm as their producer and co-songwriter, the band went about recording its debut, Gotthard (1992). In addition to von Rohr, Lee and Leoni were the primary songwriters, and
Def Leppard
guitarist
Vivian Campbell
played on two songs ("Firedance," "Get Down"). Gotthard spawned a pair of MTV-aired videos ("Hush," "All I Care For") and spent 15 weeks on the Swiss chart, peaking at number five and ultimately earning platinum status. After some international touring, Gotthard returned to the studio with von Rohr once again at the helm as producer/co-songwriter, resulting in Dial Hard (1994), the band's second album. Even more successful than Gotthard, Dial Hard spent several weeks at number one in Switzerland, charted in Germany and Japan, and ultimately went platinum, thanks in part to MTV-aired videos for "Mountain Mama" and "I'm on My Way."
In 1995, the band and von Rohr traveled to Los Angeles to record a follow-up album, G. (1996), whose release was preceded by the single "Father Is That Enough?" A chart-topper in Switzerland and Top 50 in Germany, G. was promoted with a sold-out Swiss tour, a 20-date German tour, and a Japanese tour as well. Mandy Meyer, onetime guitarist for
Asia
(Astra, 1985), joined the band membership at this point. (He later left in 2004 and was replaced by Freddy Scherer.) Gotthard's popularity continued unabated in the wake of G., which might have been the band's peak of popularity. D-Frosted (1997), a live unplugged album, and Open (1999), a standard studio effort, each spent five weeks atop the Swiss album chart. Gotthard were touring throughout Europe at this point, and in 2000 they enjoyed their first number one single, "Heaven." Successive album releases continued to hit number one in Switzerland while charting respectably in Germany: Homerun (2001), the ballad collection One Life One Soul (2002), Human Zoo (2003), the best-of collection One Team One Spirit (2004), Lipservice (2005), the live album Made in Switzerland (2006), and Domino Effect (2007). Two years later, the band delivered Need to Believe in 2009. Tragically, singer Steve Lee was killed near Mesquite, Nevada in October 2010 when a semi-truck swerved into a parked motorcycle which then struck Lee, who was standing beside the road with a group of traveling companions. After a year of intense grieving, the rest of the band reached the decision to keep going; in November 2011, they announced the arrival of their new vocalist Nic Maeder with the release of a new track, "Remember It's Me." The following year they released their tenth studio album, Firebirth, although it was generally considered the first record in Gotthard's second chapter. Gotthard returned in 2014 with the triumphantly titled Bang!, their first record to feature French lyrics on album track "C'est la Vie." Three years later, in 2017, the band celebrated the 25th anniversary of their debut by releasing their 12th studio album, which was suitably titled Silver. ~ Jason Birchmeier
full bio
Selected Discography
Similar Artists
Don't have a Pandora account? Sign up
Already have a Pandora account? Log In