We created Pandora to put the Music Genome Project directly in your hands
It's a new kind of radio –
stations that play only music you like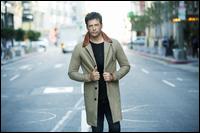 People who also like this
With very few exceptions, the career of Harry Connick, Jr., can be divided in half -- his first two albums encompassed straight-ahead New Orleans jazz and stride piano while his later career (which paralleled his rising celebrity status) alternated between more contemporary New Orleans music and pop vocals with a debt to
Frank Sinatra
. Born in New Orleans on September 11, 1967, Connick grew up the son of two lawyers who owned a record store. After beginning on keyboards at the age of three, he first performed publicly at six and recorded with a local jazz band at ten. Connick attended the New Orleans Center for the Creative Arts and studied with
Ellis Marsalis
and
James Booker
. A move to New York to study at Hunter College and the Manhattan School of Music gave him the opportunity to look up a Columbia Records executive who had asked to see him, and Connick's self-titled album debut -- a set of mostly unaccompanied standards -- appeared in 1987. Jazz critics praised Connick's maturity and engaging style as well as his extended stays at New York hot spots during the year. His second album, named for his age in 1988, was the first to feature him on vocals.
Already well known within jazz circles, Connick entered the American consciousness with the soundtrack to 1989's popular film
When Harry Met Sally
. Director Rob Reiner had asked Connick to compose a soundtrack, and he recorded several warm standards ("It Had to Be You," "Let's Call the Whole Thing Off," "Don't Get Around Much Anymore") with a big-band backing. A world tour followed, and
When Harry Met Sally
eventually reached double-platinum status. With Connick a major celebrity, he diverged into an acting career, playing a tail gunner in 1990's
Memphis Belle
. That same year, he released two albums simultaneously: one,
We Are in Love
, was another vocal outing with similar standards as had appeared on
When Harry Met Sally
, while
Lofty's Roach Souffle
was all-instrumental. (Of course, the vocal album performed much better in the pop charts, hitting double platinum, while the instrumentals worked better with jazz audiences.) Connick toured again, this time with a big band, and recorded the group on 1991's
Blue Light, Red Light
. Though his celebrity decreased slightly during the mid-'90s, Connick's albums continued to reach platinum status, including 1992's
25
, a 1993 Christmas album, and 1994's
She
. Connick continued his acting work with a starring role in 1995's
Copycat
(where he played a serial killer), and he married actress Jill Goodacre. In 1996, he had a brief role in the year's biggest blockbuster,
Independence Day
, but his album Star Turtle failed to connect with pop audiences.
Come by Me
, a return to big-band sounds, followed in 1999. In the new millennium, Connick cycled between albums exploring his jazz roots and those with songbook standards.
Interestingly, post-2001 Connick moved between two labels with albums getting released on both Columbia Records and saxophonist
Branford Marsalis
' Marsalis Music label. Among these were the big-band album
Only You
, featuring popular music from the '50s and '60s, and the more intimate releases Other Hours: Connick on Piano, Vol. 1 (2003) and Occasion: Connick on Piano, Vol. 2 (2005), which focused on Connick's instrumental abilities. As well as releasing albums, Connick continued to act, appearing regularly on the television sitcom
Will & Grace
before it ended in 2006. Ever devoted to his hometown, Connick was also heavily involved in the support and rebuilding of New Orleans post-Hurricane Katrina. In early September 2005, he organized the benefit telethon
A Concert for Hurricane Relief
on NBC to raise money for and draw attention to the beleaguered residents of New Orleans. Afterward, he worked closely with Habitat for Humanity in helping victims of Katrina. In 2007, Connick once again expressed his deep love for his hometown with the release of his New Orleans tribute album,
Oh, My Nola
, on Columbia Records. The similarly New Orleans-themed Chanson du Vieux Carré also appeared in 2007. A year later, Connick returned with his third holiday album,
What a Night! A Christmas Album
. He once again revisited a set of American popular song classics and contemporary pop standards with 2009's
Your Songs
. In 2011, as part of WNET's
Great Performances
series on PBS, Connick released the live album and DVD
In Concert on Broadway
. The concert featured Connick backed by his big band and orchestra performing at the Neil Simon Theatre in New York City. In 2013, Connick returned with the funk-oriented album
Smokey Mary
. The album coincided with the 20th anniversary of the Krewe of Orpheus, the Mardi Gras super krewe that Connick co-founded in 1993. Included on the album was the song "Smokey Mary Boogie Woogie Choo Choo Train," which Connick penned in homage to the krewe's signature float. Also in 2013, Connick released the eclectic album of all-original songs,
Every Man Should Know
. ~ John Bush, Rovi
full bio
Selected Discography
Similar Artists