We created Pandora to put the Music Genome Project directly in your hands
It's a new kind of radio –
stations that play only music you like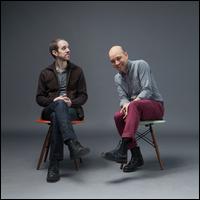 People who also like this
The Portland-based duo Helio Sequence is comprised of vocalist/guitarist Brandon Summers and keyboardist/drummer Benjamin Weikel. Debuting in 1999 with an ambient, psychedelic sound that placed as much emphasis on the guitar as Summers' muted vocals, the band issued the Accelerated Slow-Motion Cinema EP before dropping the full-length
Com Plex
in 2000. Helio Sequence's 100-percent home studio approach allowed for a lot of sonic experimentation, and that aesthetic informed the swirls and layers of their evolving sound. When it did touch the ground, it was at points between
My Bloody Valentine
,
Mouse on Mars
, and the weirder side of the Elephant 6 collective.
Young Effectuals
followed in 2001 before the Helio Sequence jumped from the roster of Cavity Search Records to Sub Pop, releasing the more auspicious
Love and Distance
in June 2004. The album gave an unprecedented amount of prominence to Summers' vocals, but the singer was unable to keep his throat in shape on the subsequent tour. He returned to Portland, his voice severely damaged, and was forced to relearn the craft through a series of vocal exercises and lifestyle changes. Taking cues from another raspy-voiced singer,
Bob Dylan
, Summers steadily regained the use of his voice, and the Helio Sequence returned in 2008 with
Keep Your Eyes Ahead
.
While on tour in support of the album, the duo's rented studio/practice space flooded, wiping out some of their gear and leaving them in need of a new space to record and create. The band's new digs at a remote, disused warehouse offered them the seclusion necessary to experiment and stretch out. The results of these insular experiments informed the more patient, languid sound of 2012's Negotiations. In 2013, Summers and Weikel tried their hand at producing other artists for the first time, working with a Brazilian combo named Quarto Negro, remixing tracks for adventurous hip-hop act
Shabazz Palaces
, and mixing projects for several Portland-based artists. In 2014, some of their friends in the Portland music community came up with "the 20 Song Game," in which participants were asked to come up with 20 new songs in a single day. While Summers and Weikel didn't quite make the goal, it prompted them to challenge themselves to create as many new tracks as they could in a month. After coming up with 26 tunes, Summers and Weikel trimmed the list down to ten, which were polished and compiled into the band's self-titled sixth album released by Sub Pop in May 2015. ~ Johnny Loftus, Rovi
full bio
Selected Discography
Similar Artists