Free personalized radio that
plays the music you love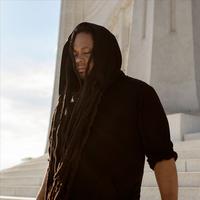 People who also like this
Best known as Hieroglyphic Being, Chicago native Jamal Moss is one of electronic dance music's most fearlessly experimental artists. His futuristic, abstract compositions are influenced by free jazz, industrial, and musique concrète as well as techno and house. His recordings emphasize spontaneity and creativity over studio polish or accessibility, and he often uses analog equipment and primitive recording techniques, resulting in a rough, dirty sound. Restlessly prolific and often brilliant, he has released dozens of albums and EPs, including recordings under additional monikers such as I.B.M. and
the Sun God
. He also runs Mathematics Recordings, which has kept Chicago's acid house legacy alive with releases by himself,
Steve Poindexter
, and Lil' Louis, as well as international artists such as John Heckle and EDMX (
DMX Krew
).
Born in 1973, Moss was a part of Chicago's acid house scene during the late '80s and early '90s. He helped create soundscapes at the Liquid Love parties at the infamous venue Powerplant, subsequently starting another event series titled Liquid Sex. From there, he came in contact with Chicago house pioneers
Adonis
and
Steve Poindexter
, who became huge inspirations to his work. Moss hosted a house program called Jack-FM on FM radio station WNUR from 1993 to 1996. That year, he started Mathematics Recordings with the release of a limited white label 12" by himself and
Poindexter
. He collaborated with
Poindexter
and Kareem Smith as Chicago Bad Boys, releasing a double 12" on Djax-Up-Beats in 1997. Along with Melvin Oliphant and Daryl Cura, he formed
the Dirty Criminals
and contributed to their first two releases on International Deejay Gigolo Records.
His solo career started to take off around the mid-2000s. He released two EPs on Ghostly International's sublabel Spectral Sound, performed at the Detroit Electronic Music Festival in 2004, and received much acclaim from electronic music publications such as XLR8R and URB. Further releases appeared on labels such as Morphine Records, Klang Elektronik, and Dope Jams. As the 2010s began, his output became nearly impossible to keep track of, with numerous albums appearing per year, mostly as limited CD-Rs. His more experimental albums appeared on labels such as Alter, Further Records, and audioMER, gaining him an audience outside of dance music circles. In 2013, Moss collaborated with Daniel Martin-McCormick (
Ital
) under the name
Interplanetary Prophets
, releasing an EP titled Zero Hour on Planet Mu. The following year, the label issued The Seer of Cosmic Visions, a compilation of tracks from Moss' limited self-released recordings. The release was credited to Hieroglyphic Being and the Configurative or Modular Me Trio.
In 2015, Hieroglyphic Being collaborated with the Sun Ra Arkestra's
Marshall Allen
, drummer Greg Fox, vocalist
Shelley Hirsch
, and several other musicians under the name J.I.T.U. Ahn-Sahm-Buhl, producing the album We Are Not the First. Issued by Rvng Intl., the album received much acclaim from the underground music press. Also that year, Soul Jazz Records reissued The Acid Documents, which was previously a limited CD-R release from 2013. In 2016, Soul Jazz released KMT, the debut full-length by
Africans with Mainframes
, Moss' long-running project with
Noleian Reusse
. Hieroglyphic Being then released the full-length The Disco's of Imhotep on Technicolour, a Ninja Tune imprint that had previously issued his EP The Fourth Dimensions of a Nubian Mystic in 2014. ~ Paul Simpson
full bio
Selected Discography
x

Track List:
This Isn't Your Typical 90's Era Techno / IDM Revisionist View
x

Track List:
The Electronic Belt
Similar Artists
Don't have a Pandora account? Sign up
Already have a Pandora account? Log In