Free personalized radio that
plays the music you love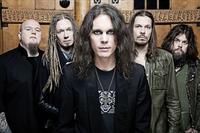 People who also like this
Hailing from Helsinki, Finland and crafting a mix of metal, goth and hard rock they called "love metal," H.I.M. -- known early on as His Infernal Majesty -- was founded in 1991 by vocalist
Ville Valo
, guitarist Mikko "Linde" Lindström, and bassist Mikko "Migé" Paananen. During the band's early years, they released two demos, 1992's unreleased Witches and Other Night Fears, and an untitled 1995 tape that fans christened This Is Only the Beginning; that year, the band also added drummer Juhana Tuomas Rantala to the fold. After signing a record contract with BMG, their first official release was 1996's 666 Ways to Love: Prologue, a Finland-only release limited to 1,000 copies that featured the band's cover of
Chris Isaak
's "Wicked Game."
By the time of the group's first album, 1997's Greatest Lovesongs, Vol. 666, they had shortened their name to H.I.M. and recruited keyboardist Antto Einari Melasniemi. The album earned the band a cult following in their homeland, one that spread to the rest of Europe with 2009's Razorblade Romance. Featuring the single "Join Me in Death" -- which became the best-selling Finnish single in history -- the album topped the German and Finnish charts. When the album was released in the U.S. in 2002, a legal challenge initially resulted in the band going under the HER moniker until they bought the full rights to the H.I.M. name; 1000 copies of the American version of Razorblade Romance were pressed with the HER name. H.I.M. also won a fan in professional skater Bam Margera, who took every opportunity to promote the band's music on his popular MTV series Viva La Bam. In 2001,
Valo
, Lindström, and Paananen formed the side project
Daniel Lioneye
, which featured Lindström on vocals and guitars,
Valo
on drums, and Paananen on bass; the project's debut album The King of Rock 'n' Roll arrived that September. H.I.M. also released its third album, Deep Shadows and Brilliant Highlights, around that time. The first album to feature keyboardist Emerson Burton, it once again topped the German and Finnish charts. H.I.M. returned two years later with Love Metal, the band's first album to display their "heartagram" logo on the cover instead of a picture of
Valo
. Margera directed the video for one of Love Metal's singles, "Buried Alive by Love." The following year, H.I.M.'s first compilation, And Love Said No: The Greatest Hits '97-'04 arrived, featuring the title track and a cover of
Neil Diamond
's "Solitary Man" as exclusive songs.
The band's 2005 album Dark Light marked their true breakthrough in the U.S., reaching the Top 20 of the Billboard 200 and becoming the first Finnish album to achieve gold sales status in America. Another pair of compilations, Uneasy Listening, Vol. 1 (which featured the band's lighter songs) and Uneasy Listening, Vol. 2 (which featured their heavier songs), arrived in 2006 and 2007 respectively. H.I.M.'s sixth album Venus Doom also arrived in 2007, and featured the singles "The Kiss of Dawn" and "Bleed Well"; the album was nominated for a Best Boxed/Special Limited-Edition Packaging Grammy that year, but lost to What It Is!: Funky Soul and Rare Grooves. The group's first live album/DVD package Digital Versatile Doom was released in 2008, and H.I.M. returned with new material two years later with Screamworks: Love in Theory and Practice, which the band recorded in Los Angeles with producer Matt Squire. Later that year, the remix album SWRMXS was made available as a digital release and as an exclusive CD at Hot Topic stores.
In 2011, H.I.M. left Sire/Warner Records and began working on their eighth album, but it was delayed because of a bone condition drummer Gas Lipstick (aka Mika Karppinen) suffered. In August 2012, producer Tim Palmer, who worked with the band on Dark Light and Venus Doom, announced he was working with H.I.M. in London on new material. That October, the compilation XX: Two Decades of Love Metal arrived and featured a new track, a cover of the song "Strange World." The band's eighth album, Tears on Tape, featured mixing work by Palmer and production by Hiili Hiilesmaa; was released in early 2013. In 2017, after a four-year silence, the band announced its breakup after 26 years together. ~ Heather Phares
full bio
Selected Discography
Similar Artists
Don't have a Pandora account? Sign up
Already have a Pandora account? Log In