Free personalized radio that
plays the music you love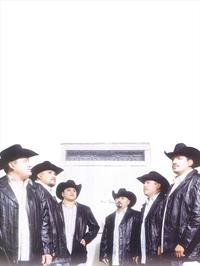 People who also like this
Intocable rose to mass popularity in the late '90s and became arguably the most successful Tejano act of their day. Intocable's style of Tejano is undeniably norteño in nature, driven by polka rhythms and heavily accented by accordion. The group even fashions itself as norteño (i.e., the cowboy look). However, their Texan roots and frontman Ricky Muñoz's gift for graceful pop melodies, among other subtleties, differentiate them from more traditional norteño acts like
Los Tigres del Norte
and
Conjunto Primavera
. Once Intocable established themselves on EMI Latin in the mid-'90s, they became one of the most steadily popular and commercially successful regional Mexican acts of their day. They regularly topped the regional charts with their albums as well as their singles, and they took pride in their devoted following, which allowed them to sell out massive arenas filled with tens of thousands of fans. In fact, Intocable were among the few regional Mexican artists -- along with the aforementioned
Tigres del Norte
and
Conjunto Primavera
, as well as superstars like Marco Antonio Solís and Ana Bárbara -- who rivaled the popularity and cultural impact of Latin pop stars such as
Paulina Rubio
,
Juanes
, and Thalía. Granted, those pop stars enjoyed truly international adoration, whereas a regional Mexican act like Intocable, for reasons of cultural specificity, was limited geographically to Mexico and the United States. But within Mexican and Mexican-American strongholds, Intocable were as revered as any pop star, and likely more respected. The band was critically acclaimed as well, with a long list of awards to its credit. For instance, they were regularly nominated for Premio Lo Nuestro and Latin Grammy awards, and they often won -- like in 2005, when they took home Latin Grammys for both Best Norteño Album (Diez) and Best Regional Mexican Song ("Aire").
Friends Ricky Muñoz (lead vocals, accordion) and René Martínez (drums) formed Intocable in Zapata, Texas, in the early '90s. The group also includes Dany Sánchez (bajo sexto, second vocals), Sergio Serna (percussion), Félix Salinas (electric bass), Johnny Lee Rosas (bajo sexto, choruses), and José Juan Hernández (group animation, rhythms). Group members Silvestre Rodríguez (electric bass) and José Ángel Farías (group animation, rhythms) sadly were lost in an auto accident in 1999, along with José Ángel González (road manager). Intocable began their recording career with Freddie Records, an independent label based in Corpus Christi, Texas. Following the release of Simplemente... (1993), the band signed a contract with EMI Latin, for which the guys recorded their major-label debut, Fuego Eterno (1994).
The follow-up, Otro Mundo (1995), was Intocable's first album to chart, eventually breaking into the Top Five of the Regional Mexican album chart, thanks in part to a trio of hits: "La Mentira," "Coqueta," and "Parece Que No." Llévame Contigo (1996) picked up where its predecessor left off, spinning off more hits: "No Te Vayas," "Ya Ves," "Llévame Contigo," and "¿Y Todo Para Qué?" One of these, "No Te Vayas," became the group's first to top the regional airplay chart, even breaking into the Top Five of the Hot Latin Tracks chart -- impressive for a regional Mexican single. Moreover, Llévame Contigo also hit number one on the regional Mexican chart and broke into the Top Latin Albums Top Five. Intocable IV (1997) couldn't match the heights of Llévame Contigo, but it still proved mighty popular, spawning two number one hits ("Eres Mi Droga," "Vivir sin Ellas") and a Top Five ("Dónde Estás?"). Lo Mejor de Intocable: 12 Super Exitos (1997) capped off the band's opening run of breakthrough success.
The success continued unabated for Intocable -- mostly, that is, with the exception of one tragic episode. In March 1998, the group performed for a crowd of over 65,000 at the Houston Astrodome -- the first of numerous arena shows over the years for which Intocable would become renowned -- and Intocable (1998) followed shortly afterward, as did its hit singles ("Amor Maldito," "Perdedor," "Huracán"). Tragedy then struck. On January 31, 1999, Intocable suffered an auto accident that claimed two bandmembers (José Ángel Farías, Silvestre Rodríguez) and seriously injured the others, Muñoz included. The surviving bandmembers were hospitalized for weeks in Monterrey, Mexico, where they had been headed for a concert. After some time off to heal, physically as well as emotionally, Intocable staged a grand return with Contigo (1999). The album was preceded by a lead single, "El Amigo Que Se Fue," that paid tribute to the departed bandmembers. Contigo boasted three further singles ("Fuerte No Soy," "Soñador Eterno," "Ya Estoy Cansado"), hit number one on the regional chart, broke into the Top Latin Albums Top Five, and was the group's first to crack the Billboard 200.
Intocable's triumphant return from the 1999 tragedy that befell them inspired a legion of new fans, and the band's popularity peaked to new heights. The successive years brought more successful studio albums (Es Para Ti [2000], Sueños [2002], Nuestro Destino Estaba Escrito [2003], et al.) and greatest-hits collections (14 Grandes Exitos [2001], La Historia [2003], Original Masters [2004], et al.), not to mention a laundry list of hits, several of which hit number one ("Enséñame a Olvidarte," "Sueña," "El Poder de Tus Manos," "Eso Duele," "¿A Dónde Estabas?," et al.). As a concert draw they were almost unbeatable. They sold out four consecutive nights at Mexico City's Auditorio Nacional and the group's 2003 headlining appearance at Reliant Stadium in Houston, drew over 70,000 fans -- one record at the time. They also played two sold-out dates at the 10,000-capacity Monterrey Arena in Monterrey, Mexico.
Intimamente (2004) showcases Intocable in an "unplugged" setting, performing many of their hits in a low-key fashion. This record netted them their first Grammy Award for Best Mexican/Mexican-American Album. 2005's Diez, their tenth EMI release, was complemented by a second disc that was essentially a tribute album comprised of covers of their songs by cutting-edge Latin alternative artists such as
Kinky
, Tego Calderón, and
Natalia Lafourcade
. It too won a Grammy.
The group shifted gears and took a brave step outside their comfort zone with 2006's Crossroads: Cruce de Caminos. It was co-produced by Martinez and Lloyd Maines (father of
Dixie Chicks
' frontwoman
Natalie Maines
), and offered country songs as well as some honky tonk-flavored Tex-Mex mixed in with classic norteño tunes. The recording topped the Latin Albums and Mexican Regional Albums charts, and placed at 59 in the Top 200. While 2008's 2C didn't fare quite as well, it nonetheless reached number five at Mexican Regional albums. The band continued to tour and issue compilations. In 2010, Billboard named them Mexican Regional's Group of the Decade. The next date, 2011 (self-released on the Good/Music label after they left EMI), netted no less than six charting singles and a Grammy nomination for Best Norteño album. The first two, "Robarte un Beso" and "Prometí," both hit number one on U.S. regional radio charts. The third, "Arrepientete" was Top Five. Intocable became the first norteño band to play an NFL half-time show at the Dallas Cowboys Stadium. The fourth single from the album, "Llueve," debuted live at 2012's Premio lo Nuestro. There, the group won the three categories they were nominated in. Billboard awarded them a Lifetime Achievement award the same year.
Intocable signed to Fonovisia. Their label debut, 2013's En Peligro de Extinción, was a deliberate reaction to what the band perceived as an increasingly polished "pop" slant in Latin -- and in particular, Mexican Regional Music production. Full of clanging electric guitars and live drums, the monster single "Te Amo (Para Siempre)" ruled the Latin and Regional Airplay as well as the Digital Sales charts for weeks. Intocable took nothing for granted, however. They toured Mexico, the U.S., and Latin America in support of their album for nearly two years. EMI continued to issue compilations keeping the band in the public eye. In 2015, after Fonovisia issued XX Aniversario en Vivo, the group played a live global benefit telecast for St. Jude's Children's Hospital; they donated all proceeds. Two weeks later, they issued the pre-release single and video for "Tu Ascencia." The track landed in the Top 15 on the Regional Mexican Songs and in the Top 10 on Digital Songs charts. On January 23, 2016 they announced a full partnership with St. Jude's to continue fundraising. In March, Intocable headlined the SXSW, SXAmericas All Latino Showcase. In May a second single, "Arrepentido," appeared before the album Highway in June. It was their first full length in three years. ~ Jason Birchmeier
full bio
Selected Discography
Similar Artists
Don't have a Pandora account? Sign up
Already have a Pandora account? Log In