Free personalized radio that
plays the music you love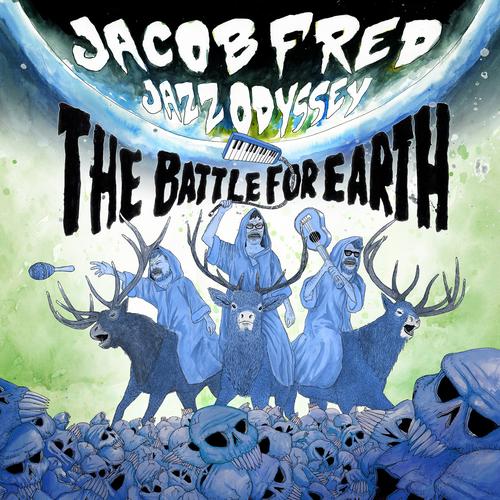 People who also like this
When novices discover the experimental music of the Jacob Fred Jazz Odyssey, they are surprised to learn that there is no one named Jacob Fred -- the group's name is meant to be clever and ironic. Novices also learn that the Tulsa, Oklahoma outfit's mildly avant-garde blend of jazz, rock, and funk draws on a wide variety of influences; JFJO have been influenced by everyone from electric
Miles Davis
and
Jimi Hendrix
to
Sun Ra
,
John Coltrane
,
Cecil Taylor
,
Larry Young
, and
John Scofield
. Often quirky, eccentric, and abstract, JFJO favor an inside/outside approach but are usually more inside than outside. JFJO don't play atonal free jazz, but at the same time, no one will mistake the Oklahoma residents for retro-boppers who play a lot of Tin Pan Alley standards.
JFJO were formed in Tulsa in February 1994, which is when
Brian Haas
(keyboards, piano) joined forces with Reed Mathis (electric bass). Both
Haas
and Mathis had been classically trained in their pre-JFJO days;
Haas
, in fact, had played Beethoven's Second Piano Concerto with the Oklahoma City Philharmonic when he was only 17. But even though playing with a classical orchestra when he wasn't old enough to vote looked good on a résumé,
Haas
realized that he didn't want to be a full-time classical pianist -- he found the European classical tradition to be rigid and yearned to play music that satisfied his need to improvise. So he made jazz his main focus, and after meeting Mathis,
Haas
learned that the fellow Tulsa resident had similar tastes. Although both wanted to take a jazz-oriented approach, neither were jazz snobs -- both of them also appreciated rock and funk. After forming JFJO,
Haas
and Mathis became a fixture on the Tulsa scene (where they played mostly instrumental music but sometimes featured rappers).
Haas
and Mathis soon became the core of the group, although JFJO also featured a host of different improvisers along the way, during the '90s including trumpeter Kyle Wright, trombonist Matt Leland, percussionist Matthew Edwards, and drummer Sean Layton, all of whom have since left the group.
JFJO's debut album, Live at the Lincoln Continental, came out in 1995 and was followed by Live in Tokyo in 1996. The group's best-known and most widely distributed '90s release, however, was Welcome Home, a live album that was recorded for Accurate in 1998. That CD was followed by Mama's House and Bloom in 2000 and Self Is Gone in 2001. After that came All Is One: Live in New York City, which was recorded live at New York's Knitting Factory in March 2002 and released by Knitting Factory Records four months later. All in One marked the arrival of new drummer Jason Smart, who would remain with the group until 2007, when he was replaced by Josh Raymer. JFJO releases during the 2000s included 2004's Walking with Giants, 2003's Symbiosis Osmosis (a fully improvised live disc including four guest saxophonists) and Slow Breath, Silent Mind (including interpretations of seven jazz standards), 2006's The Sameness of Difference (with material ranging from originals to the music of
Jimi Hendrix
,
Charles Mingus
, and
Dave Brubeck
), and 2008's Lil' Tae Rides Again.
In 2009 longtime bassist Mathis left JFJO (in an amicable parting), and that year's One Day in Brooklyn -- released on the band's Kinnara label -- featured newcomers Matt Hayes on acoustic bass and Chris Combs on electric and lap steel guitars. Stay Gold arrived on Kinnara in 2010, the same year the group announced the replacement of Hayes with new double bassist Jeff Harshbarger. A year later, JFJO returned with Race Riot Suite, featuring a guest appearance from
Sex Mob
trumpeter
Steven Bernstein
. In 2013,
Haas
stripped the ensemble down to a trio with Combs and drummer Josh Raymer. The year 2014 saw the release of two JFJO albums with the Record Store Day vinyl-only concert album Millions: Live in Denver at DazzleJazz as well as the studio album Worker. ~ Alex Henderson
full bio
Selected Discography
Similar Artists
Don't have a Pandora account? Sign up
Already have a Pandora account? Log In