Free personalized radio that
plays the music you love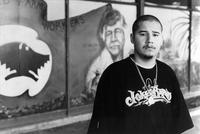 People who also like this
Like
David Rolas
and
Akwid
, Mexican-American rapper Jae-P is among the bilingual Latino MCs who made a name for himself on the West Coast rap scene in the early 2000s. The Los Angeles resident, who has no problem rapping in either English or Spanish and is fluent in both languages, has often been cited as part of a trend known as urban regional; that term, which is a blend of urban contemporary and regional Mexican, refers to Mexican-American rappers and singers who have been influenced by Latin music (especially regional Mexican) as well as R&B, hip-hop, and perhaps dance music. The term has been applied to Mexican-American artists ranging from
Rolas
and
Akwid
to neo-banda singer Yolanda Pérez, and it has been applied just as often to Jae-P -- whose work is the essence of multiculturalism. Jae-P gets a lot of inspiration from African-American rappers, including
Chuck D
&
Public Enemy
,
KRS-One
and
Boogie Down Productions
and West Coast innovator Ice-T (minus the more thuggish, controversial, and gangsta-minded aspects of Ice-T's work; unlike Ice-T, though, Jae-P is not part of gangsta rap). But Jae-P has also been influenced by Los Angeles'
Kid Frost
(the first important Mexican-American rapper on the West Coast) and has successfully incorporated Latin styles such as norteño/Tex-Mex, flamenco and cumbia (which originated in Colombia but has been extremely popular among Mexican listeners). Like
Public Enemy
,
BDP
/
KRS-One
and Ice-T, Jae-P can be quite sociopolitical; Latino pride has been a major theme of his recordings, and he hasn't hesitated to rap about the social and economic problems facing inner-city neighborhoods. One of his songs, "Un Pandillero Más" (which is Spanish for "One More Gangster") is about the dangers of thug life, a subject that Ice-T and
KRS-One
both dealt with extensively in their '80s and early-'90s heyday.
But Jae-P wasn't even born when Grandmaster Flash & the Furious Five recorded their seminal "The Message" -- the first famous sociopolitical rap single -- back in 1982. Born Juan Pablo Huerta in Los Angeles on May 24, 1984, Jae-P is the son of Mexican immigrants; both of his parents were originally from the southern part of Mexico. Growing up in South-Central L.A., Jae-P heard his parents playing Mexican norteño, banda, ranchera, Tejano and mariachi music at home but heard hip-hop, funk, and R&B in the streets; his musical diet growing up in the '80s and '90s was part
LL Cool J
and part
Banda el Recodo
-- part
Chuck D
and part Chalino Sánchez (a great Mexican singer). And like so many Mexican-Americans, he grew up speaking English and Spanish equally well. Jae-P was 18 when, in 2002, he signed with Univision Records, which released his debut album, Ni de Aqui Ni de Alla (Neither from Here Nor There), the following year; the album sold more than 140,000 units. Univision Records (which is part of the Latino empire that also includes the Univision television network) released Jae-P's sophomore album, Esperanza (Hope), in September 2004; "Latinos Unidos" was released as the album's first single. ~ Alex Henderson
full bio
Similar Artists
Don't have a Pandora account? Sign up
Already have a Pandora account? Log In