Free personalized radio that
plays the music you love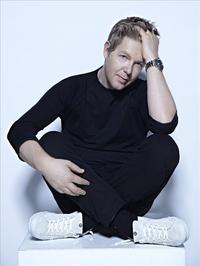 People who also like this
As a DJ, producer, label owner, and club promoter, John Digweed is greatly responsible for developing and popularizing the progressive house sound during the 1990s. Both solo and with his longtime cohort
Sasha
, Digweed has released countless mix CDs, several of which have helped establish the format. Constantly touring throughout the world, he has performed at numerous high-profile clubs and festivals, with a monthly residency at New York club Twilo during the late '90s/early 2000s achieving the most recognition. His marathon DJ sets have been known to exceed ten hours in length. He has appeared in DJ Magazine's annual Top 100 DJs poll over a dozen times, topping the list in 2001. As a producer, he has recorded a decent amount of dancefloor anthems as one half of
Bedrock
, his duo with
Nick Muir
, in addition to remixes of songs by artists such as
New Order
,
Underworld
, and the Orb.
The Hastings, England native had been DJ'ing for close to ten years when his demo mixtape caught the ear of Geoff Oakes, promoter of British nightclub Renaissance. He was soon working alongside the likes of another popular Renaissance DJ,
Sasha
(Alexander Coe). The new position gave the DJ what he needed for his big breakthrough, and he has continued to prosper ever since. In 1994, Sasha & John Digweed's Renaissance: The Mix Collection was released. The continuously mixed three-CD set was intended as a sampler of the types of progressive house and tracks played at Renaissance, and was one of the first heavily promoted DJ mix compilations. The album was a surprise huge-seller, and eventually earned a reputation as one of the best commercially available DJ mixes of all time. The collection's second volume, mixed by Digweed solo, followed in 1995, and soon approached gold status in Europe.
Sasha & Digweed continued their collaboration with the Northern Exposure series, named for the club night they were promoting at the time. The first volume was issued as a two-CD set in Europe by
Ministry of Sound
in 1996. The collection was another success, and an abridged single-disc American edition issued by Ultra Records in 1997 helped establish the duo's popularity stateside, helping to create an American audience for the emerging progressive house sound. The second volume was released as a two-CD set in Europe in 1997, with both discs released individually as East Coast and West Coast editions stateside in 1998.
Digweed scored two U.K. Top 30 hits in 1997 with remixes of
Chakra
's "I Am" and
Bedrock
's "For What You Dream Of" (featured in the hit movie Trainspotting). Digweed also bought a dance club in the south of England in order to perform there on a weekly basis. Via the Global Underground mix series, he released volumes recorded in Sydney and Hong Kong during 1998, then premiered Bedrock Records in early 1999 with the
Bedrock
duo's hit single "Heaven Scent." A
Bedrock
two-CD mix appeared on
INCredible
by the end of the year. Sasha & Digweed continued their collaborative DJ mix series with Northern Exposure: Expeditions in 1999 and Communicate in 2000. A starring appearance in the 2000 American rave movie Groove increased Digweed's stateside visibility. In September of 2000, Digweed began a weekly two-hour radio show on U.K. radio station Kiss. A
Bedrock
double-disc mix of fresh singles and collective new cuts called Foundations appeared the following November.
In early 2001,
Sasha
suffered an ear injury, leading Digweed to perform solo gigs at Twilo as part of the duo's monthly residency, which he continued until the club's closure that May. Digweed's third Global Underground mix, this time recorded in Los Angeles, was released during the same year. In 2002, Digweed scored Stark Raving Mad, a film about a heist pulled at a rave. During the same year, Sasha & Digweed and
Jimmy Van M
completed a major American tour called Delta Heavy. Several solo Digweed mix albums followed, including additions to the popular Fabric and Choice: A Collection of Classics series, and two volumes of Layered Sounds. Sasha & Digweed celebrated the tenth anniversary of the original Renaissance mix with an updated version in 2004, re-creating the original mix and taking advantage of the improved technology.
In 2006, Digweed began a new mix CD series on Renaissance called Transitions, which was also the name of his Kiss radio show at the time. The series produced four volumes between 2006 and 2008. Also during that time, Sasha & Digweed (who had technically never split up) performed several reunion gigs, culminating in a 2008 North American tour. Digweed continued to release an astonishing number of mix CDs on Bedrock Records, issuing as many as three per year. Two volumes of Structures appeared in 2010 and 2011, and a series of recordings of Digweed's live sets began in 2012. Reflecting his penchant for extremely lengthy DJ sets, most of the series' volumes contained more than two discs, and 2016's Live in Montreal (drawn from an 11-hour set) included six CDs. ~ Greg Prato & Paul Simpson
full bio
Selected Discography
Similar Artists
Don't have a Pandora account? Sign up
Already have a Pandora account? Log In