Free personalized radio that
plays the music you love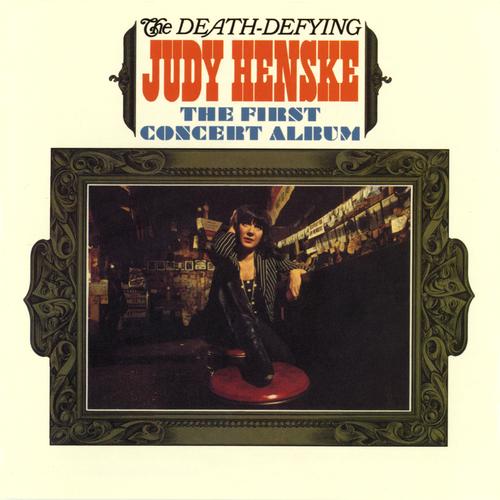 People who also like this
While Judy Henske is most widely recognized as a figure on the '60s folk music scene, categorizing her as a folk artist is ultimately inaccurate and limiting. Henske cut plenty of folk-oriented material, and much of it was very good, but her full-bodied, passionate voice and con brio delivery were quite versatile, and she was a gifted interpreter of standards, blues, show tunes, novelty material, and pop numbers, as well as folk songs. One could reasonably argue that Henske's versatility and outsized musical personality ultimately worked against her in terms of commercial success, as she was hard to pigeonhole in a specific genre or approach, though her body of recorded work demonstrates she was never less than a top-shelf talent.
Judy Henske was born in Chippewa Falls, Wisconsin on December 20, 1936. After studying at the University of Wisconsin in Madison, she spent time in Ohio and Pennsylvania before moving to San Diego, California. Henske began performing at coffeehouses and clubs in California, once sharing a bill with
Lenny Bruce
. In 1959, she appeared on an obscure album called Coffee House, in which she and several other artists sang folk and international selections for a crowd of beatniks and hangers-on. In 1961, Henske joined the folk group
the Whiskeyhill Singers
, formed by Dave Guard shortly after he left the Kingston Trio. The group proved to be short-lived, splitting up after cutting one album for Capitol Records and some songs for the movie How the West Was Won. Henske headed back to Los Angeles, where she landed some high-profile television appearances on the shows Hootenanny and The Judy Garland Show, and made an appearance in what was the first and last folk music exploitation movie, 1963's Hootenanny Hoot, which also featured Johnny Cash,
the Brothers Four
, and the Gateway Trio.
Henske next moved to New York City, where she became a fixture on the Greenwich Village folk scene. She was spotted by Elektra Records, then one of America's most prestigious folk labels, and in 1963 they released her self-titled debut album. Recorded live, Judy Henske wasn't a folk session but a nightclub performance which featured bawdy blues numbers and comic between-song patter along with some traditional folk ballads, gospel numbers, and novelty numbers. Henske's second album, 1964's High Flying Bird, was a more straightforward folk collection, though unlike most folk albums of the era, Henske's studio band included a drummer, Earl Palmer. In addition to playing nightclubs and coffeehouses, Henske also dabbled in acting, earning enthusiastic reviews for her work in an off-Broadway production of Anita Loos' Gogo Loves You. In 1965, Henske signed with Mercury Records, which attempted to remodel her into a more middle-of-the-road artist on Little Bit of Sunshine … Little Bit of Rain. Henske was outspokenly unhappy with the album, and later that same year she recorded another live set, produced by her friend and admirer
Jack Nitzsche
and released by Reprise. The Death Defying Judy Henske: The First Concert Album found Henske adding soul and R&B influences to her already broad stylistic range, and while it was a strong work, it made little impression on the charts. Henske cut three singles for Reprise with
Nitzsche
at the controls, including a striking version of
Fred Neil
's "The Dolphins" (retitled "Dolphins in the Sea"), before she and the label parted ways.
Henske had married musician and producer Jerry Yester in 1963, and after The Death Defying Judy Henske ran its course, the couple opted to leave New York City and settled in California's Laurel Canyon. They returned East for a spell when Yester briefly joined the Lovin' Spoonful, but by 1968, Henske and Yester had returned to California and welcomed their first child when they began work on a duo album. 1969's Farewell Aldebaran, an ambitious exercise in psychedelic folk-rock released by
Frank Zappa
's Straight Records label, was well reviewed but commercially unsuccessful, though it went on to become a cult favorite and was reissued by Omnivore Recordings in 2016. Henske and Yester next formed a band called Rosebud with Craig Doerge, David Vaught, and John Seiter. A cleverly executed exercise in West Coast pop with washes of baroque pop, folk, and country rock, Rosebud's self titled debut album, released by Warner Bros. in 1971, was doomed commercially when Henske and Yester's marriage fell apart and she began a relationship with bandmate Doerge. With no band to promote the release, Rosebud sank without a trace, and after wedding Doerge in 1973, Henske retired from performing.
She continued to write songs on occasion, and in 2000, she released her first album since Rosebud, Loose in the World, produced by Craig Doerge and featuring guest vocals from
Graham Nash
. Henske returned to live performing to support the release, making occasional appearances (mostly on the West Coast), and in 2005, she brought out She Sang California, in which she was accompanied by an impressive cast of Los Angeles studio legends including Leland Sklar, Russ Kunkel,
Greg Leisz
, and Fred Tackett. ~ Mark Deming
full bio
Selected Discography
Similar Artists
Don't have a Pandora account? Sign up
Already have a Pandora account? Log In