Free personalized radio that
plays the music you love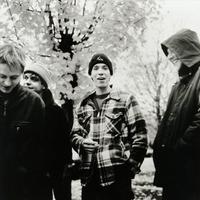 People who also like this
Following the sudden demise of
Rodan
, guitarist Jeff Mueller kept Louisville's math rock flame burning with his new band, June of 44. Following in the footsteps of Mueller's earlier band, as well as scene progenitors
Slint
, June of 44 crafted loud, dissonant, complex guitar rock as intellectual as it was forceful. However, they weren't merely replicating what had come before them; June of 44's compositions usually followed more conventional structures, and their arrangements evolved into a more diverse proposition, augmenting the heavy guitars with electronics, sampled loops, and chamber jazz flourishes courtesy of strings, trumpet, and vibes. As such, their progression mirrored developments in some of the other branches of the post-rock movement. After several albums for Touch & Go affiliate Quarterstick during the latter half of the '90s, the band split up to concentrate on other projects.
June of 44 came together in late 1994, not long after the unexpected breakup of the seminal math rock outfit
Rodan
. Jeff Mueller, one half of
Rodan
's dual-guitar attack, teamed up with
Lungfish
's Sean Meadows (who switched from bass to guitar), bassist/trumpeter Fred Erskine (a veteran of Dischord bands Hoover and
the Crownhate Ruin
), and drummer Doug Scharin, who'd played in the groundbreaking slowcore bands
Codeine
and Rex. The band's name was inspired by a variety of factors, chiefly the date of correspondence between erotic fiction writers Henry Miller and Anaïs Nin; the month also coincided with the birth of Mueller's mother and the military service of Meadows' grandfather. With the members living in different cities, they first convened for a recording session in New York; the results were released in the summer of 1995 by
Rodan
's former label, Quarterstick, as the group's debut album, Engine Takes to the Water. Given the short gestation period, the music strongly recalled the angular riffs, extreme dynamic range, and shifting meters of
Rodan
.
With their second album, 1996's Tropics and Meridians, June of 44 established themselves as a top-notch experimental indie band, offering a more fully realized take on the sound of their debut. In the meantime, Scharin kicked off the solo side project
HiM
, pursuing dubby, experimental post-rock and recording at a prolific pace, often with assistance from Erskine. Meadows also started a side project called
the Sonora Pine
with Tara Jane O'Neil, one of Mueller's ex-bandmates in
Rodan
; they released two albums over 1996-1997. Erskine, meanwhile, moonlighted with the bluesy, D.C.-based the Boom. The members' outside exploits -- which were generally of a subtler nature -- soon began to make themselves felt in June of 44's music, starting with 1997's transitional Anatomy of Sharks EP.
1998's full-length Four Great Points signaled the band's even more experimental new direction, making greater use of Scharin's interest in electronic music and Erskine's trumpet-playing skills. That year, Scharin also debuted another avant-garde side project, the eclectic Out in Worship (aka Out of Worship). The fourth June of 44 album, 1999's Anahata, expanded on the model of its immediate predecessor, deepening the jazz influence and sampling techniques; there were also substantial contributions from violin/viola player Julie Liu. Anahata was followed later that year by an EP, In the Fishtank; it was part of a series from the Dutch label Konkurrent, which offered limited free studio time to intriguing bands on tour in Europe. It proved to be the final June of 44 release, as the band broke up in 2000. Meadows quickly embarked on two projects,
the Letter E
and the solo Everlasting the Way, while Erskine played trumpet in Abilene, in addition to several other sideman gigs. Scharin continued with
HiM
, also playing with
Loftus
and
Mice Parade
, among others. Mueller, for his part, subsequently reunited with
Rodan
guitar mate Jason Noble in
the Shipping News
. ~ Steve Huey
full bio
Selected Discography
Similar Artists
Don't have a Pandora account? Sign up
Already have a Pandora account? Log In