Free personalized radio that
plays the music you love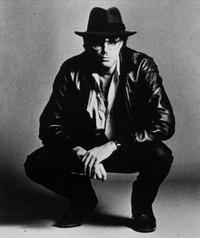 People who also like this
Singer, songwriter, and producer Kenny Vance had a long and varied career in music that began in the late '50s and was still going strong in the early years of the 21st century. The core of his interest in music was vocal harmony, from the doo wop groups with which he started out to his long tenure as a member of Jay & the Americans in the '60s. From the '70s on, he used his musical knowledge in a series of films while also releasing the occasional solo album. In the '90s, he returned to his original love by forming his own neo-doo wop group, Kenny Vance & the Planotones. Throughout his career, he served as a mentor to a generation of younger musicians that included
Walter Becker
and
Donald Fagen
of
Steely Dan
,
Peter Himmelman
, and others.
Vance grew up in Belle Harbor, in the New York City borough of Queens, where he developed an interest in rock & roll as a teenager. By the age of 15, he was traveling into Manhattan to hang around the Brill Building, New York's center for pop songwriting. He formed his first vocal group, the Harbor Lites, with school friends. Initially a sextet, the group was down to the trio of Vance, Sandy Yaguda, and Sydell Sherman by the time it recorded two singles for Ivy Records in 1959. After those records failed to score, the Harbor Lites broke up, and Vance and Yaguda formed another group with John Traynor and Howie Kane that auditioned for songwriter/producers Jerry Leiber and Mike Stoller. Leiber & Stoller had a production deal with United Artists Records and therefore signed the group to the label. The producers' initial idea was to give the group a comic name and call them Binky Jones & the Americans. The singers rejected that, but compromised on Jay & the Americans, with lead singer Traynor adopting the name Jay. Jay & the Americans' debut single, a cover of "Tonight" from West Side Story, appeared in the fall of 1961. They broke through to success with their second single, "She Cried," which became a Top Five hit in 1962. After their third single, Traynor was replaced as lead singer by David Blatt, who took the stage name Jay Black.
Jay & the Americans enjoyed considerable chart success through 1970. Like other performers in the '60s, they eventually began performing self-written material. Vance co-wrote "Livin' Above Your Head," which was a chart single in 1966; the 1969 single "Learnin' How to Fly"; and "Capture the Moment," the group's final chart single in 1970. Jay & the Americans also set up a publishing and production company, JATA Enterprises, with an office in the Brill Building. In 1967, the aspiring songwriters
Walter Becker
and
Donald Fagen
knocked on the door of that office, where they met Vance, who listened to their songs and offered to manage them. Under his auspices, they recorded demo tapes, and Vance spent the next few years trying to get someone to sign the duo and let them form the band they had in mind. (Starting in 1983, the demos have turned up on a seemingly endless series of albums. These include: Becker & Fagen; The Early Years; Founders of Steely Dan; Collection [on Castle Records]; Collection [on Griffin Records]; Masters; Beat the Bootleggers: Founders of Steely Dan; Star Power: Becker and Fagen; Cosmic Forces; and Tempus Fugit, all credited to Becker & Fagen, as well as Becker & Fagen: The Early Years; Berry Town; Sun Mountain; Old Regime; Stone Piano; Catalyst: The Original Recordings 1968-1971 by Walter Becker & Donald Fagen; Roaring of the Lamb; Forward Into the Past: Becker & Fagen - The Early Years; Android Warehouse; Steely Dan Collection [on Dressed to Kill Records]; The Legends Collection; and Steely Dan Collection [on Legend Records], all credited to
Steely Dan
.)
Due to their unusual material, the quality of which he, but just about nobody else, recognized, Vance was unsuccessful in promoting Becker & Fagen, but he did find them work as backup musicians for Jay & the Americans. He also hired them to help him write and perform the score for a low-budget film made by a friend, You Gotta Walk It Like You Talk It or You'll Lose That Beat. The soundtrack album was released in 1970. Vance continued to work with Becker & Fagen until 1971, when they were hired as songwriters at ABC Dunhill Records through a connection he made for them. Their first
Steely Dan
album, Can't Buy a Thrill, was released in 1972.
As Jay & the Americans wound down in the early '70s, Vance began to do session work, singing background vocals on such albums as
Yusef Lateef
's Part of the Search (1971),
Don McLean
's Homeless Brother (1974), and David Forman's David Forman (1976). He also began producing, handling the board for albums by
Toni Basil
, Danny O'Keefe (American Roulette, 1977), and Diane Keaton. In 1975, he released his debut solo album, Vance 32, on Atlantic Records. He launched a new phase in his career in 1978 with the release of the film American Hot Wax, which depicted events in the life of rock & roll radio pioneer
Alan Freed
. Vance wrote "Hot Wax Theme" for the score, appeared in the movie as Professor La Plano and led his fictional group, the Planotones, in a performance of "Rock and Roll Is Here to Stay." He also produced the soundtrack album, which made the Top 40. Within months, he was represented again in movie theaters with National Lampoon's Animal House, producing the soundtrack album, which also made the charts.
The twin successes of American Hot Wax and National Lampoon's Animal House gave Vance a continuing career in the movies, both as a composer/musical director/soundtrack producer and as a character actor. He went on to contribute to the music for The Warriors (1979), The Hollywood Knights (1980), Eddie and the Cruisers (1983) (which produced a triple-platinum soundtrack album), Streets of Fire (1984), Ishtar (1987), Hairspray (1988), Eddie and the Cruisers II: Eddie Lives! (1989), Heart of Dixie (1989), Cobra (1992), Hard Promises (1992), Into My Heart (1998), Sunburn (1999), The Story of a Bad Boy (1999), and Pinero (2002). He also worked on several television movies and was the musical director of Saturday Night Live in 1980-1981. As an actor, he had bit parts in Eddie and the Cruisers, Billy Bathgate (1991), and Hurly Burly (1998), and he became a particular favorite of director
Woody Allen
, joining
Allen
's informal stock company and appearing in Manhattan (1979), Stardust Memories (1980), Crimes and Misdemeanors (1989), Husbands and Wives (1992), Everyone Says I Love You (1996), and Deconstructing Harry (1997).
Vance is credited as "mentor" on
Peter Himmelman
's 1987 album Gematria, and his friendship with
Himmelman
led to the long overdue to follow-up to Vance 32, Vance's second solo album Short Vacation, released on Gold Castle Records in 1988;
Himmelman
served as the album's producer. In 1992, Vance re-formed the Planotones, his fictional group from American Hot Wax, as a real group to sing the doo wop music he loved. The group consisted of other music business veterans with similar taste: Murray Weinstock (formerly of the Fifth Avenue Band); songwriter
Garry Bonner
(co-author of the
Turtles
hit "Happy Together"), who joined in 1994; Angel Rissoff; and Johnny Gale. The group's first album, Teenage Jazz, was released in 1994. The 32 Jazz label issued a second Vance & the Planotones album, Looking for an Echo, in May 1996. In 1999, Looking for an Echo was the title of a film for which Vance served as musical director and which spawned a soundtrack album released in November 2000 consisting entirely of Kenny Vance & the Planotones performances. In October 2001 Varèse Sarabande Records released Out of This World: Live at the Bitter End, followed In August 2002 by Kenny Vance & the Planotones on Collectables Records. A new studio album, Lovers Island, was released in October 2005, and included interpretations of such standards as "Everybody's Somebody's Fool," and "Stormy Weather." The next Kenny Vance & the Planotones album was Countdown to Love, released in October 2007. In January 2008, the group released its first DVD, Live, through Alpha Video. ~ William Ruhlmann
full bio
Similar Artists
Don't have a Pandora account? Sign up
Already have a Pandora account? Log In