Free personalized radio that
plays the music you love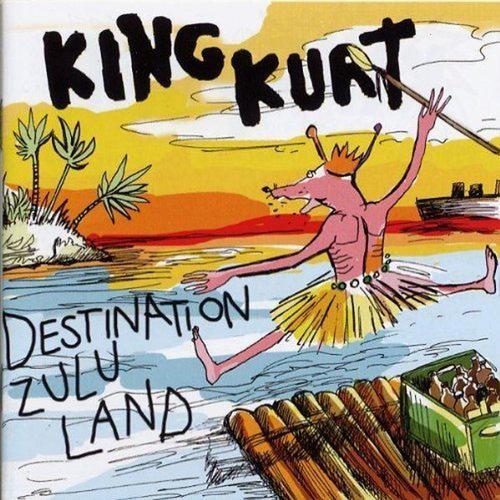 People who also like this
Although psychobilly pranksters King Kurt are best remembered for "Destination Zululand," the rambunctious smash with which they stormed the U.K. chart in 1984, to recall them purely as one-hit wonders is to decry another four years of achievement -- four further singles and two full albums also bothered the charts before the group finally faded away during 1987. But even that only begins to tell the band's story, for it wasn't on cold, impersonal wax that King Kurt were at their blistering, mystifying best. It was in concert, where gigs became tribal gatherings, songs became rockabilly psycho chants, and haircuts were -- well, let's just say they were mighty peculiar, and leave it at that.
The story begins in early 1981, with the band -- fronted by the irrepressible Smeg, and completed by guitarist Thwack, saxophonist Maggot, and drummer Rory -- rising out of the same twisted garage underground that was home to an entire army of post-
Cramps
psychobilly revivalists. But, whereas the majority of their rivals chose to drive their point home through more-or-less deliberate revisions of
the Cramps
' own take on the genre, King Kurt's eye was always focused on less ghoulish angles.
For a full year or so, the band rattled around the U.K. pub circuit, hanging their rat-with-cigarette backdrop from a hundred subterranean basement stages, then visiting the local butcher's shop in search of that night's collection of stage props. Smeg wore a dead rabbit necktie for a while; there might also have been an uncooked goose at one show. Whatever. Wherever the King ventured, he acquired another horde of like-minded acolytes, all of whom seemed thrilled to adhere to King Kurt's own personal dress code -- "all male concert-goers must wear dresses." Neither was that the end of the audience's participation in the proceedings. Other special treats held in store by a King Kurt gig included the streams of shaving cream that flew through the air; the beer that sprayed, the blood that gushed (sometimes real, sometimes fake), the flour, eggs, and baked beans that transformed the dancefloor into a demented cookery class. And if all that were not enough, fans were also entreated to partake in the near-tribal ritual of free haircuts, inflicted upon any audience member foolhardy enough to venture near the bandmembers' proffered razors and shears.
By summer 1982, the band had prompted enough underground interest that it was imperative that they got a record out. That August, then, saw the band self-finance and release two of their finest numbers to date, the poundingly tribal "Zulu Beat," pressed on self-confessedly "revolting putrid" orange vinyl and packaged within painstakingly hand-drawn and painted picture sleeves. Nine hundred and fifty copies of "Zulu Beat" circulated via the band's shows; all sold out within a matter of weeks. First one, then another repressing was ordered and, suddenly, eyes gazed down from the mainstream ivory towers to ponder this latest mutter from the gutter. By summer 1983, King Kurt had signed to Stiff Records, and entered the studio with producer
Dave Edmunds
.
"Destination Zululand" was released in October 1983, a triumphant slice of thump-along madness that was accompanied by what remains one of the essential videos of the age, all rolling African deserts, weary English explorers, and -- of course -- savage Zulu warriors, prepared to fight the invaders to the death. And more was to follow, as new producer Steve Brown coaxed a positively staggering album out of the band, rewiring the traditional madness of their live set into a superbly landscaped chasm of chaos and noise. Again, Ooh Wallah Wallah was by no means as big a hit as memory might insist (it spent one week at number 99 before fading), but still its imagery lingers longer than a lot of the year's bigger sellers. That rat again!
King Kurt's follow-up single, the album's raw revision of "Mack the Knife," followed in early 1984, the delirious "Banana Banana" a few months later. Both reached the mid-fifties point of the chart, while a smattering of stateside interest prompted Ralph Records to pick the band up for a quick mini-album, The Road to Rack and Ruin. Yet having spent the past year positively hovering on the brink of a major step forward, suddenly King Kurt slipped out of view. Their next single, "Billy," bombed; so did its follow-up, "Slammers," produced by ex-Vibrators hero Pat Collier. Plans for a second Stiff album slid away and, by the end of the year, King Kurt and the label had parted company.
In early 1986, the band signed with Polydor and released its second album, Big C**k. Titled, naturally, for the very large rooster that adorned the record sleeve, the album aligned the band with producer Phil Wainman, the peerless mastermind behind the early
Sweet
. His imprimatur was all over King Kurt's next single, a toweringly magnificent deconstruction of
Stephen Sondheim
and
Leonard Bernstein
's "America." But it passed out of sight at number 73 on the U.K. lists and, scant months later, King Kurt enjoyed their final flush of chart action, as "The Land of Ring Dang Do" inched its way to number 67, then fled. King Kurt folded quietly soon after, bowing out with the album Last Will and Testicle.
Still led by Smeg, more or less the entire group promptly re-formed as the Kurts and, picking up precisely where they left off, continued wreaking havoc around the club circuit. The original glory days were not forgotten, however, and 1989 saw the punk reissue label Link Records unearth a live recording for release on CD, the aptly (if unimaginatively) titled Live and Rocking. A collection of unreleased King Kurt recordings, the again prosaically monikered Destination Demoland, followed and, by 1990, the group had restored its name to its full glory. Since that time, King Kurt's reputation has never flagged and, if anything, has grown even wilder over the years. New albums have continued to appear on an irregular basis: 2003 brought the not-quite-ska-inflected Guns of Navarone, while a stream of compilations and "greatest hits" type releases have maintained a suitably rat-shaped shadow on the record racks. ~ Dave Thompson
full bio
Selected Discography
Similar Artists
Don't have a Pandora account? Sign up
Already have a Pandora account? Log In