Free personalized radio that
plays the music you love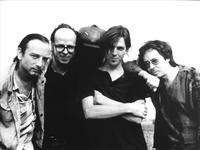 People who also like this
The Legendary Pink Dots are an influential, staggeringly prolific group led by enigmatic frontman
Edward Ka-Spel
. Emerging from the early-'80s post-punk underground and sometimes categorized as industrial due to associations with bands like
Skinny Puppy
, the group's music is nearly impossible to pin down, drawing from Krautrock, ambient, folk, synth pop, and numerous other styles. The Dots' music is by turns melodic pop and exotic psychedelia, with classical influences, sampling, and relentlessly dark, violent, apocalyptic lyrics.
Ka-Spel
's rhotacistic vocals are instantly recognizable, and somewhat resemble a cross between
Syd Barrett
and
Coil
's John Balance. Aside from the group's only two constant members,
Ka-Spel
and keyboard player Phil Knight (also known as the Silverman), the Dots have consisted of a shifting supporting cast over the years, including Canadian dub reggae producer Ryan Moore (
Twilight Circus
), engineer Raymond Steeg, and guitarist Erik Drost. The group has toured relentlessly since its inception, and has released well over a hundred albums, EPs, and compilations on dozens of labels, including numerous limited cassettes and CD-Rs, as well as an increasing number of digital releases during the 2010s.
Formed in London in 1980, the Legendary Pink Dots began contributing to underground compilations and issuing cassettes of dark, twisted synth pop in 1981, including Chemical Playschool 1+2 and Kleine Krieg, both on Mirrordot. Official debut LP Brighter Now was released by In Phaze Records in 1982. Curse followed in 1983, as the group continued releasing cassettes and further volumes of Chemical Playschool. Politically fueled LP The Tower appeared in 1984, and
Ka-Spel
has regarded the album as one of the group's most significant works; when the album failed to make a significant impact in the Dots' home country, they moved to Amsterdam, where they remained, incorporating many musicians from the Dutch underground music scene.
Also in 1984, Belgian label Play It Again Sam signed LPD; the label's first release was the group's mini-album Faces in the Fire. The band remained on PIAS into the '90s, releasing much of its best material (1988's The Golden Age, 1990's Crushed Velvet Apocalypse, 1991's The Maria Dimension) on the label. The group's sound evolved significantly, embracing non-electronic instruments such as saxophones and strings, as well as live drums. Ever prolific,
Ka-Spel
also issued numerous solo albums and experiments on smaller labels, and participated in many side projects, most notable
the Tear Garden
(with
Skinny Puppy
's
cEvin Key
) and Mimir (with Christoph Heemann).
Following 1994's 9 Lives to Wonder, the Pink Dots ended their association with Play It Again Sam. Released in 1995, From Here You'll Watch the World Go By was their first release on Soleilmoon. Several more albums would appear on the label, as well as its sublabel Caciocavallo, which reissued much of the band's back catalog. Even as the Legendary Pink Dots neared their two-decade anniversary, the group continued to tour Europe and America quite consistently, appreciated by several generations of dark industrial/goth audiences (and documented by the 2000 live album Farewell, Milky Way). The 2002 album All the King's Horses was
Ka-Spel
's direct response to the September 11, 2001 attacks, and was one of the group's most melancholy releases. Its sister album, All the King's Men, was the Dots' first release on R.O.I.R., which would release a few of the group's more accessible releases. Poppy Variations appeared on Terminal Kaleidoscope in 2004, with the vinyl edition issued by Beta-lactam Ring Records, which has released much of
Ka-Spel
's solo output since 2000.
After releasing Your Children Placate You from Premature Graves on R.O.I.R. in the spring of 2006, the band embarked on its 25th anniversary tour. The more experimental Alchemical Playschool surfaced on Caciocavallo that year. After two more albums for R.O.I.R. (2008's Plutonium Blonde, 2010's Seconds Late for the Brighton Line), the group released Chemical Playschool 15 on Rustblade and two CD-R releases, The Creature That Tasted Sound and Taos Hum. The Dots remastered and digitally reissued nearly their entire back catalog in 2013, including several solo albums and side projects as well as several new releases of outtakes, live performances, and other archival material. A few more limited albums appeared on Beta-lactam Ring and Rustblade that year, while Metropolis issued the group's proper studio effort The Gethsemane Option. 10 to the Power of 9 appeared on Rustblade in 2014. The label also released The Shock Exchange, LPD's limited split LP with kETvECTOR, in 2015. ~ Steve Huey & Paul Simpson
full bio
Selected Discography
Similar Artists
Don't have a Pandora account? Sign up
Already have a Pandora account? Log In