Free personalized radio that
plays the music you love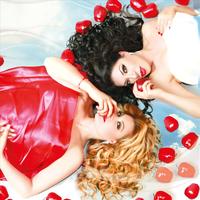 People who also like this
Los Horoscopos De Durango
Fronted by sisters Vicky and Marisol Terrazas, los Horóscopos de Durango did for the duranguense style what
Jenni Rivera
and Yolanda "La Potranquita" Pérez did for Sinaloa-style banda -- they brought a female perspective to what had historically been a very male-dominated form of regional Mexican music. Duranguense -- a popular, easily recognizable style that is similar to Sinaloa-style banda but uses fewer horns and more keyboards and is more percussive -- is extremely competitive in both Mexico and the United States, but los Horóscopos de Durango have no problem standing out in a very crowded field. When a style has been dominated by males, a band that is fronted by two women with a fondness for micro-miniskirts and cowboy boots is bound to stick out -- and in the 2000s, los Horóscopos became one of duranguense's best-selling acts.
But the Terrazas sisters weren't always up front; actually, the group was around long before their arrival. The original lineup of los Horóscopos de Durango was assembled by founder Armando Terrazas (Vicky and Marisol's father) in 1975 in Chicago, a city that boasts the largest Mexican-American population in the Midwest. Los Horóscopos de Durango means the Horoscopes of Durango -- as in Durango, Mexico -- and while duranguense is closely identified with Durango, a lot of duranguense artists have been based in the Windy City (including the well-known Grupo Montéz de Durango). For that matter, just about any type of regional Mexican music -- be it duranguense, banda, norteño, mariachi, or ranchera -- is quite easy to find in Chi-Town, where Horóscopos de Durango were a local attraction long before they became international stars.
Under Armando Terrazas' leadership, los Horóscopos had their share of lineup changes over the years -- and for a long time, they had a male-oriented lineup like the vast majority of duranguense outfits. But eventually, Armando decided to revamp his group and put Vicky (vocals, trumpet) and Marisol (vocals, accordion, keyboards, sax) right up front -- a move that some people questioned. After years of being identified with male vocalists, did los Horóscopos really want to suddenly start having women doing almost all of the lead singing? Armando's decision to put his daughters up front was as bold a move as
Bob Dylan
going electric in the '60s and
Miles Davis
turning to fusion on In a Silent Way and B**ches Brew, but it was a move that paid off commercially for los Horóscopos.
Signed to Disa Records (one of the top companies for regional Mexican music) in the 2000s, the Vicky/Marisol edition of los Horóscopos found its albums and singles soaring to the top of the Latin charts (including the group's 2004 arrangement of "Dos Locos," a song originally recorded by Dominican bachata duo Monchy & Alexandra). Musical director Armando was the only member of los Horóscopos' original 1975 lineup who still had any connection to the group; most of their 2000s participants weren't even born in 1975. Los Horóscopos' other 21st century members include saxophonist/singer Leonardo Terrazas, saxophonist Braulio Muro, keyboardist Jorge Banuelos, bassist Alex Gómez, and drummer Héctor Villaseñor. ~ Alex Henderson
full bio
Selected Discography
Similar Artists
Don't have a Pandora account? Sign up
Already have a Pandora account? Log In