Free personalized radio that
plays the music you love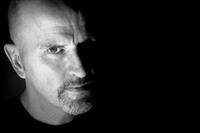 People who also like this
While his days are spent working on sound design for Hollywood scores by
Graeme Revell
, sound designer Brian Williams records experimental ambience and dark space music as Lustmord. His recordings have been embraced by a variety of ambient fans, ranging from the '70s traditionalists at the Hearts of Space label to the ambient-techno experimentalists at Plug Research. Born and raised in North Wales, Williams first performed as Lustmord in 1980 as a series of unannounced "support slots" at larger gigs, with Williams simply leaping on-stage and performing until security became aware of the situation. Though understandably brief, the rock terrorism gained Williams contact with like minds in the proto-industrial scene, including
SPK
and
Throbbing Gristle
. He soon began appearing with
SPK
on tour and in the studio, and in 1981 released a self-titled Lustmord LP, including work by
Coil
's John Balance and
Nocturnal Emissions
' Nigel Ayers (who issued the album on his Sterile Records). His second album, Paradise Disowned (released by
SPK
's
Side Effects
label in 1986), featured recordings made in a variety of subterranean locales including the crypt at Chartres Cathedral, Dunster Abattoir in Bangor, Wales, and on the ocean floor. By that time, Williams had also taken over running
Side Effects
.
Though he released no additional Lustmord material during the rest of the '80s, Williams did record (and do sound research) for albums by
Current 93
,
Nurse with Wound
,
SPK
, Chris & Cosey, and
SPK
member
Graeme Revell
's solo LP The Insect Musicians. Lustmord returned in 1990 with Heresy (Soleilmoon) and released a pair of albums for
Side Effects
, The Monstrous Soul in 1992 and Place Where the Black Stars Hang in 1994. Also during the first half of the '90s, he collaborated with Andrew Lagowski under the name Terror Against Terror, and released solo albums under the monikers Arecibo and Isolrubin BK. Williams moved to California during the '90s after being recruited by
Graeme Revell
to work on his sound library for the scores of feature films including Mighty Morphin Power Rangers, Street Fighter, Teenage Mutant Ninja Turtles, The Crow, and Spawn, among others.
Another Williams collaboration, this one with space music pioneer
Robert Rich
, debuted with the 1995 release of
Rich
's Stalker album, recorded for Hearts of Space. One year later, Williams responded to requests from the ambient-techno DJ community for Lustmord material on vinyl by releasing a single for Plug Research. The recording inspired his next project, a collaborative live album named Lustmord vs. Metal Beast that skirted the edges of dark ambient-techno. The compilation Purifying Fire appeared in summer 2000, but it was his critically acclaimed Metavoid (2001) that raised eyebrows. Lustmord's soundtrack to the psychological horror film Zoetrope was released in 2002. Also that year, he collaborated with breakcore artist
Hecate
(Rachael Kozak) on an EP titled Law of the Battle of Conquest, released by Hymen Records in late 2002.
The year 2004 saw the release of Lustmord's Carbon/Core album, as well as a collaboration with
the Melvins
titled Pigs of the Roman Empire, which was issued by
Mike Patton
's Ipecac Records. Williams' ties to the alternative metal world strengthened when he worked on
Tool
's 2006 album, 10,000 Days, as well as the debut album by
Puscifer
, a side project of
Tool
leader Maynard James Keenan. In 2006, Lustmord performed live for the first time in 25 years during a high mass observance by the Church of Satan. The concert was released by Williams' Vaultworks imprint under the name Rising. Lustmord's 2007 album Juggernaut was released by
Isis
leader Aaron Turner's Hydra Head Records, and featured guitar and vocals from
the Melvins
' King Buzzo. Lustmord's second release for the label, 2008's [Other], included guest appearances by both Turner and Buzzo. Two discs of extended ambient versions of [Other] tracks, [The Dark Places of the Earth] and [Beyond], appeared on Vaultworks in 2009. Additionally, the dub-focused EPs [Other Dub] and [Transmuted] (the latter featuring a mix by Justin K. Broadrick) were released that year.
Williams celebrated the 20th anniversary of Heresy with Heretic, an album of alternate mixes and early versions, issued in 2010. He then released Songs of Gods and Demons, a collection of recordings for movies, video games, and TV shows, in 2011. In 2013, German label Vinyl-On-Demand released Things That Were, a three-LP box set that included a remastered edition of Lustmord's first album, rarities, and unreleased material. Also that year, Blackest Ever Black released Lustmord's studio album The Word as Power, which featured guest vocals by Keenan,
Jarboe
, and others. Live albums Kraków and Stockholm followed on Vaultworks, and in 2015, Lustmord remixed Japanese band
Vampillia
's song "Sea" on a limited-edition CD EP. Lustmord's solo dark ambient album Dark Matter was released by Touch in 2016. ~ John Bush & Paul Simpson
full bio
Similar Artists
Don't have a Pandora account? Sign up
Already have a Pandora account? Log In