Free personalized radio that
plays the music you love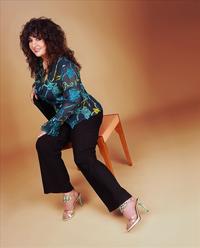 People who also like this
Best known for her seductive '70s pop staple "Midnight at the Oasis," Maria Muldaur has since become an acclaimed interpreter of just about every stripe of American roots music: blues, early jazz, gospel, folk, country, R&B, and so on. While these influences were certainly present on her more pop-oriented '70s recordings (as befitting her Greenwich Village folkie past), Muldaur came into her own as a true roots music stylist during the '90s, when she developed a particular fascination with the myriad sounds of Louisiana. On the string of well-received albums that followed, Muldaur tied her eclecticism together with the romantic sensuality that had underpinned much of her best work ever since the beginning of her career.
Muldaur was born Maria D'Amato on September 12, 1943, in New York. As a child, she loved country & western music and began singing it with her aunt at age five; during her teenage years, she moved on to R&B, early rock & roll, and girl group pop, and in high school formed a group in the latter style called the Cashmeres. Growing up in the Greenwich Village area, however, she naturally became fascinated with its booming early-'60s folk revival and soon began participating in jam sessions. She also moved to North Carolina for a while to study Appalachian-style fiddle with
Doc Watson
. Back in New York, she was invited to join
the Even Dozen Jug Band
, a revivalist group that included
John Sebastian
,
David Grisman
, and
Stefan Grossman
; they had secured a recording deal with blueswoman
Victoria Spivey
's label and she wanted them to add some sex appeal. The young D'Amato got a crash course in early blues, particularly the Memphis scene that spawned many of the original jug bands, and counted
Memphis Minnie
as one of her chief influences.
Elektra Records bought out
the Even Dozen Jug Band
's contract and released their self-titled debut album in 1964; however, true to their name, the band's unwieldy size made them an expensive booking on the club and coffeehouse circuit and they soon disbanded. Many of the members went off to college and, in 1964, D'Amato moved to Cambridge, Massachusetts, home to another vibrant folk scene. She quickly joined
the Jim Kweskin Jug Band
and began an affair with singer
Geoff Muldaur
; the couple eventually married and had a daughter,
Jenni
, who would later become a singer in her own right. When the
Kweskin
band broke up in 1968, the couple stayed with their label (Reprise) and began recording together as Geoff & Maria Muldaur. They moved to Woodstock, New York to take advantage of the burgeoning music scene there and issued two albums -- 1970's Pottery Pie and 1971's Sweet Potatoes -- before
Geoff
departed in 1972 to form Better Days with
Paul Butterfield
, a move that signaled not only the end of the couple's musical partnership, but their marriage as well.
With Maria initially unsure about her musical future, her friends encouraged her to pursue a solo career, as did Reprise president Mo Ostin. Muldaur went to Los Angeles and recorded her debut album Maria Muldaur in 1973, scoring a massive Top Ten pop hit with "Midnight at the Oasis." Showcasing Muldaur's playfully sultry crooning, the Middle Eastern-themed song became a pop radio staple for years to come and also made session guitarist
Amos Garrett
a frequent Muldaur collaborator in the future. Muldaur's next album, 1974's Waitress in a Donut Shop, featured a hit remake of her
Even Dozen
-era signature tune, "I'm a Woman." Three more Reprise albums followed over the course of the '70s, generally with the cream of the L.A. session crop, but also with increasingly diminishing results.
Around 1980, Muldaur became a born-again Christian; she recorded a live album of traditional gospel songs, Gospel Nights, for the smaller Takoma label in 1980, and moved into full-fledged CCM with 1982's There Is a Love, recorded for the Christian label Myrrh. However, this new direction did not prove permanent, and for 1983's Sweet and Slow, Muldaur recorded an album of jazz and blues standards (many with longtime cohort
Dr. John
on piano) that created exactly the mood its title suggested. Released in 1986, the jazzy Transblucency won a year-end critics' award from The New York Times. Muldaur spent the rest of the '80s touring, often with
Dr. John
, and also began acting in musicals, appearing in productions of Pump Boys and Dinettes and The Pirates of Penzance. In 1990, she recorded an album of classic country songs, On the Sunny Side, that was specifically geared toward children; it proved a surprising success, both critically and among its intended audience.
Partly inspired by
Dr. John
's New Orleans obsessions, Muldaur signed to the rootsy Black Top label in 1992 and cut Louisiana Love Call, which established her as a versatile stylist accomplished in blues, gospel, New Orleans R&B, Memphis blues, and soul. The album won wide acclaim as one of the best works of her career, offering a more organic, stripped-down approach than her '70s pop albums, and became the best-selling record in the Black Top catalog. Her 1994 follow-up, Meet Me at Midnite, was nominated for a W.C. Handy Award. Muldaur next cut a jazzier outing for the Canadian roots label Stony Plain, 1995's Jazzabelle. She subsequently signed with Telarc and returned to her previous direction, making her label debut with 1996's well-received Fanning the Flames. Released in 1998, Southland of the Heart was a less bluesy outing recorded in Los Angeles, arriving the same year as a second children's album, Swingin' in the Rain, a collection of swing tunes and pop novelties from the '30s and '40s. Meet Me Where They Play the Blues, issued in 1999, was intended to be a collaboration with West Coast blues piano legend
Charles Brown
, but
Brown
's health problems prevented him from contributing much (just one vocal on "Gee Baby, Ain't I Good to You"); thus, the project became more of a tribute.
Muldaur moved back to Stony Plain for 2001's Richland Woman Blues, a tribute to early blues artists (particularly women) inspired by a visit to
Memphis Minnie
's grave. Featuring a variety of special guest instrumentalists, Richland Woman Blues was nominated for a Grammy for Best Traditional Blues Album. The children's album Animal Crackers in My Soup: The Songs of Shirley Temple appeared in 2002. The next year saw the release of Woman Alone with the Blues, a collection of songs associated with
Peggy Lee
, on Telarc Records. Love Wants to Dance followed in 2004, also on Telarc. The mostly acoustic Sweet Lovin' Ol' Soul was issued by Stony Plain in 2005, followed by Heart of Mine: Love Songs of Bob Dylan on Telarc in 2006. Songs for the Young at Heart was also released in 2006. The following year, the last in the set of three albums that paid tribute to female blues singers of the 1920s through 1940s, Naughty, Bawdy and Blue (the other two were Richland Woman Blues and Sweet Lovin' Ol' Soul), came out. The antiwar-themed Yes We Can!, which featured Muldaur singing with the Women's Voices for Peace Choir, was released in 2008. Muldaur next released another children's album, Barnyard Dance: Jug Band Music for Kids, in 2010, following it with the New Orleans-flavored Steady Love on Stony Plain in 2011. ~ Steve Huey
full bio
Selected Discography
Similar Artists
Don't have a Pandora account? Sign up
Already have a Pandora account? Log In