Free personalized radio that
plays the music you love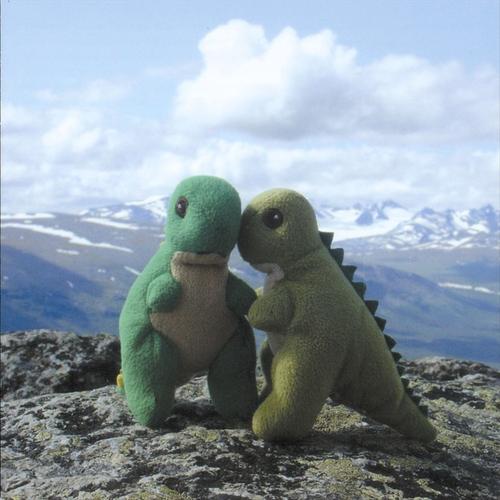 People who also like this
Mats Gustafsson & David Stackenas
Swedish reeds player and improviser Mats Gustafsson's extended saxophone techniques draw equally from the fiery free jazz blowing tradition and the European microtonal schools. Born in 1964 in the culturally rich area of Umeå, he was exposed at a young age to various Swedish improvisers such as saxophonist Lars Göran Ulander and pianist Per Henrik Wallin. His first instrument was the flute, but by his early teens Gustafsson was playing saxophone as well. Around the age of 14, he put his saxophone mouthpiece on his flute to bring an instrument along on a trip, and since then has played this creation, the fluteophone, in addition to other, more standard reed instruments. His first improvisations were with drummer Kjell Nordeson, who would later form the AALY Trio with Gustafsson.
Gustafsson moved to Stockholm in the mid-'80s, and there met musicians such as Sten Sandell and Raymond Strid. The three formed
Gush
in 1988, two years after Gustafsson's duo with Christian Munthe, Two Slices of Acoustic Car, began. He also worked with Berlin-based Sven-Åke Johansson during this time, thus becoming acquainted with the German scene. In 1990, Gustafsson performed in
Derek Bailey
's Company in London. He also began visiting the U.S. regularly, becoming a regular in the Chicago improvising community as the '90s progressed, working extensively with Hamid Drake and
Ken Vandermark
, among others. Gustafsson has also performed and recorded with
Barry Guy
, Paul Lovens, Georg Graewe, and Jaap Blonk, and as a member of Peter Brötzmann's all-star Chicago Octet/Tentet. Gustafsson has collaborated with artists in other media as well, including dance, theater, poetry, and painting.
His many ongoing projects include the AALY Trio, with Nordeson and bassist Peter Janson, whose third album, Live at the Glen Miller Cafe, came out on the Wobbly Rail label in 1999. In 2000, he issued a new solo album on the Drag City subsidiary Blue Chopsticks, a
Steve Lacy
tribute entitled Windows. Hidros One followed in early 2001.
Gustafsson became especially prolific as the 21st century began, releasing close to three dozen albums in the next ten years either as a leader or collaborator. Some of his recordings include Dat and I Love It When You Snore with Paal Nilssen-Love (2002); Blues with David Stackenäs and Off Road with
David Grubbs
(2003); Hidros 3 with
Sonic Youth
(2004); Slide Away (2005); The Fat Is Gone with Nilssen-Love and Brötzmann (2007); Mats G Plays Duke E (2008); Mats G Plays Albert A (2009); Needs! (2010); One Bird Two Bird with
Masami Akita
(aka
Merzbow
) and Jim O'Rourke; and Bengt (2012).
In 2008, Gustafsson, Nilssen-Love, and bassist Ingebrigt Håker Flaten formed the trio
the Thing
, who recorded a handful of albums, including Cherry Thing in collaboration with vocalist
Neneh Cherry
in 2012. In 2009, he formed
Fire!
with Johan Berthling and Andreas Werliin; the group has recorded four albums, including the stellar In the Mouth: A Hand in 2012 in collaboration with guest guitarist
Oren Ambarchi
.
Gustafsson teamed with saxophonist
Colin Stetson
for Stones, which was released in January 2013, followed in March by the RareNoise release of Cuts in collaboration with
Merzbow
and Balázs Pándi. In November of that year,
the Thing
issued Boot! after establishing their own label, The Thing Records. 2014 saw the saxophonist in collaboration with Nu Ensemble on Hidros6 Knockin' on Not Two, the solo Torturing the Saxophone and Verses, a duo with
Ken Vandermark
, both from Corbett vs. Dempsey. In total, he played on or released no less than a dozen records. 2015 was no less prolific. Marking his 50th year, he kicked it off with Cuts of Guilt, Cuts Deeper, another RareNoise session with
Merzbow
, Pandi, and
Thurston Moore
. The saxophonist and guitarist also released Hit the Wall! through Smalltown Supersound. Gustafsson was also active in his various other bands: his
Gush
trio with drummer Raymond Strid and percussionist Sten Sandell released The March, Slobber Pup (with
Jamie Saft
, Pandi, and
Joe Morris
) offered Pole Axe through RareNoise, and
The Thing
issued its 12th album, The Shake. In October, Gustafsson celebrated his birthday with three nights of concerts at the Porgy & Bess Theater in Vienna. Featuring various solos, duos, trios, and quartets, it also included performances by both
The Thing
and
Fire!
A four-disc box set was released by Trost in mid-2016 as MG50: Peace and Fire. It not only included concert highlights, but a booklet filled with essays and photographs as well; it was credited to Mats Gustafsson & Friends. The same year, a greatly expanded
Fire!
-- renamed The Fire! Orchestra -- released Ritual via Rune Grammofon. ~ Joslyn Layne & Thom Jurek
full bio
Selected Discography
Similar Artists
Don't have a Pandora account? Sign up
Already have a Pandora account? Log In