Free personalized radio that
plays the music you love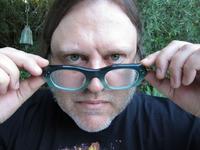 People who also like this
After spending the '80s as an unappreciated jangle pop guitarist with
Oh-OK
and
Lloyd Cole
, as well as a solo artist, Matthew Sweet emerged in 1991 as the leading figure of the American power pop revival. Like his British counterparts
Teenage Fanclub
, Sweet adhered to traditional songcraft, yet subverted the form by adding noisy post-punk guitar and flourishes of country-rock, resulting in an amalgam of
the Beatles
,
Big Star
, R.E.M., and
Neil Young
. Recorded with guitarists
Richard Lloyd
and Robert Quine, Sweet's third album, Girlfriend (1991), became a word-of-mouth critical and commercial hit over the course of 1992, with its title track reaching the Top Five on the Modern Rock charts. For the next five years, as alternative rock was the dominant commercial force in rock & roll, Sweet was a popular concert attraction, and his reputation as an alternative pop singer/songwriter was at its peak: his next two records, Altered Beast (1993) and 100% Fun (1995), were both critically acclaimed and relatively successful albums, with the latter reaching gold status and making many year-end best-of lists. Beginning with 1997's Blue Sky on Mars, Sweet settled into cult status, and while he wasn't enjoying the success of his previous records, most power pop records of the latter half of the '90s were indebted to Girlfriend.
Matthew Sweet began playing music while he was a high school student in his native Lincoln, Nebraska. Upon his graduation in 1983, he decided to attend the University of Georgia in Athens because of its burgeoning underground music scene. Once he arrived at college, he met Lynda Stipe and joined her band,
Oh-OK
, in time to play on their second EP, the
Mitch Easter
-produced Furthermore What, which was released late in 1983. The following year, he and
Oh-OK
drummer David Pierce formed Buzz of Delight, releasing Sound Castles later that year. Over the course of 1984 and 1985, Sweet cut a demo tape with producer
Don Dixon
. Columbia Records heard the Buzz of Delight record and the demo and offered him a contract in 1985. Upon signing with Columbia, he relocated to New York and recorded his debut, Inside. Released in 1986, Inside featured Sweet playing nearly all of the instruments on the record, supported by a drum machine; the album also featured several cameos, including
Chris Stamey
, Fred Maher, Anton Fier, and
Aimee Mann
. That same year, Sweet guested on Blast of Silence, an album by Fier's band
the Golden Palominos
.
Despite positive reviews, Inside was ignored upon its release and Columbia dropped Sweet. In 1988, he signed with A&M Records and recorded his second album, Earth. Produced by Fred Maher and released in 1989, Earth again featured Sweet as a one-man band, augmented by guitarists Robert Quine (
Lou Reed
,
Richard Hell
) and
Richard Lloyd
(
Television
). The album failed to make any impact, and A&M dropped Sweet as he was working on his third album in 1990. Over the next year, he earned money by touring as
Lloyd Cole
's guitarist while shopping a demo of his album to various labels, with little success. Eventually, the president of Zoo signed him upon overhearing the demo in an office. Girlfriend, an album largely inspired by the dissolution of his marriage, was the first album Sweet recorded with a live band, and its sound -- which was powered by
Lloyd
and Quine -- was considerably more immediate and raw than its predecessors. Upon its late 1991 release, Girlfriend earned strong reviews and "Divine Intervention" became a moderate hit, but it wasn't until the spring of 1992, when the title track took off, that the album became a genuine hit. By the end of the year, Girlfriend had gone gold and Sweet had moved to Los Angeles.
Sweet recorded the follow-up to Girlfriend with producer Richard Dashut, who had previously been best known for his work with
Fleetwood Mac
and
Lindsey Buckingham
. Again featuring Quine and
Lloyd
, the resulting Altered Beast was messier than Girlfriend and consequently received mixed reviews upon release in early 1993, yet it became a sizable college radio hit on the strength of the modern rock and MTV hits "The Ugly Truth" and "Time Capsule." After releasing the stopgap EP Son of Altered Beast in the spring of 1994, Sweet recorded his fifth album, this time with a more commercial producer -- Brendan O'Brien -- who had previously worked with
Pearl Jam
and
Stone Temple Pilots
. Released in the spring of 1995, 100% Fun received Sweet's strongest reviews to date and went gold on the strength of "Sick of Myself," his first single to scrape the bottom reaches of the pop charts.
Following 100% Fun, Sweet parted ways with
Lloyd
and Quine, but retained O'Brien for 1997's Blue Sky on Mars. Despite the strong initial placing for its lead single "Where You Get Love," Blue Sky on Mars received mixed reviews upon its spring release, and it failed to match the success of its immediate predecessor. In Reverse followed in 1999, and the best-of collection Time Capsule arrived a year later. Hip-O released To Understand: The Early Recordings of Matthew Sweet in 2002, a collection that Sweet followed up with the Japanese-only release Kimi Ga Suki * Raifu. He returned to the domestic studio in 2004 for Living Things, followed by a collection of choice covers with ex-
Bangle
Susanna Hoffs
called Under the Covers, Vol. 1 in 2006. In 2008, Sweet released Sunshine Lies, an all-new collection of studio material that was warmly received by both fans and critics alike, followed by Under the Covers, Vol. 2 (again with
Hoffs
) in 2009. Two years later, Sweet hit the road in celebration of Girlfriend's 20th anniversary, playing the album in its entirety each night. That same fall, he also released a new record, Modern Art. Sweet once again teamed with
Hoffs
in 2013 for their third collection of covers. Released in November 2013, Under the Covers, Vol. 3 focused on songs from the '80s. ~ Stephen Thomas Erlewine
full bio
Selected Discography
Similar Artists
Don't have a Pandora account? Sign up
Already have a Pandora account? Log In