Free personalized radio that
plays the music you love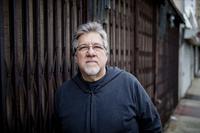 People who also like this
Michael Formanek, Tim Berne, Craig Taborn & Gerald Cleaver
Born in San Francisco in 1958, Michael Formanek has proven that he can do it all: bassist, composer, improviser, bandleader, collaborator, educator, and first-call sideman to many of the most highly regarded artists in creative jazz. He has been a major presence on the New York and East Coast creative jazz scene since the 1990 release of his debut album as a leader, Wide Open Spaces, on the Enja label. Formanek had already proven himself a skillful sideman in ensembles led by the likes of
Freddie Hubbard
,
Joe Henderson
,
Dave Liebman
,
Fred Hersch
, and Attila Zoller, but Wide Open Spaces was the first recording that revealed the bassist's ability to write widely varied compositions emphasizing the strong talents of his own ensemble members (in this case saxophonist
Greg Osby
, violinist
Mark Feldman
, guitarist
Wayne Krantz
, and drummer Jeff Hirshfield). In 1992, Enja released Formanek's second recording, Extended Animation, which featured the same bandmembers as Wide Open Spaces except for one important difference: a switch in saxophonist from
Osby
to
Tim Berne
.
From the unison bass-sax line in the opening measures of the first tune "Liar's Web," the compatibility of Formanek and
Berne
was apparent; they would continue a fruitful musical partnership for the remainder of the decade and beyond. Extended Animation also revealed Formanek's skill in writing compositions of greater length and complexity than the generally shorter vignettes on Wide Open Spaces. The same year that Extended Animation was released, Formanek,
Berne
, and Hirshfield entered the studio to record Loose Cannon for Italian producer Giovanni Bonandrini's Soul Note label. This trio session, with bass and sax squarely in the spotlight, further cemented the nascent Formanek-
Berne
relationship. Loose Cannon was released in 1993, as Formanek returned to the studio for another Enja session, this time with his largest group yet. The septet on Low Profile included Formanek and
Berne
along with trumpeter
Dave Douglas
, multi-reedist
Marty Ehrlich
, trombonist
Ku-umba Frank Lacy
, drummer Marvin "Smitty" Smith, and pianist
Salvatore Bonafede
. With its balance of high-energy improvisational passages and intricate ensemble arrangements, Low Profile was regarded by many critics as one of the strongest creative jazz CDs of 1994.
Meanwhile,
Tim Berne
decided to tap Formanek for Bloodcount, his quartet also featuring saxophonist/clarinetist
Chris Speed
and drummer
Jim Black
. In September 1994, the four musicians, plus guitarist
Marc Ducret
, recorded several nights of concerts for Stefan Winter's JMT label; the resulting music was released in 1995 on a trio of classic Bloodcount CDs: Lowlife, Poisoned Minds, and Memory Select. The demise of JMT came soon after, but Bloodcount continued to record (minus
Ducret
) for
Berne
's new Screwgun label. Formanek appeared on three Bloodcount recordings issued by Screwgun: the Bloodcount Unwound three-CD box set (1996), as well as Discretion and Saturation Point (both 1997). Still under contract to Enja, Formanek recorded Nature of the Beast, his fourth album for the label, in 1996. The CD was released the following year and featured a core quartet including trumpeter Douglas, trombonist Steve Swell, and a drummer with whom Formanek had been developing a particularly strong rapport: Bloodcount's
Jim Black
. Also making appearances on selected tracks were
Berne
,
Speed
, and tenor saxophonist
Tony Malaby
. Everyone appeared on the stunning, 12-minute "Thick Skin/Dangerous Crustaceans," sounding rather like an extended ensemble version of Bloodcount.
As the 1990s drew to a close,
Berne
put Bloodcount on hold, but Formanek continued his liaison with the saxophonist. They toured throughout the United States as a duo and in 1998 released the CD Ornery People on the Little Brother label. That same year, Screwgun issued Am I Bothering You?, a Formanek solo CD that fully revealed the bassist's improvisational skills and mastery of extended techniques. In addition, Formanek toured in 1998 as a member of drummer Gerry Hemingway's new American quartet, which also included trombonist
Ray Anderson
and tenor saxophonist
Ellery Eskelin
. On the 1999 Enja CD Relativity, Formanek appeared in a new collaborative trio with reedman
Ehrlich
and drummer
Peter Erskine
, drawing critical praise for his ability to maintain a propulsive groove while also providing the ensemble with plenty of room for abstract exploration. At the June 2000 Bell Atlantic Jazz Festival in New York City, Formanek premiered Northern Exposure, a new quartet with drummer
Black
, trumpeter Dave Ballou, and saxophonist Henrik Frisk. Despite all this activity, Formanek remained an in-demand session bassist throughout the 1990s, performing on CDs by leading creative jazz artists such as
Jane Ira Bloom
,
Uri Caine
,
Marty Ehrlich
, James Emery,
Lee Konitz
,
Kevin Mahogany
,
the Mingus Big Band
, the New York Jazz Collective, Daniel Schnyder, and
Jack Walrath
. By the year 2000, he had appeared on over 60 recordings as leader, collaborator, or sideman.
At the beginning of the new millennium, Formanek moved with his family from eastern Pennsylvania to the Baltimore area after accepting a limited-time faculty appointment to the Jazz Studies Department at Baltimore's Peabody Institute, one of the oldest music conservatories in the U.S. and since 1977 a division of Johns Hopkins University. He was subsequently appointed as a full-time faculty member, and -- while continuing to participate in a number of recordings as a sideman -- he devoted considerable creative energy to the academic arena for the remainder of the decade, also receiving fellowships and commissions for the composition of new works. He re-emerged as a recording session leader in 2010 with the release of The Rub and Spare Change by the Michael Formanek Quartet on the ECM label; in addition to Formanek on bass (and as composer), the date featured saxophonist
Berne
, pianist
Craig Taborn
, and drummer
Gerald Cleaver
. Small Places, the second Formanek Quartet album on ECM, arrived in 2012; the album featured a lineup identical to the debut released two years previously.
The 2010s also saw Formanek appear live with his aptly named Ensemble Kolossus, an 18-piece aggregation of musicians with whom he had collaborated over the years, including a new generation of players on the Brooklyn jazz scene. In early 2014 the Cuneiform label released the eponymous debut album by Thumbscrew, a collaborative trio comprising Formanek and two Brooklyn creative jazzers, guitarist
Mary Halvorson
and drummer Tomas Fujiwara, and the bassist appeared on another Cuneiform album in October of that year, guitarist Anthony Pirog's Palo Colorado Dream, also featuring drummer
Ches Smith
. In early 2016, Formanek released The Distance -- his third album for ECM -- with Ensemble Kolossus, which incidentally also included Thumbscrew members
Halvorson
and Fujiwara in the lineup. And in May of that year, Thumbscrew's second album, Convallaria, was released by Cuneiform. ~ Dave Lynch
full bio
Selected Discography
Similar Artists
Don't have a Pandora account? Sign up
Already have a Pandora account? Log In