Free personalized radio that
plays the music you love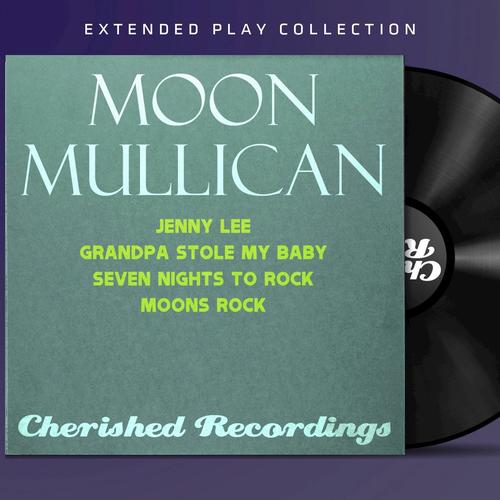 People who also like this
By rights, Moon Mullican should be a legend twice over, in country music and rock & roll. He merged them both -- as well as blues, pop, and honky tonk -- into a seamless whole at the drop of a hat and the ripple of a keyboard, and also managed to play a seminal role in the history of Western swing, all in a recording career that lasted less than 30 years. Instead, for decades he was one of those "lost" musical figures from the '40s and early '50s, whose career paved the way for rock & roll, who was born just a little too early, and who was a little too old to take advantage of what he'd started.
He was born Aubrey Mullican in 1909 in Corrigan, TX, a little more than an hour's drive north of Houston, to a family that owned an 87-acre farm that was worked (at least partly) by sharecroppers. It was one of them, a black blues guitarist named Joe Jones, who introduced Mullican to the blues before he was in his teens. This in itself constituted an act of rebellion on his part, because Mullican's family were devout churchgoers -- his father attended three times a week -- and abhorred anything to do with the elements of sun and excess with which the blues and the places where it was usually played were associated. He would spend most of his life attempting to reconcile -- or at least find a livable middle ground between -- these two sides of himself. He got good on the guitar and the bass, but Mullican's instrument of choice was the keyboard: first the family organ, which had been bought so that his sisters could practice playing hymns, and later the piano.
By the time he was 14, he was able to make 40 dollars -- a good deal more than a week's wages in 1923 -- for two hours of piano playing at a local cafe. Music was not only something he loved, but it offered a lot more renumeration than farming (or even overseeing land worked by tenant farmers) seemed to; it was also something that his father despised. Mullican had already made a habit of hanging out at the roadhouses in East Texas, taking in the blues and barrelhouse music that poured off of their stages along with the rougher sides of life. Finally, at 16, Mullican left home for the big city of Houston, where he quickly fell in with people that his family would have pegged as "wrong." He made his living playing music and earned the nickname "Moon," short for "Moonshine," which stuck for the rest of his life, and all but trumpeted the direction his life was taking where sin and music were concerned. During the mid-'30s, he joined the Western swing band the Blue Ridge Playboys, and moved from there to playing in
Cliff Bruner
's Texas Wanderers, as well as recording with the Sunshine Boys and
Jimmie Davis
in Louisiana, and then returned to working with
Bruner
for a time in the early '40s.
Mullican's talents at the ivories were long established by the end of the '30s -- he played the piano like it was a part of him, and sometimes with surprising flashes of elegance -- but he moved to the lead singer's spot in 1939 when
Bruner
recorded the pioneering country trucker song, "Truck Driver's Blues." He turned out to be every bit as good a singer as he was a pianist, with a stunningly expressive voice even if it didn't have an overly great range. This recording and the advent of the '40s heralded the busiest phase of Mullican's career, as he juggled a long-term association with
Bruner
and a stint in the backing band for
Jimmie Davis
during the latter's successful campaign for governor of Louisiana, and finally put together his own band,
the Showboys
, known locally as the "band with a beat," an attributed sometimes referred to as "East Texas sock."
They quickly became one of the most popular outfits working the Texas/Louisiana border during the mid-'40s, and though they couldn't have known it at the time, that beat, coupled with their mix of country music and Western swing, and Mullican's definite blues-influenced piano and singing (and sometime choice of repertoire) brought them amazingly close to a sound that would later be called rock & roll, and the fact that they were white practically sealed the premonition, at least on some of their repertoire -- Mullican also had a liking for ballads that were definitely more country than R&B in nature and execution. In any event, it was all going over well, and it seemed only a matter of time before Mullican would hit it big on record, he had recorded as a vocalist fronting
Bruner
's outfit and others for all of the majors -- Decca, RCA Victor, and Columbia Records -- going back to before World War II, and
the Showboys
were in the studio attempting to make records as early as 1945 for the tiny Gulf label, only to be thwarted by technical problems that made the results unreleasable.
It wasn't until the fall of 1946 that someone was able to take advantage of what Mullican and his band could do on record, and that someone was Syd Nathan of Cincinnati, OH, who had lately founded a label called King Records. Those first 16 sides cut at those early King sessions were outstanding, capturing everything that Mullican and company had been delighting local audiences with for the last couple of years -- he went on to cut a decade's worth of superb music for King, including a uniquely stylized version of "New Jole Blon" that was a hit in 1947, and the ballad "Sweeter Than the Flowers" in 1948. It was in the realm of hillbilly boogie, however, that Mullican had his greatest influence, his versions of "Shoot the Moon" and "Don't Ever Take My Picture Down" pre-figuring rock & roll (especially
Jerry Lee Lewis
' brand of it) in tone and beat, if not youthful subject matter. In particular, the sides that Mullican cut with producer Henry Glover -- otherwise best known as a jazz trumpeter -- at King crossed over easily into R&B, though he was equally comfortable with pop standards, honky tonk, and traditional country. By the end of the '40s, he was a member of the Grand Ole Opry and found a national audience from its radio broadcasts, which helped propel the sales of his biggest hit, "Cherokee Boogie," in 1951.
Mullican was a star in the world of country music, and may have had more influence there than the sales of his records would lead one to believe. For decades, it was an open secret that he'd co-written "Jambalaya (On the Bayou)" with his fellow Grand Ole Opry member
Hank Williams
, collecting a 50 percent share of the royalties on the sly because of his contractual relationship to King Records. His influence on the country field may not have been as freely acknowledged at the time as the actual level of impact would have justified, because of the peculiarities of his music and persona. The United States was still almost entirely a segregated nation, and in the realm of country music that was true on a cultural level as much as such practicalities as restricted hotels and drinking fountains -- it was case of pure denial, of course, as anyone listening objectively to the work of such popular country figures as
Hank Williams
or
Tennessee Ernie Ford
couldn't miss the black influence somewhere in their sound, but it was how audiences and many musicians felt at the time; what's more, a lot of producers and promoters were uncomfortable with the subject, because most localities south of the Mason-Dixon Line had laws prohibiting black and white performers from sharing the same stages, and a white performer who sounded "too black" was pushing an envelope that most moneymen didn't want touched or even acknowledged.
Bill Haley
and
Elvis Presley
scaled the wall musically and culturally, as did a lot of young early rock & rollers, whose appeal to young white teenagers troubled some of the most conservative residents of the South. Ironically, it was
Chuck Berry
who ran right into that wall and probably ended up single-handedly smashing it to bits -- his first hit, "Maybelline," was a rockabilly-style number quite unlike most of his subsequent repertoire, and on it he sounded like a hillbilly. Coupled with the poor-quality publicity photos that Chess Records sent out on him, it was assumed by many promoters in the South that
Berry
was white, and as he stopped traveling with his own band early on -- as the members increasingly got drunk in their off time -- the promoters were supposed to provide a backing band for him at each contracted gig. And a lot of the time on that first tour, he'd arrive to find a white band waiting to play with him and the county sheriff ready to close the hall and arrest all concerned if he took the stage with them -- and because
Berry
had fulfilled his obligation to appear, the promoters were obligated to pay him in full for shows he wasn't legally allowed to play. And that hit in the pocketbook, repeated enough times on that first tour of the South by
Berry
, started the move to rescind those laws restricting interracial performances.
But that was in 1955-1956. In the early '50s, Mullican by his very nature, for all of his popularity, challenged the traditions and prejudices of a lot of the listening public and even some of his fellow musicians. He freely acknowledged his debt to black performers and musical styles associated with them, in interviews and the notes to various songbooks, but -- just as an example of what was going on around him --
Jerry Lee Lewis
, a generation younger, who was influenced by Mullican about as much as any musician of his generation, has always had a much more difficult time admitting to a direct black influence on his sound. Mullican was a little too open-minded ever to get his real due at the time, and had to content himself with record sales figures and a healthy audience for his performances.
By the mid-'50s, he was trying to get out of his King Records deal and onto one of the major labels. It didn't happen for Mullican until the end of the '50s, a point where his star had fallen considerably. Rock & roll had taken a lot of the edge off the sales of country records, effectively stealing the youngest, most active, and most pliable portion of country's audience. Mullican's record sales, ironically, had fallen even as the stars of such stylistic emulators and successors as
Jerry Lee Lewis
rose.
Chuck Berry
was enjoying success with such suggestive numbers as "Reelin' and Rockin'," but Mullican was having a harder time with "Seven Nights to Rock," an equally bold number with a compelling beat and a driving performance, cut with Boyd Bennett & His Rockets in an effort to reach the rock & roll audience. In a sense, his timing was off -- if
Bill Haley
, born nearly two decades later than Mullican (and who didn't have half of Mullican's singing ability) seemed over the hill as soon as his balding, pudgy post-30-ish image became well-known, then Mullican, with his cowboy hat, Western twang in his singing, and 50-ish appearance was definitely not what the kids were buying, no matter what his records sounded like.
By the end of the '50s, he'd been released from King but couldn't get another recording deal very easily, as his sales had declined through the middle of the decade. A move to Coral Records led to a toned-down country approach, which managed to intersect with rock & roll, blues, and pop music, but success still eluded him, even when he recut his King Records hits. Mullican entered the '60s as an overlooked figure, apart from country listeners with long memories and those people lucky enough to catch his performances in Texas and around the Southern and border states.
A 1962 heart attack on-stage sidelined him into the following year, but he was back performing and recording in 1963, this time locally for the Hall-Way label of Beaumont, TX, where he made his home. He never gave up performing or neglected his love of pleasing an audience. Finally, on New Year's Eve of 1966-1967, he suffered another heart attack, and died early in the morning on January 1, 1967. Two years later, Kapp Records released The Moon Mullican Showcase LP, which included his last sides done in Beaumont more than half a decade earlier. In the decades since, Mullican's name has gradually become known to a generation of listeners attuned to the roots of rock & roll and pre-Nashville country music, and labels like Ace, West Side, and Bear Family have issued compilations of his King, Coral, and Hall-Way sides on CD. ~ Bruce Eder
full bio
Selected Discography
Similar Artists
Don't have a Pandora account? Sign up
Already have a Pandora account? Log In