Free personalized radio that
plays the music you love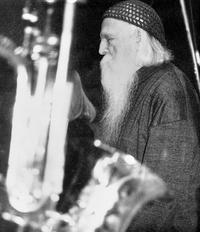 People who also like this
A mostly self-taught composer, Louis Hardin was born in Marysville, KS on May 26, 1916. The family eventually moved to Wyoming, where his father, who had been an Episcopalian minister, opened a trading post at Fort Bridger, and had two different ranches. Young
Hardin
went to school in a log cabin in Burnt Fork, WY, and fished, hunted, and trapped. Later, he rode a horse to school in Long Tree, a cattle community. He wrote that his first drum set " ...at the age of five, was a cardboard box". He also went with his father to an Arapho Sun Dance, where he sat on Chief Yellow Calf's lap and played the buffalo skin tom-tom. Later, in 1949, he played tom-tom and flute at a Sun Dance held by the Blackfoot in Idaho. The constant "tom-tom" beat became incorporated in many of his later pieces, such as the complex canon for marimbas "Wind River Powwow: Arapa-Host, Arapa-Home, Arapa-Hope." He played drums in Hurley High School in 1929, and he lost his sight in his early teens when a dynamite cap exploded. He studied music and finished high school at the Iowa School for the Blind, and in 1933, studied braille at the Missouri School for the Blind in St. Louis. "I write all my music in braille. When I write for orchestra, I do not write scores any more, but just write out parts, for the score is in my head and just writing out the parts cuts the time and cost in half ... anyhow, if my pieces were ever in demand, a score to each could be made from the parts. I call this process 'intracting', as opposed to the opposite, having a score and 'extracting' parts from it. From the braille I dictate every slur, tie, expression mark." It is then written in pencil by another person, read back and corrected, then inked in by another person - " .. double trouble".
Hardin
lived in Batesville, AR until 1942 when he got a scholarship to study in Memphis. However, he mostly taught himself ear training and other musical skills, and theory from books in braille. In the fall of 1943, he came to New York and met Artur Rodzinski,
Leonard Bernstein
, and then
Toscanini
. In a legendary story,
Hardin
made to kiss Toscanini's hand " ... whereupon he pulled it away, saying, 'I am not a beautiful woman'".
Hardin
began using the name Moondog as a pen name in 1947 in honor of a dog "who used to howl at the moon more than any dog I knew of." His music, constructed of direct musical gestures and built mostly from pure modal themes expanded by sophisticated contrapuntal techniques, would now receive the avant-garde label of "minimal" or pattern music, but this sound has characterized his music since the late '40s, and is thus a precursor of that postmodern compositional style. In New York, Moondog began to meet legendary jazz performer-composers, such as
Charlie Parker
and
Benny Goodman
, and to incorporate jazz inflections, as well as humorous philosophical couplets and environmental sounds into his recorded compositions -- the early recordings on the Prestige label in 1956 - 1957 contain brief pieces such as "Up Broadway/The impressions of Moondog as He Passes Birdland and the Palladium up the Great White Way ... (a) Broadway and 52nd St., the Jazz Corner of the World. A dog Trot in 1/4 Time ... (b) Broadway and 53rd St, the Afro-Cuban Corner of the World -- A Bumbo in 4/4 time ...," and a duet for the whistle of the ocean liner the Queen Elizabeth and a bamboo flute. Moondog also sold his printed music and records, and performed on the streets of Manhattan. His music truly expressed a universal vision with the best of American musical sensibilities. Moondog passed away on September 8, 1999 in Germany at the age of 83. ~ "Blue" Gene Tyranny
full bio
Selected Discography
Similar Artists
Don't have a Pandora account? Sign up
Already have a Pandora account? Log In