Free personalized radio that
plays the music you love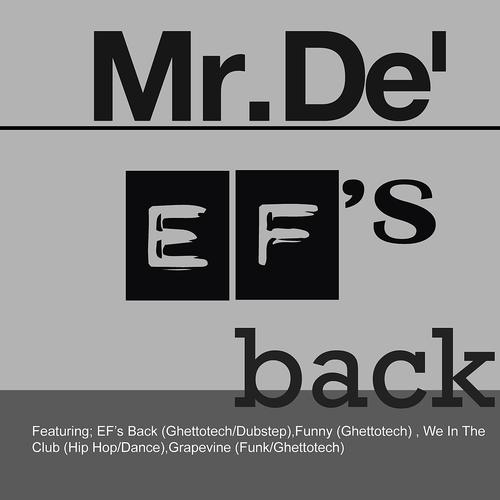 People who also like this
After over ten years of work as a producer and nearly 20 years of making electronic music, Mr. Dé stepped from behind the mixing board to release his first album, confirming the fact that he had become one of most important figures in Detroit's burgeoning ghettotech scene. The producer's debut album, Electronic Funkyshit, showcased the Detroit artist's multi-dimensional production talents; beginning with some synth funk tracks, Dé then moves through other styles such as R&B, electro, P-Funk, booty, drum'n'bass, and rap. This seamless album stood as the first non-mix album on the shelves to showcase Detroit's ghettotech sound -- a sound drawn from a number of funk-based urban sounds, blending them together into a composite whole that emphasizes up-tempo booty shakin' over the high-brow styles of techno. Following the release of this first album and the continuing success of his distribution empire, Dé solidified his position at the forefront of Detroit ghettotech.
Splitting his time between Detroit and Panama City, FL, as a youth with divided parents, the young ADé Mainor experienced two different cultures in the early '70s: the sprawling urban segregation of struggling inner-city Detroit with its long winters and its fabled musical traditions, and the sunny Utopia of vacation friendly Florida with its blistering beaches and its relaxing lifestyle. Yet despite the Utopian attributes of Florida, he soon found himself spending most of his time in Detroit with his mother, a gospel singer. It was there among the post-industrial decay of the once mighty Motor City that he began to revel in the enriching world of music, first learning to play the piano at age six. Soon he schooled himself first at the guitar, and then once he heard the early hip-hop of
Kurtis Blow
, he began toying with drum machines and turntables, producing skeletal hip-hop tracks as a young teen. His infatuation with Detroit's then-blossoming, now-forgotten hip-hop scene soon became the focus of his time as he also began breakdancing in addition to the time he spent programming his drum machines and synthesizers.
By the late '80s, once Detroit began transforming into a city full of visionary men with innovative ideas about where funk-based music could go -- Electrifying Mojo,
Jeff Mills
as
the Wizard
,
Juan Atkins
,
Derrick May
, etc. -- Mainor found himself working as a staff producer at Detroit Piston John Salley's Hoops Studio on Eight Mile Road for three years. There -- at Detroit's hottest studio at the time, working alongside some of the city's most prolific producers -- he learned how to churn out hip-hop, R&B, and bass hits such as LaRocko Tee's "Big Booty B**ch" on a daily basis as he finished up high school and began studying sound engineering. Following this stint, he went to work for Cliff Thomas, the owner of Detroit's Buy Rite record store on Seven Mile Road, who helped record many of the city's first techno artists launch their careers. Alongside Thomas, Mainor started producing records for the D-Bass and Reality labels in the early '90s.
During his time working with Thomas at Buy Rite, Mainor met Craig Adams, better known as
DJ Assault
. Adams spun a unique style of dance music -- composed of early techno, electro, Miami bass, obscure booty, and certain styles of rap -- which instantly fascinated Mainor. The two began working together, with Mainor as the producer and Adams as the protégé. They sold their first few records straight out of the store and were amazed at the demand, resulting in their decision to leave Buy Rite to form their own label, Electrofunk, in 1996. At this point in time, many Detroit producers such as
Jeff Mills
and
Claude Young
had left Detroit; other producers such as
Derrick May
and
Juan Atkins
entered stagnant periods; and other area producers such as
Underground Resistance
and
Carl Craig
sold more records overseas than in their own hometown. Together, Mainor and Adams wanted to produce a style of dance music that would appeal to their city's appetite for raw, urban-sounding funk music with street credibility: the prototype for ghettotech was born.
At this time in Detroit, DJ mix tapes littered the city's music landscape. Everyone from superstar DJs to bedroom DJs were passing around dubbed mixes of their DJ sets for people to bounce to in their car and give to their friends. Mainor and Adams decided to bank on this trend by releasing one of the first mix CDs, titled Straight Up Detroit S**t. This now infamous CD showcases Adams' skills as
DJ Assault
, moving through a countless number of pitched-up, obscure Detroit bass records with lightning speed. The fact that he pitched-up the records to an outrageously high number of beats per minute and went out of his way to feature tracks with a pornographic edge led many to dub the music "booty." At the same time, he also made sure to include several of his and Mainor's Electrofunk releases, cementing their association with this style of booty music. The CD flew off the shelves, and the duo quickly went back in the studio to produce yet more Electrofunk records to accommodate the ridiculous demand and also made sure to keep releasing more volumes in the Straight Up Detroit S**t series.
It wasn't long before Mainor and Adams had succeeded in their goal to take the
DJ Assault
moniker to superstar status with the series of mix CDs and their run of hot Electrofunk records, which were all attributed to
DJ Assault
even though Mainor had done the bulk of the production. The fact that the duo made their music for Detroit made the difference. Other area labels such as
Carl Craig
's Planet E sold plenty of records, but very few of those records sold within Detroit, and those that did were sold to white suburbanites rather than the inner city's enormous black population. On the contrary, the Electrofunk records sold very few copies outside of Detroit but could be heard everywhere on the inner-city streets, got heavy play on the city's radio mix shows, and became staples of the city's dance clubs. Tracks such as "A** N' Titties," "Checkstub," "Sex on the Beach," "Crank This Mutha," and "Dick By the Pound" became anthems, where nearly everyone in the club would chant along to the perverse chants.
By the end of the '90s, the once dynamic duo had become dysfunctional. Adams had his own label, Assault Rifle, while Mainor had Electrofunk. In addition, Adams seemed to become increasingly infatuated with rapping, resulting in two mediocre rap albums, Belle Isle Tech and Assaultland. Mainor went along for the ride, producing the beats and contributing rhymes of his own, but it soon became clear that the relationship was destined to break apart. While Mainor spend a great deal of his time running Electrofunk's distribution arm -- Electrofunk, Assault Rifle, Twilight 76, Throw, Databass, etc. -- and an equal amount of time in the studio, the spotlight shone on Adams, with his high-profile DJ gigs and his name appearing on Mainor's productions. So, done having helped catapult the name
DJ Assault
into mass consciousness, Mainor soon went solo.
A short lull passed in the Electrofunk camp as Mainor spent long days in the studio preparing his first-ever full length release, Electronic Funkyshit. Released late in the summer of 2000, the album illustrated just how diverse his talents were, finding the producer not only laying down tight beats but also playing a range of instruments and showcasing a cast of talented vocalists. Like a modern version of
Prince
or
George Clinton
at their respective peaks in the early '80s and late '70s, Mainor may have featured a range of instruments, sounds, and arrangements, but a unique signature style emphasizing the true meaning of funk remained constant throughout the album, thanks in part to a constant tempo around or near 140 bpm. In addition, his flair for programmed drum machine beats and his knack for laying down effective synth riffs helped characterize this consistent style. Following the release of the album, he then released a handful of 12" records, indented for DJs.
Besides creating a creative album that never gets repetitive with its numerous approaches to electronic funk, Mainor also managed to be the first among Detroit's growing ghettotech community to release a full-length, self-produced album that represented the style's eclectic approach to songwriting. One cannot merely call his productions "booty" or "electro," with the many other elements of R&B, drum'n'bass, rap, techno, and bass all finding their ways into his songs. Never before had anyone thought to integrate actual singing into bass-heavy booty beats as he did on "Sex on the Beach 2000," just as no one in the rap game had every brought the frantic maelstrom of high-hat percussion to hip-hop as he did on "Crome." After years of throwing the term "ghettotech" around as a jargon buzzword with no real reference point or canonical text, someone had finally produced the album that put the concept into practice.
By taking the sounds that
DJ Assault
and
DJ Godfather
had mixed into their DJ sets and using these ideas to create an album that never falls into the confines of a specific genre,
Mainer
can be seen as the originator of pure ghettotech -- not a collage of records mixed into a seamless whole but rather a hermetic production derived from his years of experience producing different styles of urban music. Like all successful post-modern art, his ghettotech takes elements from modern urban music and uses these ideas to fuse together a new sound. Furthermore, at the helm of Electrofunk's distribution arm, he also controls the destiny of his fellow ghettotech peers in Detroit as they try and spread their sound outside of the city. Whether or not the rest of the world is ready for this Detroit-bred, post-modern style of urban music is an unanswered question, but there is no questioning the fact that the man known as Mr. Dé just may be undeniably the most important man in the crusade. ~ Jason Birchmeier
full bio
Selected Discography
Similar Artists
Don't have a Pandora account? Sign up
Already have a Pandora account? Log In