Free personalized radio that
plays the music you love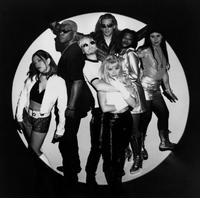 People who also like this
My Life With The Thrill Kill Kult
Although
White Zombie
received most of the credit for mixing tales of sex, Satan, and gore with a rock/dance beat (although admittedly with more of a heavy metal edge), Chicago's My Life With the Thrill Kill Kult specialized in similar territory for just as long. Originally formed in 1987 by Buzz McCoy (who had recently relocated from Boston) and Groovie Mann, the duo sought to create a worthy musical accompaniment that could be used as a soundtrack to trashy B-movies. The duo's initial project was to make a movie (in the style of Russ Meyer and John Waters) to be named "My Life with the Thrill Kill Kult." The movie never got off the ground, but McCoy and Mann used the aborted movie's title for the name of their just-formed group, as their over-the-top stage show was best described as "sensory overload" (featuring a revolving door of weird characters, props, and intense visuals). Signing on with Chicago's renowned industrial dance label Wax Trax!, the Thrill Kill Kult issued several releases between 1989 and 1991: a self-titled EP, plus the full-lengths I See Good Spirits and I See Bad Spirits, Kooler Than Jesus, Confessions of a Knife, and Sexplosion!
By this time, the group had attracted the attention of Interscope Records, which signed up the Thrill Kill Kult and reissued Sexplosion!, which had spawned perhaps the group's best-known song, "Sex on Wheelz" (the track would also be featured in director Ralph Bakshi's animated movie Cool World). The group only issued one more release for Interscope, 1994's 13 Above the Night, before switching to the Rykodisc label and issuing such further releases as 1995's Hit & Run Holiday (a concept album of sorts, which told the tale of a "rebellious vixen," Krystal Starlust, and her "fatal attraction" to a drifter named Apollo) and 1997's Crime for All Seasons.
The Thrill Kill Kult failed to issue any new studio recordings from 1998 through 2000, while a collection of 18 remixes, Dirty Little Secrets, saw the light of day in 1999. But, by 2001, the band had reappeared once more, issuing 2001's The Reincarnation of Luna and 2002's Golden Pillz: The Luna Remixes for yet another new record label, Invisible. In 2004 the Ryko label acquired most of Wax Trax!'s releases, including early albums from the Kult. That same year they reissued the band's first three albums and released a new compilation, The Best of TKK, along with a set of remixes named Diamonds & Daggerz. An album dedicated to the disco era that had sat on the shelves for a decade finally saw the light of day in 2005 when Gay, Black & Married hit the shelves. Two years later the lounge-styled Filthiest Show in Town appeared. In 2010 they introduced their own label Sleazbox with the album Death Threat plus the remix/re-recordings collection Sinister Whisperz: The Wax Trax Years.
In addition to their own releases, My Life with the Thrill Kill Kult has contributed tracks to several movie soundtracks, including Paul Verhoeven's Showgirls, Greg Araki's Nowhere, and the hit flick The Crow (in the latter of which the group made a cameo appearance); and over the years, has toured with such renowned (and similarly styled) bands as
Siouxie and the Banshees
,
Lords of Acid
,
EMF
, and
Marilyn Manson
. ~ Greg Prato
full bio
Selected Discography
Similar Artists
Don't have a Pandora account? Sign up
Already have a Pandora account? Log In