Free personalized radio that
plays the music you love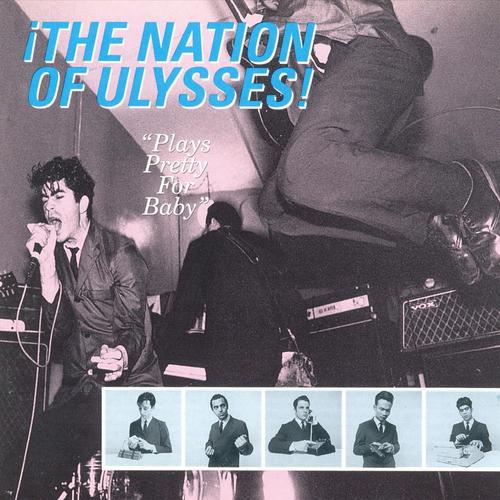 People who also like this
One of the best-loved bands on the Dischord roster, the Nation of Ulysses are best remembered for lifting the motor-mouthed revolutionary rhetoric of
the MC5
and blowing it up to an elaborate, almost ridiculous level. Any discussion of NoU inevitably comes to rest on their conceptual foundation: a relentlessly provocative (and entertaining) jumble of teenage rock & roll rebellion, leftist radicalism, anarchist punk polemics, and abstract intellectual rambling. This filled not only their lyrics but their loquacious liner notes, which the group itself often referred to as "propaganda." Much debate ensued over how firmly the group's collective tongue was planted in its cheek; they seemed far too over the top to be completely serious about their pose, but threw so much effort into it that their hearts seemingly had to be in it to some degree. In person, they carried it off with style and swagger, dressing in sharp business attire and staging theatrical, high-energy live shows. The fascination with NoU's abundant surface trappings often drew attention away from their generally excellent music, an amateurish but potent blend of garagey, Detroit-style crash 'n' bash and
Fugazi
-influenced post-hardcore punk. Moreover, their multi-ethnic makeup pushed them to incorporate elements of R&B (as filtered through
the MC5
) and avant jazz, the latter chiefly through manic frontman Ian Svenonius' primitive trumpet squalling. Although the Nation of Ulysses issued only two albums during their lifetime, their sound, style, and sloganeering had a far-reaching impact; not only did they breathe fresh air into a stagnant anarchist-punk movement, they inspired a new crop of bands both locally and abroad, particularly Swedish punkers like
the Hives
,
the (International) Noise Conspiracy
, and
Refused
.
The Nation of Ulysses were formed in Washington, D.C., in 1988, with a lineup composed of vocalist/trumpeter Ian Svenonius, guitarists Steve Kroner and Tim Green, bassist Steve Gamboa, and drummer James Canty (brother of
Rites of Spring
/
Fugazi
drummer Brendan Canty). It didn't take long for the band to establish itself as one of the most unique on the D.C. scene, and their exciting, volatile live gigs only added to their reputation. Their first record release was the joint Dischord/K Records EP The Sound of Young America, which featured three songs and appeared in 1990. Dischord issued NoU's debut full-length, 13-Point Program to Destroy America, in 1991 (CD versions appended the previous EP as a "3-Point Remedial Program"). Response was generally positive -- in fact, Svenonius was subsequently named "Sassiest Boy in America" by the indie-friendly teen-girl magazine Sassy.
Another three-song EP, The Birth of a Ulysses Aesthetic, appeared in 1992, and was followed later that year by the second Nation of Ulysses album, Plays Pretty for Baby, which expanded the group's following even further. Unfortunately, they wouldn't survive the year; Kroner departed, reportedly due to the birth of a child, and the remaining quartet attempted to begin work on a third studio album. It was never completed, but the six existing tracks were later issued in 2000 as The Embassy Tapes, which also included a few live recordings. After the group's breakup, Svenonius, Canty, and Gamboa quickly reteamed in Cupid Car Club, which issued a 7" single on Kill Rock Stars in 1994; the trio would subsequently form the nucleus of the acclaimed and prolific Make-Up, this time with Canty on guitar and Gamboa on drums. In the wake of their demise, Svenonius moved on to front
Weird War
. Tim Green, meanwhile, became a recording engineer and moved to San Francisco in 1995; he also played with groups like
the Young Ginns
, the Fakes,
Kicking Giant
, and
the F**king Champs
. ~ Steve Huey
full bio
Selected Discography
Similar Artists
Don't have a Pandora account? Sign up
Already have a Pandora account? Log In