Free personalized radio that
plays the music you love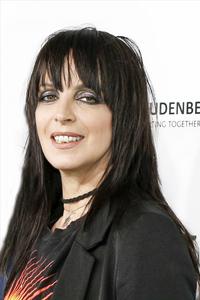 People who also like this
Beginning in 1982, Nena became one of the most successful pop stars Germany had ever seen, especially given the unique success of the original German-language version of the single "99 Luftballons" in the U.S. in 1984. With the full name of Nena Kerner, she had spent one year as vocalist for the Stripes (who disbanded after just one unsuccessful album in 1980), then assembled a band in Berlin called Nena. The lineup included herself as vocalist, Carlo Karges on guitar, Uwe Fahrenkrog-Petersen on keyboards, Jürgen Dehmel on bass, and Rolf Brendel on drums. Their debut single, "Nur Geträumt," became a number one success in German-speaking countries after the band's first TV appearance on the Musikladen TV program on August 21, 1982.
"99 Luftballons" followed, quickly becoming a worldwide smash, although by mid-1985, sales of Nena's records, and the attendance numbers of her 1985 tour dates, dropped, which led to the eventual end of the band in mid-1987. Beginning in 1989, Nena worked as a solo artist, releasing albums of songs composed mainly by herself and befriended musicians she chose as co-authors. (She also chose not to have a permanent band, as had been the case in the '80s, either in the studio or on tour.) Her first solo tour came in 1993, then pregnancies led to minimal live appearances until 1997. She began touring again (mainly in Germany) once or twice a year, backed predominantly by U.S. musicians in addition to Germans.
Throughout the '90s, she could be seen regularly on German TV (hosting a variety show series called Metro in 1993). She stayed true to her unique musical blend of melodic vocals paired with various rock styles ranging from
the Beatles
to the harder sounds of
the Rolling Stones
and even
the Ramones
(with the harder rock sound being her preferred style when on tour). Beginning in 1990, she also made a number of albums specifically for children and did voice-overs or contributed songs to animated movies and cartoon series.
After an ambitious, electronic-based album from 2001 called Chokmah failed to garner attention, 2002 found Nena celebrating the 20th anniversary of her breakthrough with an album of new versions of her hits, Feat. Nena: Live. To everyone's surprise, the audience response was sensational, actually replicating the runaway success of 20 years before. The following double album of new material in 2005, Willst Du Mit Mir Gehn (half of which premiered a heavier rock style) again went platinum, indicating that she had indeed established a strong base among a new audience. The year 2007 saw the release of a covers album entitled Cover Me, which featured Nena's own versions of tracks by the likes of
the Rolling Stones
and
Moby
. In 2009, she released Made in Germany, her 16th studio album, followed by Made in Germany Live and Best of Nena, both appearing in 2010. Du Bist Gut was released two years later. Combining elements of new wave, punk, and contemporary EDM, Oldschool arrived in 2015 and continued her over-ten-year string of Top Ten albums in her homeland. ~ Alan Severa
full bio
Selected Discography
Similar Artists
Don't have a Pandora account? Sign up
Already have a Pandora account? Log In