We created Pandora to put the Music Genome Project directly in your hands
It's a new kind of radio –
stations that play only music you like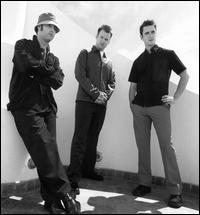 People who also like this
Founded in 1998 by three longtime members of the Toronto music scene, the New Deal fused electronic music with live improvisation at a time when parallel developments were occurring elsewhere on the continent. Through relentless touring, the band quickly built a strong following among jam band fans, rave kids, and fellow musicians.
Each member of the New Deal has roots in the Canadian jazz scene. Keyboardist Jamie Shields came from the horn-infused One Step Beyond while drummer and beatboxer Darren Shearer migrated from Gypsy Sol and bassist Dan Kurtz from Que Vida! Quickly, the band earned a following in their native Toronto, accidentally cutting their self-released first album, This Is Live, at their very first gig at a local club.
In the summer of 1999, the band headed south to the wild pastures of the United States, where -- before their first States-side audiences -- they won far larger crowds than they were expecting at both the Berkshire Music Festival in Massachusetts and the famed Wetlands Preserve in New York City. The band swiftly earned a wide fan base and were accepted and assimilated into the burgeoning Northeastern jam band scene. They made a home at the Wetlands where, through frequent visits, they packed the room.
The band's music, an organic mix of house rhythms, burbling synthesizers, and melodically repetitive bass parts, is almost entirely improvised, though many songs have crystallized from jam sessions and worked their way into the band's repertoire. Two EPs, recorded in December 1999 and April 2000, respectively, captured the broadening of the band's sound from ambient textures to wildly varied dance music.
In addition to sonic experimentation, the band also offers a successful model of alternative management, splitting the duties of administration between the three band members, each of whom deal with a specified area of the band's operations. Along with This Is Live, The New Deal's two EPs were released on the band-owned and -operated Sound and Light Records, and are distributed internationally through various outlets. By mid-summer 2000, their star power continued to rise just as the
Receiver
EP was ready for release. ~ Jesse Jarnow, Rovi
full bio
Selected Discography
Similar Artists