Free personalized radio that
plays the music you love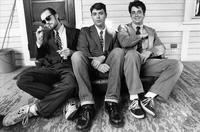 People who also like this
Noise pop trio New Radiant Storm King have survived more than their share of tribulations in the indie rock world, including defections of key members, geographical dislocation, and the collapse of more than one label. However, the Amherst, MA-based trio's music has gained in depth and feeling where many of their '90s lo-fi brethren stagnated in diffident irony.
New Radiant Storm King formed in 1990, when their members were students at Hampshire College. The original lineup was singer and bassist Peyton Pinkerton, singer and guitarist
Matt Hunter
, second guitarist Eli Miller, and drummer Elizabeth Sharp. Sharp and Pinkerton had made the decision to start their own group while on tour with another local band, taking their new group's name from the radiator in the basement where they decided to strike out on their own. The newly formed group gigged around Amherst (at the time something of an indie rock hotbed, with
Dinosaur Jr.
and
Sebadoh
the leading lights of the local scene), opening for visiting stars like
Nirvana
and tackling odder chores like providing the music for a play performed by a local theater company. The quartet recorded a full album, One Day Rust, for Rough Trade Records in 1992, but the label imploded just before the scheduled release. (These tracks, along with the 25-minute instrumental recorded for the play and various odds and ends, were collected on The Castle, a bonus disc that was packaged with Wormco's reissue of their eventual debut album in 1998.)
Disappointed with the Rough Trade situation, Miller left the band in 1992. Continuing as a trio, Pinkerton,
Hunter
, and Sharp recorded My Little B**tard Soul without a label and eventually shopped the completed tapes to the tiny indie Axis Records, which finally released the album in 1993 -- and promptly followed Rough Trade into oblivion, leaving the group high and dry a second time. Finally, New Radiant Storm King signed with Grass Records, a subsidiary of Homestead that provided a measure of stability. The group quickly recorded a new album, Rival Time, that was released only months after My Little B**tard Soul. Featuring their first truly great song, "The Opposing Engineer Sleeps Alone," Rival Time was a critical success and New Radiant Storm King started to develop a following that included
Guided by Voices
, who claimed that their breakthrough single, "I Am a Scientist," was explicitly inspired by that song. (The two groups eventually recorded each other's songs on a split single in 1996.)
Released in 1994, August Revital was a poppier affair that featured an increased vocal role for Sharp, who by this time was splitting her time between this group and another Amherst band, Skinner Pilot, where she played bass and sang. Wanting to focus more on her own music, Sharp left New Radiant Storm King in 1995 to create the one-woman D.I.Y. project
Ill Ease
. Out of college and now married,
Hunter
moved to New York City around the same time, turning New Radiant Storm King into a part-time project for all concerned. Hurricane Necklace (1996) featured Sharp's replacement,
Figgs
and New Harmful drummer Jeremy Smith, who was replaced by Garrett Fontes sometime before Singular, No Article (1999), recorded for the tiny Poster Girl label. This lineup stayed stable, although another three-year gap separates this record and 2002's excellent Winter's Kill. Between these projects, Pinkerton toured and recorded with the alt-country
Pernice Brothers
, while
Hunter
played bass for the noise rock Wharton Tiers Ensemble. They reunited in 2006 for The Steady Hand and Singular, with Caleb Wetmore joining on bass and Patrick Berkery in the drummer's chair. Drinking in the Moonlight followed in 2008. The albums were all released by the Darla label. ~ Stewart Mason
full bio
Selected Discography
Similar Artists
Don't have a Pandora account? Sign up
Already have a Pandora account? Log In