Free personalized radio that
plays the music you love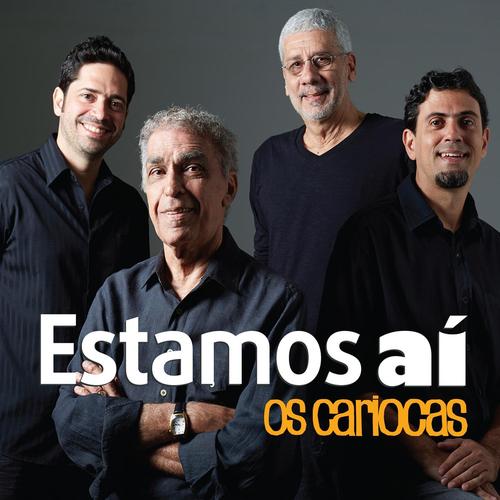 People who also like this
Active since 1942 (having had 20 years of success at the prestigious Rádio Nacional) and singularized in comparison to other vocal groups of the time for the elaborated arrangements for four or five voices, the Os Cariocas became the most representative vocal group of bossa nova after their 1957 recording of "Chega de Saudade" (
Tom Jobim
/Vinícius de Moraes) with João Gilberto on guitar. One of the first recordings of this classic song, the immediate success in this new genre made them to embrace it and thus influenced most vocal groups that appeared afterwards. In 1962, Os Cariocas participated in the show O Encontro at the Au Bon Gourmet club with
Tom Jobim
,
de Moraes
, João Gilberto, and sidemen
Milton Banana
(drums) and Octávio Bailly (bass). Their repertory featured "Corcovado" (Quiet Nights), "Garota de Ipanema" (Girl From Ipanema), "Samba do Avião" (Plane Samba), "Samba de Uma Nota Só" (One Note Samba), "Só Danço Samba," and other classics. Taking part in several important bossa nova events, the group often appeared in
Elis Regina
/
Jair Rodrigues
' program O Fino da Bossa (TV Record, São Paulo). In the mid-'60s, they performed at the U.S. in New York and Washington at the Carter Barron with
Astrud Gilberto
and
Paul Anka
. In New York, they participated in The Tonight Show With Johnny Carson at NBC. Their LP Introducing the Cariocas had its liner notes written by
Quincy Jones
, who drew attention to their unique blend of bossa nova rhythms and melodies with modern jazz harmonies.
The bossa nova phase was their second one, lasting from 1957 to 1967, when the group was dissolved until 1988. The first phase of success spanned from 1948 to 1955. The group had been formed in 1942 by brothers Ismael Neto and Severino Filho, who invited Ari Mesquita, Salvador, and Tarqüínio for performances at local school events. In 1945, Valdir Prado Viviani (piano/harmonica) replaced Ari Mesquita and the group opened on the Rádio Clube. Soon they were hired by Rádio Nacional, becoming its exclusive artists in 1946, when they took the Os Cariocas name. In the same year, Tarqüínio and Salvador left the group, which continued with the following lineup: Badeco, first voice; Filho, second voice; Ismael Neto, third voice and vocal arranger; Quartera, fourth voice; and Valdir, fifth voice and solos/whistle. Their first commercial recording was done in 1948, a 78 rpm with "Nova Ilusão" (José Menezes/Luís Bittencourt) and "Adeus América" (Haroldo Barbosa/Geraldo Jacques, later re-recorded by João Gilberto, remaining as one of his classics), two instant hits. These were included on the Mestres da MPB series (1994). They also recorded other genres, such as Northeastern cocos e baiões (with Marlene, they recorded in 1949 the hits "Qui Nem Jiló" and "Macapá" by Luís Gonzaga/Humberto Teixeira) or canções juninas (such as "Baile na Roça" by Ismael Neto, "Festa de São João" by Bide/Sebastião Gomes, "Eu Também Sou Batista" by Wilson Batista/José Batista, and "Pula Fogueira" by Haroldo Lobo/Milton DeOliveira). In 1950, they had success with "Marca na Parede" (Mario Faccini/Ismael Neto) and in the next year with "Tim Tim por Tim Tim" (Haroldo Barbosa/Geraldo Jacques). In 1953, Ismael Neto started a partnership with Antônio Maria, producing hits such as "Canção da Volta," recorded by Dolores Durán in 1954, and "Valsa de Uma Cidade," re-recorded by the Os Cariocas. In 1954, they participated in
Tom Jobim
/Billy Blanco's Sinfonia do Rio de Janeiro, recording "Hino ao Sol" with
Dick Farney
, "Coisas do Dia" with Lúcio Alves, and "Noites do Rio" with Dóris Monteiro.
In 1956, with Ismael Neto's demise, Filho invited his sister Hortênsia da Silva Araújo to join the group, recording the tribute album Os Cariocas a Ismael Neto. In that year, Filho also took over the arranging/direction of the Os Cariocas. In 1962, Hortênsia left the group and Viviani was replaced, due to an illness, by Luís Roberto Gomes, with the Os Cariocas remaining as a quartet. Dissolved in 1967, the group became active again in 1988, the year in which Luís Roberto died of a heart attack at the Jazzmania club in Rio de Janeiro. With a variable formation since then, the Os Cariocas recorded Minha Namorada in 1990, winning of the Sharp Prize. Two years later, they won another Sharp prize for Reconquistar. In 1997, they recorded with
Tim Maia
the CD Amigo do Rei and their CD A Bossa Brasileira was also nominated for the Sharp prize. ~ Alvaro Neder
full bio
Selected Discography
Similar Artists
Don't have a Pandora account? Sign up
Already have a Pandora account? Log In