Free personalized radio that
plays the music you love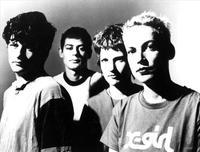 People who also like this
Ethereal pop band the Pale Saints formed in Leeds, England, in 1987. Ian Masters (bass/vocals), Chris Cooper (drums), and Graeme Naysmith (guitar) were signed by Ivo Watts-Russell to his 4AD label on the strength of their first London appearance. The three-song Barging into the Presence of God was released two years later, receiving praise for its lead track, the melancholy "Sight of You" (which was later covered by Oxford's Ride for a radio session). In 1990, the debut LP The Comforts of Madness appeared in the bins, produced separately by Gil Norton (Echo & the Bunnymen,
Pixies
) and John Fryer (
Cocteau Twins
,
Depeche Mode
). Categorized within the current shoegaze scene with
My Bloody Valentine
and
Lush
, the billowy Comforts of Madness had just about all the features of the subgenre, as well as a bizarre experimental bent. Masters' boyish vocals also stood out, not needing any production treatments to carry a wispy, levitational quality.
Meriel Barham, who was thanked for guitars and vocals on 1990's Half Life single, joined as a full member by the end of the year. Barham had been
Lush
's original vocalist (when they were calling themselves
the Babymakers
), recording a demo that was viewed as awful by all parties involved. The Pale Saints had been performing with a second guitarist, but wanted a permanent fourth member.
Lush
's Miki Berenyi suggested Barham to the band, and they obliged. Ace producer Hugh Jones lent his skills for 1992's In Ribbons. Yet another
Bunnymen
associate (the Pale Saints were obviously big fans of them, though you wouldn't know from their recordings), Jones captured a power and liveliness that Norton and Fryer didn't provide. Stronger musically and sound-wise, In Ribbons was another excellent album, though it sacrificed some of the band's original charms and quirks in favor of more pop accessibility. This and a growing disdain for touring led to Masters' departure in 1993. The remaining members replaced him with session hand and former
Heart Throbs
bassist Colleen Browne.
Many were surprised that the band continued, especially under the same name; mainly due to Masters' twists on facts and fun with the press, the Pale Saints were considered his band. Interviews with the later lineup would reveal that the band was more of a democratic process than originally perceived. Obviously -- why would Masters leave a band that he had control over to gain more control? Continuing their allegiance with Hugh Jones, 1994's Slow Buildings ended up being the band's final album. Lacking from the absence of Masters, the album also lacked focus. After touring, the band called it quits prior to 1997. The eccentric Masters continued to work under a vast array of guises, most notably paring up with A.C. Temple's Chris Trout for Spoonfed Hybrid and
His Name Is Alive
's Warren Defever for the lovely ESP Summer. Cooper and Naysmith continued with Lorimer, and
Browne
resumed her utility work for the likes of
Warm Jets
and
Rialto
. ~ Andy Kellman
full bio
Selected Discography
Similar Artists
Don't have a Pandora account? Sign up
Already have a Pandora account? Log In