Free personalized radio that
plays the music you love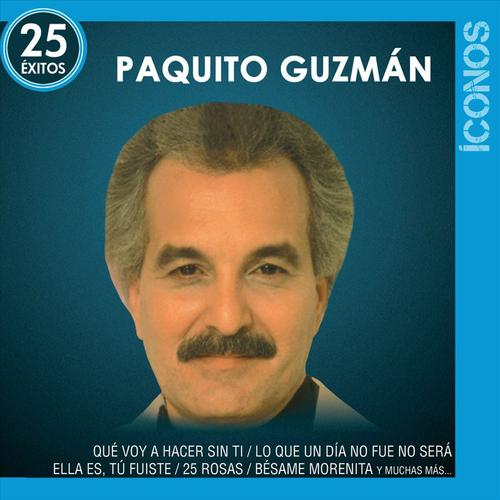 People who also like this
Across the Caribbean and South America, Paquito Guzmán is beloved as one of the great salsa romantica vocalists, a pioneer of the style. His smooth tenor has graced dozens of recordings -- solo and with orchestras. He has become a legend for his command of varying styles and rhythms from salsa and guajira to bolero and pachanga.
Guzmán was born in San Juan, Puerto Rico in 1939. His birth name is Frank Guzmán Géigel. His neighborhood was full of business establishments that hosted jukeboxes, and he fell in love with them. His first idol was bolero singer Cheíto Gonzalez. He sang jukebox hits for adults and often performed with older boys. As a teen he discovered the music of
Rafael Cortijo y Su Combo
and other Cuban sounds such as son montuno; he was an eager student who tried to master as many rhythms as possible, to add to his repertoire. He was rewarded for his diversity by being asked to perform with several local bands. At age 18, he performed on the popular television show La Piña de los Teenagers and became a cast member. A year later he moved on to another teen show, Teenagers Parade, where he gained experience singing in trios and fronting a studio band.
At age 20, Guzmán immigrated to New York in order to pursue music. Residing with a cousin in the Bronx, he made the acquaintance of record store owner and businessman Johnny Montanez, who gave him a job. Having heard Guzmán sing, Montanez proposed recording a single. The singer sought out two other promising singers to form
Los Originales
, and later in 1959 cut the 45 "Yolanda" (a waltz) b/w "Mi Martria" (a bolero). The recording wasn't released until 1960, and disappeared quickly, but Guzmán was relentless and sought opportunities everywhere. Through a family relation he met Georgie Maysonet, the conguero for Conjunto Cachana de Joe Quijano (which, at the time, included
Bobby Valentin
on trumpet). The musician invited him to dance. Guzmán told him he sang, and the conga player asked him to sing a bolero on the spot. Maysonet was impressed enough to encourage him to audition for the band. He did, and passed. As a result Guzmán became one of the most recognizable faces on the hot New York pachanga scene. He recorded three albums of pachangas, boleros, and guarachas with
Quijano
that year: A Cataño, Volví a Cataño, and Pachanga en Changa. He recorded four more albums with that band through 1962, including Everything Latin: Yeah, Yeah! and Dance to the Bossa Nova, the Mambo, the Cha Cha Cha before leaving to sing with the band of
Mario Ortiz
back in Puerto Rico. Shortly thereafter he joined Los Primos, replacing Julito Rodríguez. This too proved a brief experience -- he didn't record with either group.
Fate intervened again for Guzmán when bandleader
Tommy Olivencia
heard him. There was a vacancy for a vocalist in his group, which was beginning a long radio stand, and he invited Guzmán to sing alongside
Chamaco Ramirez
. Their first recording was 1963's Trucutu and it was a hit, spawning several singles. Between the album, the radio show, and live performances, Olivencia's band became the most popular large group in Puerto Rico. Their follow-up album, 1965's Jala Jala y Guaguancó, was equally successful, as were two more recordings, La Nueva Sensación Musical de Puerto Rico (1967) and llegó Fire Fire (1969). The band's 1971 album, A Toda Máquina!, featured the romantic hit "Sin Compromiso" and established Guzmán as a star in his own right. He recorded his moderately successful self-titled debut solo album in 1972, but remained with Olivencia's orchestra until 1975 when he began to pursue a solo career full-time. Escucha Mi Canción appeared in 1975 and did relatively well, but it was followed by two more successful albums, 1977's Mintiendo Se Gana Más and Peligro in 1978.
In 1980, after more than 20 years in the business, Guzmán's career really took off with the release of Dedicado a... Esa Muje. The salsa romantica movement was beginning to emerge from the harder dance sounds of New York. He released eight albums during the decade -- all of them charted, not only in Puerto Rico but in South America as well. Other popular albums from the period include 1983's El Caballero de la Salsa, Las Mejores Baladas en Salsa in 1986, and Aquí Conmigo in 1989. As salsa romantica's popularity waned, Guzmán concentrated on touring. He appeared on television and in bit parts in films, but mostly did concerts. He released only a few recordings during the 1990s, including the acclaimed Todo Bolero.
He did return to recording in 2000 with Directo al Corazón; it reached the lower rungs of the charts in Puerto Rico but placed higher in several South American countries. His 2002 set Romanticole was a collaborative album with Juan Manuel Lebron, and did far better at home. It proved to be his last recording of new material, though many compilations have been -- and continue to be -- released. Guzmán slowed down considerably in the 21st century. He went into semi-retirement but continued to perform selectively at home in Puerto Rico. ~ Thom Jurek
full bio
Selected Discography
Similar Artists
Don't have a Pandora account? Sign up
Already have a Pandora account? Log In