Free personalized radio that
plays the music you love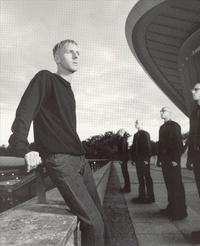 People who also like this
His style formed by a fusion of the barest acid house and straitjacket-tight Detroit techno,
Richie Hawtin
became one of the most influential artists in the world of techno during the 1990s, even while sticking to out-of-date synth dinosaurs like the Roland TB-303 and TR-808.
Hawtin
combined lean percussion and equally spare acid lines into haunting techno anthems that kicked with more than enough power for the dancefloor while diverting headphone listeners as well. While even his early recordings were quite minimalistic, he streamlined the sound increasingly over the course of his recording career; from the early '90s to the end of the decade,
Hawtin
's material moved from the verge of the techno mainstream into a yawning abyss of dubbed-out echo-chamber isolationism, often jettisoning any semblance of a bassline or steady beat.
Hawtin
released material on his own +8 Records under several aliases -- some in tandem with co-founder John Acquaviva -- and made the label one of the best styled in Detroit techno of the '90s. He earned his pedigrees from worldwide fans of techno for his best-known releases, as Plastikman (for NovaMute) and
F.U.S.E.
(for Warp/TVT).
While original Detroit technocrats like
Juan Atkins
and
Derrick May
were changing the face of electronic music in the mid-'80s,
Hawtin
was growing up across the river in Windsor, Ontario. A British native born in 1970, he moved to Canada with his family at the age of nine. Introduced to '70s electronic/minimalist pioneers
Kraftwerk
and
Tangerine Dream
by his father (who was a robotics engineer for General Motors),
Hawtin
began DJing at the age of 17 -- as DJ Richie Rich -- and soon landed gigs at Detroit hot spots like the Shelter and the famed Music Institute, home to all-night club sessions by
May
and
Kevin Saunderson
. Though many of Motown's innovators were skeptical of the skinny white Canadian,
Hawtin
's formation of +8 Records helped deflect much of the criticism.
Hawtin
and +8's co-founder, John Acquaviva, began working together in 1989, originally to make a
Derrick May
megamix for use on the radio; they later emerged from Acquaviva's studio with several original recordings. The duo issued one single, "Elements of Tone," as the first release on +8 Records (credited to
States of Mind
), and sat back while many in the techno world puzzled over who was responsible. The label's later releases -- by
Kenny Larkin
, Jochem Paap (aka
Speedy J
), and Mark Gage (aka Vapourspace), in addition to various
Hawtin
/Acquaviva projects -- made the label famous for laboratory-precise techno based on slowly evolving and shifting acid lines. The aggressive sound matched the work of the label/artist collective
Underground Resistance
as the best techno to come out of Detroit in the early '90s, thanks to a slow down in the work of past masters
Atkins
,
May
, and
Saunderson
. At the same time, demand grew for
Hawtin
's excellent acid-inspired DJing.
The Plastikman project debuted in 1993 with two releases for +8: the seminal "Spastik" single and an album, Sheet One.
Hawtin
's first wide release, however, came with the alter ego
F.U.S.E.
(short for Further Underground Subsonic Experiments). A more varied and melodic project than Plastikman (but not by much),
F.U.S.E.
released the album Dimension Intrusion for British Warp Records in late 1993. As part of the label's Artificial Intelligence series, Dimension Intrusion was also licensed to Wax Trax!/TVT for release in America. (
Hawtin
joined such ambient-techno heroes as
the Aphex Twin
,
Black Dog
,
Autechre
, and
B12
, all receiving their wide-issue debuts.) Later, NovaMute signed an agreement with +8 and another
Hawtin
-founded label, Probe; Sheet One was reissued in 1994, followed by the second Plastikman LP, Musik. Much more restrained than Sheet One, the album fit in well with the growing ambient-techno movement. All told,
Hawtin
was responsible for the release of three albums and a good-sized EP in the span of just one year.
That impressive schedule was shattered in 1995, when
Hawtin
was entangled in difficulties resulting from a sudden crackdown on his usual procedure of crossing the American border to perform. Refused entrance for more than a year, he lost his inspirational grounding with the Detroit scene and found it difficult to continue recording for his third Plastikman album, Klinik. While he waited for re-entry,
Hawtin
spent time setting up the sub-label Definitive, and continued to DJ around the world. Though he recorded scattered singles for +8 and related imprints, his only full-length release that year was an excellent entry in the Mixmag Live! series, taken from a DJ set recorded at the Building in Windsor. By the time he was able to return to America, he had changed his musical direction and eventually abandoned the Klinik album.
Hawtin
returned to his release schedule in 1996; during each month of the year, he issued a completely unadorned single recorded as Concept 1 (some were later collected on Concept 1 96:CD, mixed by
Hawtin
). Desperately minimal works, even compared to his earlier material, the singles showed
Hawtin
's reaction to the new school of barely there techno coming from German labels like
Basic Channel
, Chain Reaction, Profan, and Studio 1 -- all of them originally influenced in no small way by Plastikman recordings. Finally, in early 1998, he released his third Plastikman LP, Consumed, which proved to be just as brutally shadowed as the Concept 1 material. The continued experimentalist direction showed
Hawtin
coming full circle, back to his position on the leading edge of intelligent techno. Many of the unreleased Klinik recordings surfaced in late 1998 on the compilation Artifakts [BC]. Much of the next decade found
Hawtin
busy with other projects and pursuits, living in New York shortly before moving to Berlin in 2003 to focus on his M_nus label. 2003 also saw the release of fifth Plastikman full-length, Closer, the first to feature
Hawtin
's vocals prominently in the mix. 2011 saw the release of Arkives: 1993 - 2010, an extensive collection of the complete Plastikman discography and lots of unreleased material as well. In November 2013,
Hawtin
was invited by Belgian fashion designer Raf Simons to perform at New York's Guggenheim Museum for their annual fundraiser, an event that saw a Plastikman set performed around a specially constructed LED obelisk. The experience inspired
Hawtin
to complete work on a new Plastikman album, and the quickly realized Ex saw release in June of 2014. [See Also:
F.U.S.E.
,
Richie Hawtin
] ~ John Bush
full bio
Selected Discography
Similar Artists
Don't have a Pandora account? Sign up
Already have a Pandora account? Log In