Free personalized radio that
plays the music you love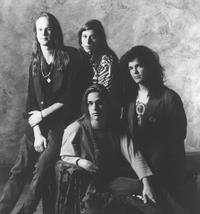 People who also like this
The Posies were one of the most popular power pop bands of the '90s; along with other revivalists like
Matthew Sweet
and
Teenage Fanclub
, they helped update the classic power pop sound for the alternative age, marrying bright, British Invasion-style melodies and harmonies to loud, grungy guitars and quirky lyrics. The Posies were centered around the partnership of guitarists/vocalists/songwriters
Jonathan Auer
and
Ken Stringfellow
, who began recording songs together in
Auer
's Bellingham, Washington home in 1988. That year, the duo self-released a cassette called Failure, on which they played all the instruments; sounding especially indebted to
the Hollies
and Simon & Garfunkel, it was soon picked up by the Seattle indie PopLlama, and wound up getting the band a deal with Geffen. Getting a proper rhythm section in bassist Rick Roberts and drummer Mike Musburger, the Posies made their major-label debut in 1990 with Dear 23, which showcased their budding sense of popcraft with bigger-budget production.
When the Posies returned with a new album in 1993, their hometown Seattle scene had blown wide open. While the band didn't fit into any sort of grunge blueprint, they did toughen up their sound under producer Don Fleming, resulting in their harder-rocking breakthrough album, Frosting on the Beater (the title a masturbation reference). Paced by the college-radio hit "Dream All Day," the album earned an audience among both power pop and alternative rock fans (as well as introducing new bassist Dave Fox). The same year,
Auer
and
Stringfellow
backed a reunion of power pop heroes
Big Star
(namely
Alex Chilton
and Jody Stephens), a gig they would return to off and on for much of the '90s.
It took a bit of time for
Auer
and
Stringfellow
to follow up the success of Frosting on the Beater. When they returned, they had a new rhythm section in tow, drummer Brian Young (also of
Fountains of Wayne
) and bassist Joe Howard (who usually recorded under the pseudonyms Joe Bass or Joe Skyward). Released in 1996, Amazing Disgrace consolidated the Posies' position as critics' darlings, rocking out even more than its predecessor. Yet Geffen failed to promote the record adequately, and the group had lost some of its alternative audience from three years before; as a result, Amazing Disgrace sold disappointingly, and the Posies were dropped from Geffen.
Stringfellow
put out a home-recorded solo album, This Sounds Like Goodbye, in 1997, but despite the title, the Posies reconvened on their original label, PopLlama, for their official swan song, 1998's Success (a nod to their debut's title).
Stringfellow
subsequently toured with R.E.M. as a backing musician, along with
Young Fresh Fellow
Scott McCaughey, with whom he worked in
the Minus 5
; among other side projects, he also formed a new band,
Saltine
, that released only one EP.
Auer
, meanwhile, went solo and formed a backing band, and also produced records for PopLlama. The year 2000 saw the release of a Geffen best-of, Dream All Day, as well as At Least, at Last, a four-disc box set of outtakes, demos, and the like on power pop label Not Lame; plus,
Auer
and
Stringfellow
reunited for a summer acoustic tour under the Posies banner, which produced the live EP In Case You Didn't Feel Like Plugging In. In 2001, the duo reunited once again for an acoustic studio EP, Nice Cheekbones and a Ph.D., and toured with a rhythm section of Howard and drummer Darius Minwalla. The same year,
Stringfellow
issued his second solo album, Touched, which featured material originally intended for
Saltine
.
The Posies reunited in full in 2005 and released the excellent Every Kind of Light on the Rykodisc label. In 2010, the Posies returned with Blood/Candy, which they recorded in Spain. An expanded edition of their debut, Failure, was released by the celebrated reissue label Omnivore Recordings in 2014. After struggling with the losses of former members Darius Minwalla and Joe Skyward, who died respectively in 2015 and 2016,
Auer
and
Stringfellow
returned in 2016 with a new Posies album. Titled Solid States, the Posies supported the release with an unusual tour, "Solid States Secret Shows." For the tour, the group played unconventional venues, with fans being told the exact location of each concert only on the day before the performance. ~ Steve Huey
full bio
Selected Discography
Similar Artists
Don't have a Pandora account? Sign up
Already have a Pandora account? Log In