Free personalized radio that
plays the music you love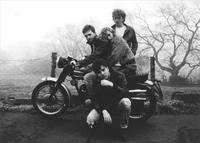 People who also like this
One of the most beloved British pop bands of the '80s and '90s, Prefab Sprout have had a minimum of chart success in the United States, where they're all but unknown outside of their devoted cult following, but singer/songwriter Paddy McAloon is regularly hailed as one of the great songwriters of his era. Critics regularly compare McAloon favorably to
Elvis Costello
,
Paul McCartney
, and even
Cole Porter
, but the self-effacing and publicity-shy performer modestly prefers to let his increasingly rare albums speak for themselves.
Prefab Sprout were formed in Newcastle, England, in 1977 by McAloon (who sings and plays guitar and piano) and his bass-playing younger brother, Martin. In the group's early days, McAloon spun several fanciful tales about the origin of their odd name (one favorite was that the young McAloon had misheard the line "hotter than a pepper sprout" in Nancy Sinatra & Lee Hazlewood's "Jackson"), but the prosaic truth is that an adolescent McAloon had devised the meaningless name in homage to the longwinded and equally silly band names of his late-'60s/early-'70s youth. With an early fan,
Wendy Smith
, drafted into the lineup to sing helium-register backing vocals, the trio released its first single, "Lions in My Own Garden (Exit Someone)," on its own Candle label in July 1982. Written for a girlfriend who had left Newcastle to study in Limoges, France (check the acronym of the title), the song was exceedingly clever but obviously heartfelt. The single's warm reception, including many plays on John Peel's radio show, led to the Sprout's signing to CBS subsidiary Kitchenware Records, which reissued the single in April 1983. Another single, "The Devil Has All the Best Tunes," followed later that year.
Prefab Sprout's first album, Swoon, was released in March 1984. Containing neither of the first two singles (but leading off with the delightful "Don't Sing," their third), Swoon is in retrospect a surprisingly brittle record, full of difficult songs that take unexpected left turns and have all but impenetrable lyrics. That said, there are more ideas per bar in Swoon than in any chart record released in 1984, and the songs' charms reveal themselves after a few listens. Shortly after Swoon's release, drummer Neil Conti joined the group, and in a rather brilliant move,
Thomas Dolby
was tapped to produce the second Prefab Sprout album, 1985's Steve McQueen (retitled Two Wheels Good in the U.S. due to litigation from the late actor's estate).
Dolby
smoothes out the kinks a bit, and his keyboards help enrich the album's sound; it also helps that the songs are much better, lyrically opaque but not impenetrable and melodically satisfying. Prefab Sprout returned to the studio without
Dolby
in the summer of 1985 and quickly recorded an album's worth of material that was initially meant to be released in a limited edition as a tour souvenir. However, several months after Steve McQueen was released, its song "When Love Breaks Down" (which had been released as a single four different times in the U.K. without chart success) finally became a hit, and CBS feared a new album would hurt its predecessor's sales, so the project was shelved.
The "proper" follow-up to Steve McQueen was 1988's From Langley Park to Memphis. Although it was their biggest hit, thanks to the massive U.K. chart success of "The King of Rock and Roll" (about a one-hit wonder stuck performing his silly novelty song on the nostalgia circuit forever; ironically, it was Prefab Sprout's sole U.K. Top Ten hit and remains their best-known song) and the U.S. college radio success of the genial
Bruce Springsteen
parody "Cars and Girls," many Prefab Sprout fans consider this the group's weakest album due to the too-slick production and a few subpar tunes. Following that chart action, CBS dusted off the shelved acoustic project from 1985 and released it (in the U.K. only) under the title Protest Songs in June 1989. Issued in 1990, Jordan: The Comeback, which McAloon describes as a concept album about Jesse James and
Elvis Presley
, was released to enormous critical acclaim in late 1990, but unfortunately, its ornate, lush production and suite-like structure doomed it to commercial failure in the U.S., though it was another big hit in the U.K. A fine but unimaginative best-of, A Life of Surprises, met similar respective fates in the summer of 1992.
Many thought Prefab Sprout disbanded at that point, and indeed, Conti did leave the band at some point in the '90s. However, McAloon had written (and in some cases, recorded) several albums' worth of material during the first half of the decade, abandoning them all before finally releasing the crystalline Andromeda Heights in 1997. The album wasn't even released in the U.S., but it was another deserved U.K. hit. An album of subtle beauty, Andromeda Heights shows how far McAloon had come as a songwriter and singer since Swoon.
A much-improved two-disc anthology, The 38 Carat Collection, was released by CBS in 1999 as the group was leaving the label. (Unexpectedly, the group's U.S. label, Epic, belatedly reissued this set as The Collection in early 2001.)
Smith
left the group during this period, after the birth of her first child. Prefab Sprout, by this point consisting solely of the McAloon brothers, signed to EMI in late 2000 and delivered their Western-themed concept album, The Gunman and Other Stories, in early 2001. Unfortunately, the album's release was delayed several months when Paddy McAloon was diagnosed with a medical disorder rendering him partially blind. After an eight-year layoff, McAloon returned to recording as Prefab Sprout and released the self-produced, performed, and recorded Let's Change the World with Music. This set's songs and concept date to 1992 and were originally to be recorded as the follow-up album to Jordan: The Comeback; for various reasons, those sessions never happened. It was initially issued by
Ministry of Sound
and later in the year licensed by Sony/BMG in the U.K. In 2010, the independent Tompkins Square imprint issued the album in the United States. Both the album Crimson/Red and its lead single, "The Best Jewel Thief in the World," landed on the Icebreaker label in 2013. ~ Stewart Mason
full bio
Selected Discography
Similar Artists
Don't have a Pandora account? Sign up
Already have a Pandora account? Log In