Free personalized radio that
plays the music you love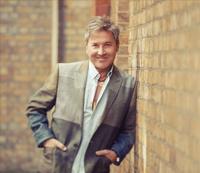 People who also like this
One of Latin pop's steadier and more seasoned artists, Ricardo Montaner specializes primarily in romantic ballads, though over the years he proved himself unafraid to pursue divergent styles of music and write songs of various natures. In terms of popularity, the Argentine-Venezuelan singer benefited greatly from his association with telenovelas, several of which featured his songs as themes; however, he also recorded classy orchestral albums, in addition to other similarly thematic albums, and he was critically admired for his craftsmanship and reliably high standard of work. Initially, Montaner rose to fame in Venezuela during the late '80s, scoring numerous hits for Rodven Discos. In the mid-'90s, he moved to the major label EMI for a couple artistically ambitious albums fashioned after Italian pop: Una Mañana y un Camino (1994) and Viene del Alma (1995). These albums were not received well by his fan base, though, because of his pretensions as much as because of EMI's failure to market the albums well. Ever restless, Montaner moved to Warner Music Latina with little hesitation and recorded a grand comeback album, Es Así (1997). Following this triumph, Montaner recorded a number of thematic albums for Warner, most notable among them an orchestral project, Con la London Metropolitan Orchestra (1999); a diverse collaboration with producer
Bebu Silvetti
, Sueño Repetido (2001); an album of boleros, Suma (2002); and a lyrically heartfelt collaboration with hitmaker Kike Santander, Prohibido Olvidar (2003). Then in 2005 Montaner returned to EMI, which released Todo y Nada (2005), another acclaimed album; it earned 2006 Latin Grammy nominations for Album of the Year as well as Song of the Year ("Cuando a Mi Lado Estas").
Montaner was born as Héctor Eduardo Reglero Montaner on September 8, 1957, in the city of Avellaneda within the province of Buenos Aires, Argentina. At age seven, he moved with his family to Maracaibo, Venezuela, after his father accepted a job with a telephone company there. Montaner began his recording career in the late '70s, independently recording an album titled Mares (1978). Cada Día (1983), his debut album for Venezuela's largest record label, Rodven Discos, only enjoyed limited success in Venezuela and none whatsoever elsewhere. Ricardo Montaner (1987) and Ricardo Montaner, Vol. 2 (1988), on the other hand, were quite successful and established him as a popular recording artist. The former album included a pair of memorable Venezuelan telenovela themes, "Vamos a Dejarlo" (Esa Muchacha de Ojos Café) and "Yo Que Te Amé" (Enamorada), while the latter album was his international breakthrough, as hits such as "Tan Enamorados," "A Donde Va el Amor," and "Sólo con un Beso," as well as "Tu Piano y Mi Guitarra," a duet with
Alejandro Lerner
, made an impact in neighboring countries such as Mexico, Colombia, and the United States. Montaner continued his hitmaking the following decade, beginning with the early-'90s albums Un Toque de Misterio (1990), En el Ultimo Lugar del Mundo (1991), and Los Hijos del Sol (1992). A greatest-hits album, Éxitos Y...Algo Mas (1993) capped off his association with Rodven (the Venezuelan label was subsequently purchased by Polygram, which went about reissuing these albums).
In 1994 Montaner began a new phase of his recording career, signing a contract with EMI; he hoped to enjoy greater creative freedom as well as greater international recognition. Both Una Mañana y un Camino (1994), which he co-wrote and co-produced himself, and its follow-up, Viene del Alma (1995), an album fashioned after Italian pop and recorded in London and Madrid, indeed reflected his desire for greater creative freedom. These albums spawned some hits, chiefly "Quisiera," "No Te Pareces a Mi," and "Soy Tuyo"; however, they sold comparatively less than previous albums. Montaner's relationship with EMI soured in the wake of this commercial downturn, and he moved to Warner for his next album, Es Así (1997). Produced and co-written by Piero Cassano, this return to more traditional Latin pop revitalized Montaner's career instantly; in particular, the title track became a smash hit internationally. Con la London Metropolitan Orchestra (1999) came next, and it found him revisiting some of his most memorable songs from the past, in addition to a new song, "El Poder de Tu Amor," which became his latest international smash hit. Produced by
Bebu Silvetti
, the album was very well received and remains a highlight of his discography; in fact, it was so successful, he returned to the orchestral format five years later with Con la London Metropolitan Orchestra, Vol. 2 (2004).
By this point, Montaner's recording output had become steady and reliable, in terms of music as well as commerce. After the warm reception of Con la London Metropolitan Orchestra,
Silvetti
remained as his producer, and they recorded Sueño Repetido (2001). Yet another smash hit single resulted, "Bésame," and so Montaner and
Silvetti
decided to return to the studio yet again, this time recording a bolero album, Suma (2002), which featured another career highlight, "Yo Puedo Hacer." Notably more personal in terms of lyrics than past albums, Prohibido Olvidar (2003) was a change of pace for Montaner, as he collaborated with hitmaker Kike Santander, a producer/songwriter who rose to fame with his work for
Gloria Estefan
, Thalía, and Olga Tañon in the 1990s. Prohibido Olvidar included the hits "Que Ganas" and "Desesperanza." In addition to the aforementioned second volume of the London Metropolitan Orchestra series, Montaner released a couple of other secondary works during the mid-2000s as his Warner contract approached its end: a Portuguese-language album, Para Meus Amigos (2003), and a tropical/dance album, Tengo Verano (2005).
Montaner returned to EMI for his next conventional album, Todo y Nada (2005). Co-written by Pablo Manavello and Santiago Castillo, the album was highly anticipated and critically lauded; it earned two Latin Grammy nominations: one for Album of the Year and another for Song of the Year ("Cuando a Mi Lado Estas"). One of Montaner's best albums to date, Todo y Nada returned him to the limelight, and his record labels, past as well as present, attempted to cash in on his high profile. Warner issued a pair of compilations: Las No. 1 de Ricardo Montaner (2006), which included his biggest hits during his time with the label, from 1997 until 2005; and Lo Mejor: Con la London Metropolitan Orchestra (2005), which compiled the highlights of his two albums with the London Metropolitan Orchestra. EMI issued Edicion Limitada (2006), which compiled the best of Montaner's mid-'90s work for the label: Una Mañana y un Camino and Viene del Alma. EMI furthermore issued a special edition of Todo y Nada in 2006, adding a trio of bonus tracks, one of which was "Heridas de Amor," a popular telenovela theme song performed by Montaner.
His 2007 offering, Las Mejores Canciones del Mundo, was produced by Adrian Posse and featured the singles "Hoy Tengo Ganas de Ti," "Nostalgias [Argen Versión]," and "Échame a Mí la Culpa" (featuring
Juanes
). It placed on the Hot Latin Albums chart. A second volume appeared the following year. Las Mejores Canciones del Mundo II: Y Algunas Mías...! included the charting singles "Cuando un Amigo Se Va" and "Besame" in duet with
Pasion Vega
. His 2009 album, Las Cosas Son Como Son, landed at number seven on the Latin Pop Albums chart. From late that year through 2011 Montaner toured relentlessly, issuing a pair of live albums and a hits package. He didn't release another album of new studio material until 2012's Viajero Frecuente; it peaked at number four on the Latin Pop Albums and 12 on the Top Latin Albums charts. A live audio and video set from the tour was issued the following year as Viajero Frecuente: Destino México. The 2014 studio album Agradecido continued his chart run and placed at number ten on the Top Latin Albums chart. The singer and songwriter issued Ida y Vuelta in the fall of 2016. A twist on the covers album concept, its first half featured his versions of songs by other artists. On the second, those same artists performed in duet with him on reworkings of his own songs. ~ Jason Birchmeier
full bio
Selected Discography
Similar Artists
Don't have a Pandora account? Sign up
Already have a Pandora account? Log In