Free personalized radio that
plays the music you love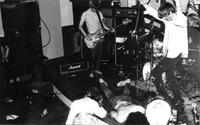 People who also like this
Because the term emo has come to define a sensibility more than a particular sound, it can be difficult to pin down even if you're not an outsider. Yet there's a general consensus -- by no means universal, but fairly solid -- that Washington, D.C.'s Rites of Spring were the first true emo band. Their music epitomized emo (or emocore, as it was then more often referred to) in the original sense of the term: an emotionally charged brand of hardcore punk marked by introspective, personal lyrics and intense catharsis. While Rites of Spring strayed from hardcore's typically external concerns of the time -- namely, social and political dissent -- their musical attack was no less blistering, and in fact a good deal more challenging and nuanced than the average three-chord speed-blur. Although they didn't exist for long or record that much (two releases in just under two years), and didn't attract much attention outside of D.C. during that time, their influence was tremendous and far-reaching. Not only did they map out a new direction for hardcore that built on the innovations of Hüsker Dü's Zen Arcade, they spawned a host of imitators, first locally, then elsewhere; these descendants in turn gradually brought emocore to a wider underground audience, from which point it mutated into varying strands that often bore no surface resemblance to Rites of Spring, but owed them a great debt nonetheless. Additionally, half of the band went on to join
Fugazi
, whose status as punk icons helped shed light on Rites of Spring's small but still-potent recorded legacy.
Rites of Spring were formed in March 1984, with a lineup of lead vocalist/guitarist Guy Picciotto, guitarist Eddie Janney, bassist Mike Fellows, and drummer Brendan Canty. Canty had played in the local hardcore band Deadline from 1981-1982, while Janney was a seasoned veteran of the D.C. scene, having been a member of
the Untouchables
(1979-1981), the short-lived, Ian MacKaye-led Skewbald/Grand Union (1981), and the Faith (1981-1983), which some credit with laying the groundwork for the early emo sound. Breaking free from hardcore's stylistic straitjacket, their music was powered by melody, tuneful (if hoarse) singing, guitar solos, and compelling instrumental interplay. Frontman Picciotto's lyrics were by turns nostalgic, heartbroken, confused, and desperately searching, expanding hardcore's range of subject matter into territory rarely covered (save for Hüsker Dü). Owing in part to the draining intensity of their shows, Rites of Spring didn't play live very often, but when they did, their gigs were full-fledged events, inspiring fierce devotion among fans and usually ending with the stage covered in flowers and smashed instruments.
Rites of Spring signed with Ian MacKaye's Dischord label and recorded their self-titled debut album in early 1985. Eventually hailed as a landmark in some quarters, at the time it didn't receive the kind of widespread critical attention that Zen Arcade had the year before. In January 1986, the band returned to the studio and cut a four-song EP, upon which point they disbanded; the EP was released posthumously the following year as All Through a Life. Picciotto, Janney, and Canty promptly regrouped as
One Last Wish
, which moved Janney to bass and put ex-Faith member Michael Hampton on guitar. They disbanded by the end of the year, and in 1987, the entire original lineup of Rites of Spring reunited under a new name,
Happy Go Licky
, and played a more experimental brand of post-punk influenced by
Gang of Four
and
Mission of Burma
. Again short-lived, the group's only recordings were live, but gave Canty the connections to join up with Ian MacKaye in
Fugazi
later that year; Picciotto would follow him several months later. Mike Fellows, meanwhile, formed Little Baby with ex-members of Soulside, and went on to play with
Government Issue
and
Royal Trux
. In 1991, Dischord compiled all of Rites of Spring's recorded output -- the Rites of Spring album, one unreleased song left over from the sessions, and the All Through a Life EP -- onto the CD release End on End, which was remastered in 2001. ~ Steve Huey
full bio
Selected Discography
Similar Artists
Don't have a Pandora account? Sign up
Already have a Pandora account? Log In