Free personalized radio that
plays the music you love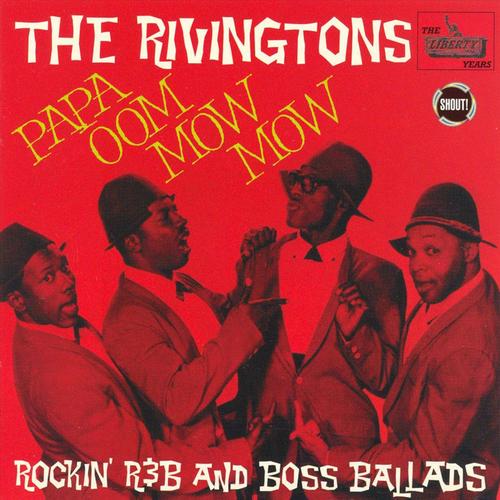 People who also like this
Most people in the early 2000s are surprised to find out about the Rivingtons -- that's primarily because people mostly discover their existence when they hear one of the group's three hits, "Papa-Oom-Mow-Mow," "Mama-Oom-Mow-Mow (The Bird)," and "The Bird's the Word," which are much, much better known in their composite re-recording by
the Trashmen
(as "Surfin' Bird"). And when they hear the Rivingtons' version, they're inevitably surprised by the fine singing and superb R&B phrasing, miles away from
the Trashmen
's punk stylings. Their version of the song was just as nonsensical, but it had amazing class and panache, and it's more than that -- it's part of a story of superb singing, bird dances and surfin' birds, great dances and even better times, before the world of the 1960s got all dark and serious and too dangerous for good clean fun.
The Rivingtons were a West Coast vocal group whose lineup featured Al Frazier, Carl White, John "Sonny" Harris, and Turner "Rocky" Wilson Jr. That lineup went through myriad reshapings to get there, along with renamings -- they weren't even the Rivingtons to start with. It all started with Al Frazier, in high school in Los Angeles at the end of the 1940s, who sang baritone and formed his own group,
the Mello-Moods
, whose ranks included future
Platters
member Paul Robi. They had aspirations to record, but never got that lucky -- Frazier went into the army and served in Korea, which didn't interrupt his desire for a music career. When he got out he formed a new outfit, a mixed male/female quartet called
Emanons
(which was "No Names" backwards). They were good enough to wrangle a TV appearance locally in 1952, but that was as far as they ascended. Then, in 1953, Frazier crossed paths with lead singer
Thurston Harris
, bass singer Matthew Nelson, baritone Leon Hughes, and tenor Willie Ray Rockwell, at an amateur night run by the legendary deejay Hunter Hancock -- they had a group but no moves, and Frazier had some moves to suggest, and suddenly they were a quintet, then went back to being a quartet when Hughes left the lineup. The four-man outfit, called
the Lamplighters
, were signed to Federal Records, part of Syd Nathan's King Records, and began making their name all over the West Coast during the run -- up to the middle of the 1950s.
They were doing well, young men loving their work and getting lots of it, and then, while on the East Coast,
Thurston Harris
suddenly got homesick for Indianapolis and decided to leave the act. The group was on hiatus and might have stayed that way if Willie Ray Rockwell hadn't pointed Frazier to a pair of singers, tenor John "Sonny" Harris and lead Carl White, with Nelson returning to establish the lineup that would carry them for the next few years. The only problem was that the record company felt it was ill-advised to release a new
Lamplighters
single with a new lead singer, so instead of picking up where the latter group had left off, they were renamed the Tenderfoots and forced to rebuild their reputation and audience. They got four records out on Federal without any significant sales or airplay, and their bookings were similarly slim. They tried to bring
Thurston Harris
back into the lineup but that didn't last. And they spent time appearing on other artists' records -- including a credit as "
the Jacks
" behind
Paul Anka
on "Blau-Wile-Deveest-Fontaine," and were signed to the Jamie label as the Sharps by producer Lester Sill (of future
Phil Spector
fame) in 1956. They bounced around some more, to Aladdin Records, where they even ended up singing behind
Thurston Harris
, on records including "Little Bitty Pretty One." Their next stop was Tag Records and then to Combo Records, with "Look What You've Done to Me," which was later picked up by Dot Records for national distribution. Then it was back to Jamie, where they cut more sides of their own and sang behind
Duane Eddy
, among others (they were the Rebels in that incarnation). Finally, at the very end of the 1950s, Matthew Nelson left the fold and was replaced on bass by Turner "Rocky" Wilson Jr., and that lineup sang behind artists including bandleader/actor/trumpeter
Ray Anthony
(of Mamie Van Doren fame). There was also a stint as the Four After Fives and another as the Crenshaws, working with producer
Kim Fowley
on "Hello School Teacher," and backing
Roy Milton
, and cutting sides for Warner Bros..
Their break came one day when they were fooling around in the studio and Rocky Wilson suddenly came up with the "papa-oom-mow-mow" vocal line, done basso, and everyone loved it. The resulting LP was startlingly compelling record that
Fowley
steered, along with the group, to a pair of producers, Jack Levy and Adam Ross. They came up with a $1200 advance for the song and against an eventual contract with group, and the name the Rivingtons (derived from the two having once lived on Rivington Street on New York's Lower East Side). They offered the recording to Capitol, who turned it down as a little too far-out (that from a label that recorded
Yma Sumac
and released the single "Tsukiaki"). Instead, it went to Capitol's younger rival, Liberty Records, who bought it but then sat on it for six months trying to figure out how to sell a song called "Papa-Oom-Mow-Mow."
The group and their managers had no doubt how to sell it -- play it, sing it, get it heard. Which is exactly what they did, at a performing showcase for deejays in Los Angeles. The deejays loved what they heard, and asked for a record to promote, and the managers duly provided them with "Papa-Oom-Mow-Mow." It spread across the Los Angeles airwaves, and out from there to California, and suddenly there was no decision to be made about marketing the song -- it sold itself, and all Liberty had to do was ship them, the song did the rest. One of the reasons for its appeal was that yes, it was a nonsense song, but the members sang it with such spirit and élan, that it wasn't a "guilty pleasure" or an embarrassing novelty record -- it was silly, but it was also viscerally exciting like the very best R&B dance records, and sung that way. Like an amazing number of other "novelty" singles -- "Rudolph the Red Nosed Reindeer", "Short Shorts," and "Papa-Oom-Mow-Mow's distant successor, "Na Na Hey Hey (Kiss Him Goodbye)," it was cut initially as a joke, an after-thought, at the end of a session, and worked its way into the vernacular infectiously.
An album followed, entitled Doin' the Bird, in late 1962, that the group wasn't too happy about, and a follow-up single, "Mama-Oom-Mow-Mow," but not before "Kickapoo Joy Juice" interrupted their momentum. They followed with up with "The Bird's the Word," which capitalized on the first two records on that theme, and then "The Shaky Bird." They rode the crest of a wave for a year, into the second half of 1963. By that time, a Minneapolis-based surf band called
the Trashmen
co-opted the boom started by the Rivingtons, combining their first and third Liberty singles into a composite work entitled "Surfin' Bird," pushing the beat into warp nine and rocketing them to the Top Ten and linking the Rivingtons forever to the tail-end of the surf music craze and also, to an extent, displacing the originals -- by the time
the Ramones
began playing it a decade or so later, it was already a standard piece of punk band repertory. The Rivingtons kept making good records but never found a replacement for the "bird" craze around which to wrap their work. "Cherry" was a straight R&B ballad, and "Weejee Walk," which closed out their Liberty career, was an attempt at another dance piece. The group bounced around some more, between Reprise Records and Adam Ross's own label, and Columbia Records, before forming their own label, Quan, in 1967. They were Carlos & the Rivingtons at one point, and in 1973, amid the oldies craze, they did an updated version of "Papa-Oom-Mow-Mow." Carl White, who passed away at the end of the decade, was succeeded by Andrew Butler, and as of the early 1990s, a version of the Rivingtons was still performing. In 1991, EMI Records, which had acquired the Liberty library, issued Liberty Years, a 23-song compilation of the group's Liberty sides. It's glorious, a magnificent collection of stunning vocals, and as priceless and essential a body of music as the best work of
Bo Diddley
,
Johnny Otis
, or any other foundation rockers you care to name. ~ Bruce Eder
full bio
Selected Discography
Similar Artists
Don't have a Pandora account? Sign up
Already have a Pandora account? Log In